[Op-Ed] Women in competitive gaming – why are there so few?
Header image courtesy of ESL ©2019
Representation of women in competitive esports is at a low despite a large user base and women in various roles behind the scenes.  We want to know why.
The world of esports is a highly competitive arena. With a high amount of adrenaline running through the veins of each competitor at every tournament, it is a rush every time you score that important point for the team. The sport has mostly been dominated by males in the past decade or so.
Not many teams are comprised of purely female – less even are mixed-gender teams. The question is why? Why are not more female esports athletes in the spotlight as there are males out there?
A report by Womeningames.org in 2016 states that women esports athletes only make up about 5% of the total esports scene – which is very paltry, to say the least. It is still a boy's game right now. Fortunately, the numbers are growing year by year, bolstered by the rise of big names in esports competitive gaming.
At the same time, as of the end of 2020, none of the top 10 earners for esports are women. And even then, the top woman player earns only 1/20th of what the top male earner earns.
Sasha "Scarlett" Hostyn from Canada is a Starcraft II player who earned about $390,000 in 2020 — far lower than what the top esports male earns, which can go into the millions. 
Joona "Serral" Sotala , the top SCII player, easily earns almost three times as much as Scarlett received in the same period.
Instead, more women in esports are turning to streaming to showcase their talents in their chosen game. The biggest name in streaming right now is Pokimane – with over 7 million followers on Twitch as of 2020.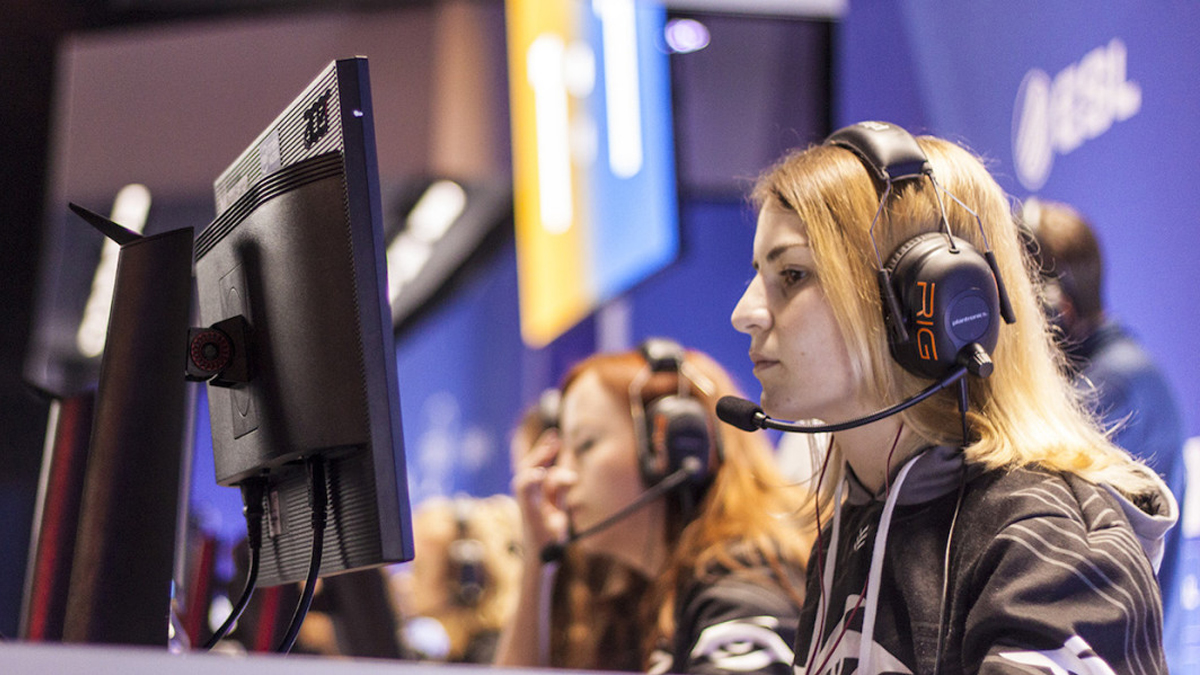 Elevating the female presence in esports
What can be done to elevate the number of women competing in the world of esports? Several things, in our opinion.
Eliminating Harrassment
The first and most important is to treat them as human beings. Female objectification is not new in the world of video games as we have explored previously in a feature. One needs to just look at the number of titles with provocative designs for their female characters. It shouldn't surprise anyone that women playing end up as targets of online harassment, abuse, and discrimination. And by abuse and harassment, that means objectification and cat-calling.
Roles taking on stats, social media, content creating, editing, team management, public relations, COO, photography are filled with exceptional women. Fewer females go into casting, interviewing or playing competitively – realms where the already typical gender-based harassment becomes exacerbated due to the public exposure.
Gender seems to become the focal point anytime a woman appears within the scene – as opposed to focusing on mechanics, skill, or talent.
Reducing or eliminating this objectification is one step in leveling the playing field so that female games are treated as peers rather than niche markets.
Promoting inclusivity

Promoting inclusivity for female gamers is another important step to be taken by everybody in the industry. An extension of the point above, promoting inclusivity will allow female gamers to feel that they are part of the community. It is exceedingly rare to see women gamers at the grassroot level – how often do you see a woman visit a cybercafe or enter local-level competition for games? Unconsciously, the industry has made these avenues very male-biased with limited support for female players, hostile playing environment for females etc.
Many women need to join events, teams, clubs, and circles that are inclusive of only WOMEN such as FSL in SEA in order to develop professional experiences and mindsets. It is typically here that they are able to network, find mentors, practice, and grow. But why should they have to seek out mentorship and practice in an all women's space when looking to join the mainstream?
Mixed-gender teams as a short-term solution?
For now, the road to inclusivity is a long one. Breaking down barriers and preconceived notions will take time – even for a market as young as esports. However, the seed has been sown, and some trees are already bearing fruit.
Evil Geniuses – based out of North America   - has just announced a new Valorant team. One that is mixed gender.
When asked, Nicole LaPointe Jameson, Evil Geniuses' CEO said 
"Through this measured, empirical approach, a mixed-gender roster was the best fit. This is not an all-female marketing play for us...this is us putting our foot down in developing and bolstering champions from all walks of life."
The team is composed of three men and two women. They will be led by Christine "Potter" Chi along with Ronan "Osias" Javelona, Nolan "Temperature" Pepper, Claudia "Clawdia" Che, and Aleksandar "Aleksandar" Hinojosa. EG is already competing in the currently running Valorant Champions Tour.
Evil Geniuses is the first of many that we hope will buck the trend and help empower women's inclusivity in esports. 
We hope that stakeholders will take note and serve this market for the betterment of the industry as a whole – be proactive rather than reactive.