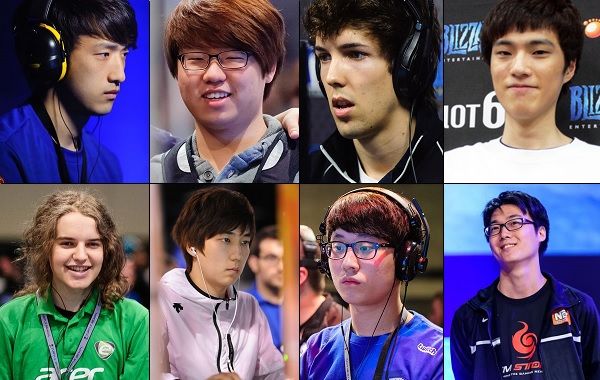 Four and four: WCS America and Europe semi-finals preview
More WCS America coverage
More WCS Europe coverage
---
We're opening the day with two players who were once the very best in their field and still among the most famous names in professional StarCraft 2. After long months without playing at any grand final (and even longer without a championship) the titans MC and MMA meet in the first semi-final of WCS Europe.
It's hard to determine the chances of either competitor in this particular match-up. MC, being MC, has managed to keep consistent results to some extent and although he's not the machine he used to be, he still has the top four finishes at IEM Shanghai and MLG Winter championship this year alone. He might not be as cocky – finishing second, below the European lot, in both group stages – but what he did to Welmu yesterday is enough to instill fear in any opponent. There can be no doubt that despite the decline from his royal days, MC still has it. Furthermore, PvT is his best match-up statistically. And last time I checked, oracles in MC's hands were still devastating.
On the other side of the ring we have MMA, a player who practically disappeared for a significant time re the disbandment of SlayerS. With Acer as his new home, he now seems to be on the rise. Although he's far from the days when he would make everyone look like a scrub, one can say MMA is certainly coming back. Just a few more steps and the once best Terran in the world will have regained the full attention he deserves.
The only thing that can stop him here is the match-up he's about to play. Once almost unbeatable in TvZ and ripe with talent for TvT, MMA has never been known for his ability to beat Protoss. Although he has the victories against Tails and HasuObs in WCS Europe to show, that's not nearly enough when you have MC as your enemy. If he were on the other side of the bracket he'd have a better chance but as it is now, the famed Terran has been dealt a losing hand.
 
---
At every point of his career, Grubby has always been the crowd's favorite, but never the tournament's. It's no different now. It's quite ironic that after upsetting last season's semi-finalist ForGG in the Ro32, reigning champion MVP in the Ro16, and proven ZvP specialist Vortix in the quarter finals, Grubby is still considered the underdog in the semi-finals against Duckdeok.
Yet as we pointed out, this is not the first time Grubby will compete in such an environment. Memories inevitably bring us back to IEM Singapore when the Dutchman was literally the last person considered to have a shot at the championship with all the notable Koreans competing. Even in the company of fellow foreigners, Grubby was considered behind Vortix, Lucifron and HasuObs in terms of chances. The end result: a narrow 2-3 loss in the grand final against Sting in a series which almost saw a comeback from a two-game deficit.
Looking at his opponent in Duckdeok, the question stands the same. Can Grubby do it again? Can he be the foreign hope to stand against the Koreans in the grand final, as Stephano did in season one? We'd certainly like to believe so but with Duckdeok we can never be sure. The Korean – already hugely disliked by the community for his cheesy plays and the fact he was the reason players like Dimaga, Lucifron, Naniwa and Stephano are no longer in the running – is likely the most dangerous player in the top four, as weird as that may sound. Unlike MC and MMA, nobody really knows him. Although his playstyle might seem shallow, he's made it through so many big names (all arguably more skilled than Grubby) that it's unreal. What the Dutchman needs to do here is look at Duckdeok's series against Welmu and figure out how the Fin beat this guy and then repeat that performance. Otherwise, there will be another crowd favorite lying in the dirt.
Prediction: Grubby 3-2 Duckdeok
---
Fast forward a couple of hours and we're at the semi-finals of WCS America, scheduled to begin with the most expected match of the whole day. In the upper half of the bracket, the lone American Scarlett faces the king of ZvZ Jaedong and this, my fellow readers, will be a match worthy of staying up late.
As weird as it may sound for somebody playing Jaedong on a big stage, Scarlett comes as the community favorite. Miss Hostyn has fought through fire and flames to make it this far, which is an achievement by itself. An entire continent is standing behind the Acer Zerg, making for a situation not unlike Europe's.
Unfortunately for Scarlett, Jaedong is the worst opponent she could've gotten. The EG Tyrant is proud to have translated his ridiculous JvZ from Brood War into StarCraft 2 and is currently at a 83% win-rate against Zerg. In fact, the DreamHack Summer finals were the only televised ZvZ defeat Jaedong has suffered since the launch of HotS. All this spells disaster for the foreign hope who, at the same time, will be playing her worst match-up tonight. Regardless of how much I want to believe, the discrepancy in ZvZ class between the two is just too huge. Unless Scarlett pulls a HyuN out of her hat, she will be in for a swift elimination.
Prediction: Jaedong 3-1 Scarlett
 
---
Finally, we have Taeja and Polt closing the round of four of WCS America, two players who have much more in common than being on top of their race.
Both Taeja and Polt finished 2012 with outstanding results. With the launch of Heart of the Swarm in March, both had the same periods of performance acceleration and grew to their former strength in June/July, Polt with an MLG Spring gold and WCS America top four and Taeja with HSC VII championship and DH Summer top four. Both are easily in the top five of Terran players in the world and if Innovation didn't exist, they would both be strong contenders for the Terran throne.
Examined separately, Taeja and Polt are on virtually indistinguishable skill levels overall. Fortunately, putting them directly against each other is another matter. In the frame of WCS America, the two have played each other twice with Polt leading 3-2 in maps. If we go back to their WoL history we find the CM Storm Terran in the lead with 9-7 and a good 12% lead on Taeja's winrate in TvT.
This all might look as trying to argue how a needle can make a difference in a haystack but this is really all we can effectively use. We might want to argue how Taeja has never been known for his TvT as compared to the other two matches but he's lost three maps in his last twenty games. We can argue how Polt lost the last direct confrontation with the Liquid ace but that really means nothing. Add to that the fact that the two have never played anything longer than a Bo3 and you'll have a whole new myriad of variables to cloud the prediction. Yet, we still have to make one so:
Prediction: Polt 3-2 Taeja