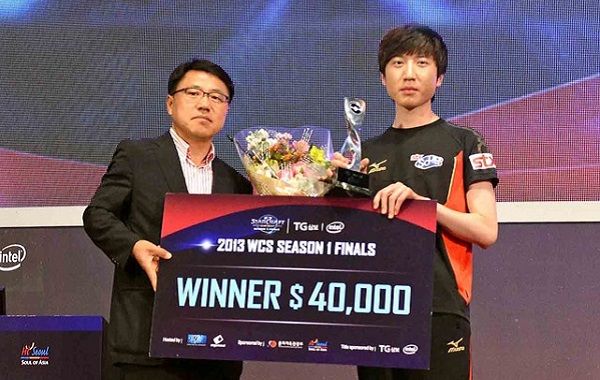 From Bogus to INnoVation: The inception of a champion
Written by: Nydra
The date is June 9th and the place Seoul, South Korea. Sixteen players are called to the Mecca of professional StarCraft to determine who is the best player of the first season of 2013 WCS competition. $150,000 in prize pool is on the line, along with valuable WCS points, but one particular player cares not about the numbers, but for official recognition.
That player is Lee "INnoVation" Shin Hyung, the ace for team STX SouL, a Terran feared for his mastery of the game and his excellence in every match-up, TvZ in particular. After period of constant improvements, INnoVation is at a moment of his career where he's labeled the best SC2 player in the entire world… yet one without a single gold medal.
This text follows the story of Lee Shin Hyung, from the early Brood War days filled with fluctuating results, through the rough switch to a new game, to his ascension as WCS Season 1 champion after many months of being denied a championship despite all praise.
2008: The Gom Classic S2 debut
---
Lee Shin Hyung first appears on the scene five years back as an STX SouL recruit under the handle Bogus. A professional for just a couple of months, Bogus is yet another BroodWar rookie who has to survive the unforgiving world of competitive StarCraft. The year of his debut makes it even harder for any newcomer to break out as the scene is ruled by eSports veterans and young, natural geniuses.
Still, an opportunity presents itself and Bogus enters the Gom Classic Season 2, a 176-player tournament which puts the unseeded players in massive "preliminary" brackets before they can advance to meet the winners of the day in the Round of 64. Whoever prevails there is given a seed into the main 32-player bracket, the winner of which would inherit the GSL throne from the now legendary Flash.
The opening group stage is relatively easy for Bogus, and the STX youngster slices through three Zerg players, including one who would later become one of the most prolific players to have touched StarCraft 2, NesTea.
As the interest in the first round is low to say the least, Bogus' first steps into professional BroodWar receive little attention but this soon changes with the Round of 64, where his opponent is none other than Firebathero - a quirky but talented player who's been known to take games off notable Terrans such as Flash, ForGG and Midas, among others. To fans' surprise and against all expectations, Bogus drills through him too, and positions himself among the best thirty two of the entire tournament. Eyes are now on Bogus and his upcoming match against Rock.
To Bogus' misfortune, his spree comes to an end with the FOX Protoss as Rock 2-0's him and robs him of the opportunity to play the defending champion, Flash, in the next round and although he could not immediately rise to unquestioned recognition, at the end of 2008 Bogus is no longer a nobody. Little does he know that 2009 will see him even further on the path to fame.
2009: NATE MSL and first steps in Proleague
---
The first toe-dipping in KeSPA's team league is not one of particular amazement and after his Proleague debut in the last days of 2008, INnovation goes 4-3 in the season overall, unable to draw an upset of the Firebathero magnitude.
It is the 2009 NATE MSL, launched in the late November of the title year, that will turn the highlights back to STX_Bogus. In MSL tradition, everyone but the top eight from the last MSL season are thrown in the survivor pit and so Bogus' climb to 2009 recognition begins.
The odds are beaten once again and Bogus conquers the first round of competition, eliminating 2008 WCG champion Luxury as well as Woongjin's Free, the player with the highest ELO peak within his team. The Round of 32 is an even tougher challenge but Bogus overcomes it as well as he wins against undisputable legends Bisu and Savior. Although, granted, Savior is not in his best ZvT shape at that point of time, Bisu is on a 31-12 PvT record in 2009 alone, a record which includes wins versus Flash, Fantasy, Nada, Mind and SkyHigh, all recognized names within the Terran pool of BroodWar.
It takes Bogus one timing attack, one cheese and less than twenty minutes to score those victories, which only makes evil tongues doubt him even more. Bisu's lack of scouting and underestimating of his opponent as well as Bogus' tendency to end matches early instead of bringing them to late game are brought up. Yet the fact stands by itself - a sixteen year old newcomer is among the best sixteen while a revolutionary and a bonjwa aren't. A 1-2 loss to Kwanro would eventually end Bogus' potential fairy tale but his run through the MSL is enough to shock people and have them remember his name.
 
2010-2012: Slave of the Proleague and SC2 transition
---
In 2012, Bogus fails twice to beat the MSL survivor rounds and the Cinderella story of NATE MSL is never repeated. Instead, Bogus is summoned more and more often for Proleague matches and gradually becomes one of the regular A-teamers in STX SouL. With time, Bogus rises to the headline player of the STX Terran line-up and becomes as important as other STX spears such as Kal and Calm.
The beginning of this period is a humble one for Bogus as he finishes 4-4 in Proleague 09-10 with SKT's Fantasy his only major win. From there, the STX Terran quickly picks up the pace and barges into Proleague 10-11, another tournament that would add esteem to his name.
Bogus goes on to play five times more games than last year and scores a 25-13 record, which include victories against Soulkey, Reality and Jaedong, a bonjwa in his prime, who's won nine of his last ten ZvTs and who's reached the all-time highest ZvT win rate of 81,1%.
The win against Jaedong also shows that Bogus is capable of devastating timing attacks, and a Terran who is patient and methodical in the execution of his strategies. The triumph furthermore aids the elimination of Hwaseung OZ from the regular season as Jaedong's team finishes sixth, just a single win below STX SouL.
 
STX reaches the playoffs for a second time in a row but fails to make it past the first round of the main bracket event, ironically inheriting the characteristics of Bogus' Gom Classic S2 and NATE MSL runs. In the series against KT Rolster – the team that would later become the 10-11 champions – Bogus is called twice and although he delivers both times, the rest of his team fails to perform and STX is faced with a 1-2 elimination.
The next two Proleague seasons, which would also be the last Proleague tournaments to feature Brood War, are far less successful for Bogus, fitting perfectly into career which has been oscillating between ups and downs without a single period of salient domination. Bogus pins records of 7-10 in Proleague 11-12 and 3-3 in SPL '12 and while it is underwhelming compared to the events described above, none of it will come to even closely resemble the beating Bogus would receive as the scene prepares to switch to StarCraft 2.
Bogus' first televised match is a loss to Woongjin Stars' sOs and it goes downhill from there as finishes 0-6 in SPL '12, losing four TvPs and two TvZs in the process. The Protoss players will continue to be a nuisance and Bogus coats his Proleague misfortunes with elimination from ODT 2012 after losing to Flying and Rain, the latter of whom would later become the champion of the same event. Thrown into an hitherto unknown scene, the STX Terran fails to have a break-out analogical to the ones of his early years and by the fall of 2012, things are not looking too great for Bogus.​
​
2012: First GSL successes
---
In the October of 2012, Bogus puts the lackluster Proleague results behind and readies himself to test the waters of the GSL, the brand which gave him his first televised match win in the Brood War days. The opponents in his preliminaries are easily defeated and Code A proves not much of a challenge either as Bogus goes 2-1 against YuGiOh, 2-0 against StarTale's best Terran, Bomber, and 2-1 against the IM schooled Happy. The promotion to Code S is immediate.
With the new season also comes a new Lee Shin Hyung. The Bogus handle is cast away, replaced by INnoVation, and innovation there truly is. The STX star has seemingly undergone a personal reincarnation, having learned the game at an blistering speed and StarCraft 2 fans see a Terran who's evolved and has built upon the aggression he showed in Code A, making for a dangerous player who favors smart positioning and godlike mechanics to punish his enemies. In that same season, Innovation 2-0's Squirtle and Keen in the Ro32, blanks Polt and maims eventual champion Sniper 2-1 in the Ro16 and scores flawlessly against Soulkey before losing 1-3 to HyuN. Although he's barred from the grand finals, Innovation's feat generates enormous acclaim and there's no longer the question whether he will one day become champion.
"When I saw a photo of Life being given the Excalibur sword, I felt a strong desire to receive one for myself. I'll be going to Las Vegas [for IPL 5] with my advancement to the semifinals, but since I'll obviously lose my chance if I get knocked out, I want to make it to the finals at a minimum."
- INnoVation after beating Code S Ro8
IPL 5 is also INnoVation's first international appearance but in this particular tournament the results do not match the hype around this up-and-coming beast. Nevertheless, he's still the only KeSPA player to make it to Las Vega and this, combined with his Code S results, make him one of the best KeSPA players of 2012 altogether. The only KeSPA name to ever come close to such praise, unaffected by a glamorous BroodWar past, is Woongjin's Soulkey, a player who himself would rise to new StarCraft 2 heights.
2013: The last days of WoL
---
The final days of the dying game are kind to INnoVation. As STX restore their faith in him, Shin Hyung's Proleague record hits 17-11, with Flash, RorO and TY among his victims.
His performance in individual leagues is equally impressive. Through an ever improving TvZ and solid TvT, INnoVation makes second Code S playoffs in a row over the dead bodies of Stephano, DongRaeGu, Bomber and others. It is only the eventual finalist Symbol who ends his run and robs him of yet another opportunity to prove himself on the grandest of stages.
In spite of all, INnoVation is easily considered among the brightest Terran minds at the end of Wings of Liberty. With Taeja's wrists hurting, MKP and Bomber fighting with inconsistency, MVP getting ready for WCS Europe and Flash and Fantasy still in the process of growing back to their Brood War power, INnoVation could even be counted the best among his kin. His reactionary playstyle is welded together with uncanny learning speed and the daily improvements are easily seen.
So, why isn't INnoVation a champion by March 2012? Some will attribute his lack of crown to bad luck, other to his opponents being better or more experienced but minds like GosuGamers strategist and caster Chris "Cyniko" Messer considers the game itself to be a restraining factor with the amount of possibilities it offers and the way Terran is played. As a player relying on mechanical prowess and understanding every playstyle and concept of the game more thoroughly than everybody else, INnoVation was, in a weird way, so good he could never be the best in WoL.
He needed something else which could raise the ceiling and make room for his full potential. And he got Heart of the Swarm.
"Now I am become death, the destroyer of Zerg"
---
INnoVation's journey to HotS supremacy begins at MLG Winter, the first tournament played on the officially launched expansion. On Dallas grounds, INnoVation goes 9-0 against HuK, Leenock and Rain before losing to Flash in a series which produces arguably the best TvT in Heart of the Swarm to date. Once again, the skill of the STX Terran impresses everyone and once again he leaves without a gold medal.
 
With the coming of WCS Season 1, INnoVation further makes it clear that he's here to stay and that the GSL successes in WoL were not luck at all. As the competition in Korea resumes, INnoVation ploughs, drills, bashes and stomps through hell. He finishes first in the biggest group of death in StarCraft 2 history with Life, PartinG and Flash, beating the Zerg prodigy 2-0 and taking vengeance on the Ultimate Weapon, 2-1. His victorious conquests continue as he 3-0's RorO and 4-2's Symbol in the quarter and semi-finals respectively before he advances to the first final in his StarCraft 2 career and against a player who half a year ago was challenging him for the title of best KeSPA player. INnoVation's grasp of the game is of such magnitude that even living legends acknowledges what the Terran is able to do with the race.
"In the past I believe that your style of gameplay was very similar to mine. Though today, you're playing much better than me."
- Flash on his rivalry with Innovation
With those praises to his name, INnoVation enters the GSL final against Woongjin's Soulkey as the undisputed favorite. His TvZ, fueled by omniconsuming macro and artful control of bio/mine compositions, is at this point otherworldly. The few early game flaws he's shown in the series against Symbol are, fans believe, fixed. The community expects a slaughterfest and three games into the series, INnoVation does not disappoint as he's one game away from cup.
In a cruelest twist of fate, Soulkey starts exploiting the aforementioned weaknesses of INnoVation and the match is dramatically turned around into a 4-3 triumph for the Zerg. Every StarCraft enthusiast is in disbelief, INnoVation most of all.
To INnoVation's luck, all his struggles for official recognition are officially recognized a few weeks later. The defeat at the WCS Korea finals does not hamper the bright Terran mind and Shin Hyung storms the seasonal final in full force. Two Zergs are eliminated by his hand in the group stages before the would-be champion switches to bashing Terran skulls. A 3-0 against aLive and 3-2 against Mvp send him to the grand finals against Soulkey's teammate sOs: the player who dealt INnoVation his first ever televised loss.​
The vengeance of the STX ace against sOs and Woongjin Stars is ugly to behold. Except for one nail-biting game two, INnoVation rips the Protoss apart to exit the booth $40,000 richer, a sum which likely means little to him at that particular moment. A life-long dream has finally been granted – Lee Shin Hyung becomes the best SC2 player, not only in fans' eyes, but in the eyes of the authorities' as well.
So where does INnoVation stand as of mid June?
 
Second in the GosuRankings, mere 20 points behind miracle kid Life
First in TLPD HotS ranking with 2295, 70 points ahead of Flash
First in the Aligulac rankings with 1996, 20 points ahead of Life

Is the highest peaking player according to TLPD, at 2295

Has the highest TvZ win-rate (TLPD, Aligulac) and the highest TvZ Elo peak (TLPD)

Has the highest TvP win rate (TLPD, Aligulac) and the second highest TvP Elo peak (TLPD)
​

The numbers are stunning by themselves for someone who's played the game for little more than a year but what's even scarier is how they are expected to go even higher. As the second half of 2013 is about to start, the eyes of the community are fixed on Lee "INnoVation" Shin Hyung. And we all know he's just starting.
Note: The stats displayed above were gathered at the time the writing of this article began and it is possible that they are different at the time of the reading.
Rotator photo: Battle.net