StarCraft 2 beta to hit the scene within months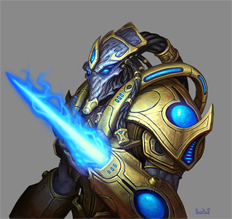 "Just a few more months longing for combat!"
Blizzard's COO, Paul Sams, revealed at Activion's conference call that the StarCraft II will be released "in the months ahead".
How many get to test the longed awaited beta remains unknown, but Blizzard are intending to use their new version of Battle.net as platform.
- The beta will be played on a basic version of our new Battle.net architecture, which will give us the opportunity to test the game and the service in a live environment. Over time, we'll be adding features to deliver a second-generation Battle.net experience, said Paul Sams.
The conference call also revealed that Blizzard intends to deliver one game per year.
- I think you can see in our numbers that it is contemplated, said Paul Sams.
- As it relates to what title we're releasing this year, we're not prepared to say.
- We're releasing Starcraft II as soon as possible, but as with all previous Blizzard games, we won't ship it until it's ready, Sams answered regarding the release date.
Blizzard games currently in the works are apart from StarCraft 2 the adventure game Diablo III as well as an unannounced massively multiplayer online game.
Links
EDGE-Online.com
- Source