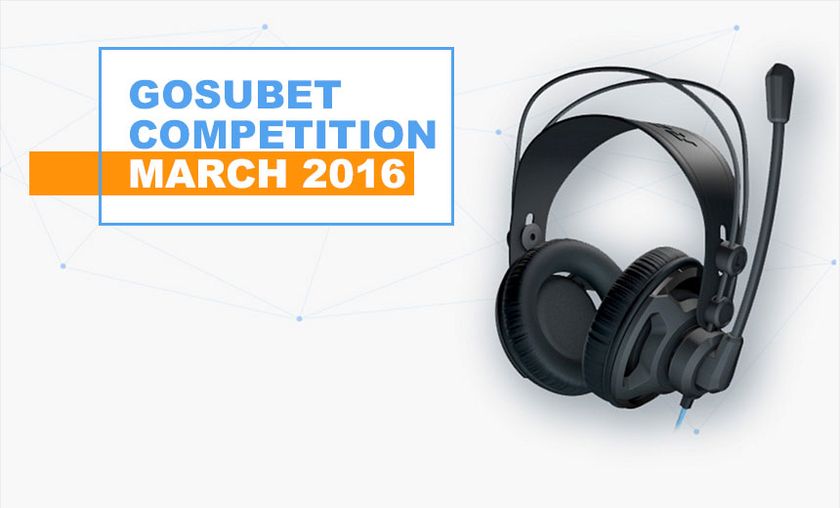 Compete in our March GosuBet contest for one of five ROCCAT headsets!



Click here for the GosuBet information page
Get ready for another month of GosuBet contest! In March, bet on  Dota 2, CS:GO,Hearthstone, Heroes of the Storm and League of Legends matches to win state-of-the-art headsets from our friends, ROCCAT.​
Contest details

Period: March 2016
Pick your game: 
 

Prizes: 1x ROCCAT Renga Headset

Games included: Dota 2, CS:GO, Hearthstone, Heroes of the Storm and League of Legends

Winning the prizes: Be the top GosuBetter in one of the games listed to win 1x ROCCAT Renga headset

The contest is open to enter for every GosuGamers member
At the end of February, the members who have accumulated the largest amount of virtual currency in each section will win one of the five ROCCAT Renga headsets to take their gaming on the next level.
 
What's GosuBet?

The GosuBet is a play-money betting system available to GosuGamers members. Everyone starts with 50 units of currency and is able to place it on different bets, with odds for each player or team. Depending on the odds, members may win different amounts. Normally, each season lasts one month and at the end of the period, a winner is determined. To place a bet, just click on a match, select how much you'd like yo bet and on whom. If you ever lose your currency, just click "Reset GosuBet".
 
Where can I find more information?

At any point of time, you can visit our dedicated GosuBet March contest page to be up to date with the current GosuBet standings in each of the six disciplines. You will also find a collection of the biggest esports events for the month and follow our coverage to place more educated bets and increase your chances of winning.