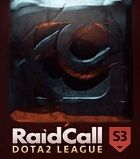 Third season of Raidcall D2L returns with an offline final
The third installment of RaidCall Dota 2 League will be making its return and this time, with an offline final event. Teams such as Alliance, Dignitas and many more will be participating in the seven weeks long tournament, a much condensed format in comparison to the last season.
Season Three of RaidCall Dota 2 League commences on May 20 at 18:00 CEST with new and better changes. The highlight of this season will be the championship being hosted at Dreamhack Valencia.
Besides that, RaidCall also announced a new format for the third season with a more condensed schedule allowing a reliable schedule and consistent action for viewers. In addition, eight top tier teams from the West are invited to compete in the tournament.
Participating teams:
Alliance

Team Dignitas

Evil Geniuses

Fnatic

Team Liquid

Mousesports

Na'vi

Virtus Pro
New Format:
Seven weeks long

Double-round-robin format

Four broadcast days (Monday through Thursday)

Two Best of Three series on each play-day

Broadcast times of 18:00 CEST and 21:00 CEST


 
The main highlight of the new season will be the finals taking place at Dreamhack Valencia where the top two teams from the regular season will be featured. The finals will take place on July 19 at DreamHack Valencia where Dreamhack will host the finals of the RaidCall Dota 2 League Season Three Finals. The finals will be co-produced and hosted by DreamHack with full stage production and a live audience. In addition, Finalists will be flown to Valencia with a travel stipend and accommodations provided.
No information on the prize pool has been announced.Casting will be provided by Aaron 'Ayesee' Chambers and Jacob 'Maelk' Toft-Andersen.
Source: Evil Geniuses