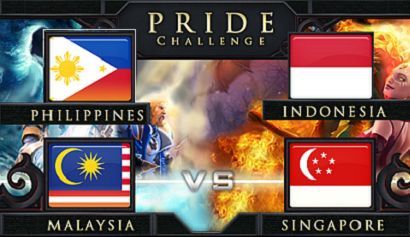 Battle between countries in PRIDE Challenge
Teams from four SEA countries will be representing their country in the PRIDE Challenge on the 4th and 5th of May. Top three teams of each country have assembled in a quest to bring glory to their country by taking down opponents from the neighbouring country.
E-Club, RGN and DotaTalk proudly present the PRIDE Challenge where we will see the best of South East Asian Dota, an exciting two days online tournament that will definitely wet the appetite of Dota fans.
The competition is a battle between the countries and each country is represented by three teams. The teams will have a chance to take a shot at their opponents. The losing team will be eliminated while the winning team will proceed to be matched up against another team. The country will achieve triumph by eliminating all three opposing teams.
PRIDE Challenge invitees

Malaysia vs Singapore
Indonesia vs Philippines

NeoES.Orange
Invasion-MUFC
Invasion-Gigabyte
Zenith
NeoES.Int
First Departure
Joenet PNM
TLeR Reborn
Ultimate
Mineski
TnC Gaming
Dreamz,Ledion
The order at which teams will be playing first will be decided and revealed shortly before the games begin. Teams are not allowed to change the order after the announcement.
Malaysia vs Singapore will take place on the 4th of May while Philippines versus Indonesia will start on the following day. The winning country representatives will walk away with $2,000 in cash and a whole bunch of Steam coupons.
| | |
| --- | --- |
| Placing | Prize |
| 1st place | €2,000 + Steam Wallet $30x15 |
| 2nd place | Steam Wallet $30x15 |
Source:
E-Club Malaysia