Team Liquid takes RaidCall D2L title

Team Liquid won the RaidCall D2L after they defeated Team Dignitas in their second encounter of the day. Team Liquid walked away with $5,000 while Dignitas will have to settle for $3,000.
In an all-American grand final, Team Liquid narrowly defeated Team Dignitas 3-2 to secure the RaidCall D2L title and $5,000 in cash. Team Dignitas settled for second and $3,000.
This is the second Dignitas and Liquid's second encounter of the day, the first one being won by Team Dignitas in the Winner Bracket final. Team Liquid came into the grand final from the loser bracket after defeating Team Empire and started the grand final with a one game deficit.
| | | |
| --- | --- | --- |
| Dignitas |      vs      | Liquid |
Game two was a fairly quick affair for Team Liquid. Liquid went for a very pushing and/or split pushing oriented heroes while Dignitas picked to go for individual kills. After picking up a few kills in the early game phase, Liquid quickly grouped up and started mowing down towers after towers. By 26 minutes into the game, Liquid has taken down their first rax and the game was quickly over. Liquid 1-1
In game three, Team Liquid started out dominating the early phase of the game with great initiation heroes such as Batrider and Storm Spirit to force Dignitas to fight. Their dominance lasted for about 25 minutes until Dignitas started poking away on their mistakes and by 44 minutes, the game was dead even. Liquid won a few good fights towards the late game propelled by a good Reverse Polarity steal by ixmike88's Rubick which sealed Team Liquid the win.
Dignitas went to work in game four after losing two straight games to tie up the series at 2-2. Sneyking's Templar Assassin destroyed Puck in the middle and started roaming around the map ganking. Capitalizing on the early lead, Dignitas pushed into Liquid's high ground but Liquid heroes were too underleveled to even defend their final push. Although Dignitas was held back after they got too greedy in killing heroes, a second push ended the game at 24 minutes. The kill score was 16-3.
Despite managing to take down towers very early on, careless plays from Dignitas allowed Liquid to stay in the game and buy time for their Phantom Lancer to farm. Phantom Lancer picked up his Diffusal Blade and Drums at 16 minutes. Dignitas tried to force the teamfight but the Brewmaster and Keeper of the Light is just too good in the early team fights. Liquid took down the Roshan after a long continuous fight and soon after, the game and the championship.
---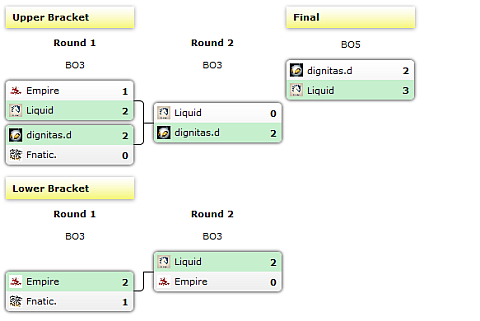 | | | |
| --- | --- | --- |
| Placing | Team | Prize |
| 1st place | Team Liquid | $5,000 |
| 2nd place | Team Dignitas | $3,000 |
| 3rd place | Team Empire | $2,000 |