Empire reveals Vigoss as Batman
Team Empire has announced that Vigoss is indeed Batman and will be playing with the team officially from today onwards.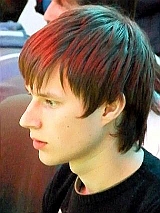 Team Empire has finally announced the official addition of their fifth player, Ivan 'Vigoss' Shinkarev after a long wait after their Batman teaser video.
Team Empire lost their off-laner, Gleb 'funn1k' Lepatnikov in a trade with Natus Vincere late last month. With the team participating in four online tournaments at the same time, Empire had to quickly find someone to play as a stand-in in order for them to keep their lead in most of these tournaments.
Empire turned to former Lions Pride player, Vigoss. Vigoss left Lions Pride on the 15th of February, just a few days short from Na`Vi's big announcement. Vigoss was a free agent for about two weeks before he started playing as a stand-in for Empire on a nightly basis.
Statement by manager Sergei 'AnahRoniX' Bykovskiy:

"This news will hardly amuse the community, as there's no secret that Ivan played as standin for nearly a month in our team. After changes in roster of our team we were going through hard times, but guys overcame their problems and at last we are demonstrating good level of playing. We should perform a titanic work in future to reach the heights in the community which is growing and we see more and more new talented teams. The arrival of such an experienced player like Vigoss will push us forward to the further progress and victories. Welcome to the team, Ivan!"
Statement by Ivan 'Vigoss' Shinkarev:

"Start of my journey in Dota2 wasn't very succesful and maybe most of fans remember Vigoss that long gone. But here, in new ambitious team, I should do a tremendous amount of work at self-improvement. Support me and the team, because your cheering is very important for every player. And in gratitude, I will try to show a good level of gaming and make a contribution to the teamplay. Thank you, Team Empire for my new cyber sports house!"
Vigoss has played with Empire for about three weeks now. Empire has shown tremendous results playing with vigoss as they placed fourth in StarLadder Star Series.
Vigoss currently plays the solo mid role for the team, forcing Roman 'Scandal' Sadotenkov on the role of the offlaner.
Empire has qualified to LAN finals of StarLadder Season 5 and will be heading to Kiev on the 4th of April. Empire is currently participating in EMS One Spring Cup, Dreamhack Dota 2 Invitational, The Premier League and most possibly the upcoming G-1 League EU/NA qualifier.
Team Empire official roster:
Artur 'Go[blin]' Kostenko
Roman 'Scandal' Sadotenkov
Vladislav 'blowyourbrain' Morozyuk
Airat 'Silent' Gaziev
Ivan 'Vigoss' Shinkarev
Source:
Team-Empire.org