Orange and ABC face off in GEST February final

Day one of GEST february ends, with NeoES.Orange and ABC making their way all the way to the finals. Both teams have qualified for GEST The Challenge and will be battling for the $1,000 cash prize.
NeoES.Orange vs ABC


Mushi
Ohaiyo
Xtinct
Net
Kyxy
      vs      

dabeliuteef
Winter
Wangwang
TFG
FzFz (Stand-in)

Day one of GEST February will end with NeoES.Orange and ABC once again in the finals of a tournament.
NeoES.Orange came into this tournament as the favourite and truly displayed a spectacular performance especially against Rising Stars from China.
NeoES.Orange was trailing throughout most of the early game due to some excellent warding and global ganks but managed to pull ahead come mid-game with Yee Fung 'Mushi' Chai's Juggernaut going the utility build.
ABC performed well today defeating 1stVN, NeoES.Th, and Harrosh despite playing with two stand-ins: Galvin 'Meracle' Kang from First Departure and Cheng Hor 'FzFz' Siew from Invasion.
Meanwhile, NeoES.Orange mowed down Speratus, Rising Stars, and NeoES.INA to reach the grand final.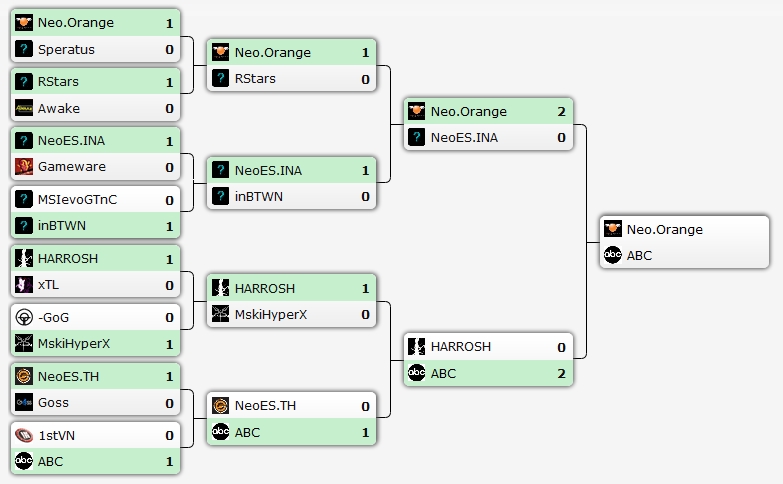 This is the third time in about a month that NeoES.Orange and ABC has met in the finals of a tournament.
The first two tournaments, Litany League Season 2 and GMPGL Malaysian qualifiers are both won by NeoES.Orange. NeoES.Orange has yet to drop a single game against ABC in the final.
NeoES.Orange will also be winning all five tournaments they have joined if they win the GEST February.
Both teams have qualified to GEST The Challenge to face off against Chinese teams late next month.
NeoES.Orange and ABC have a lot of pride and cash prize at stake for tomorrow's best-of-five game.
The game is scheduled for 12:00 CET tomorrow.
| | |
| --- | --- |
| Placing | Prizes |
| 1st place | $1,000 + entry to GEST The Challenge |
| 2nd place | $500 + entry to GEST The Challenge |