Na'Vi replaces Ars-Art with Funn1k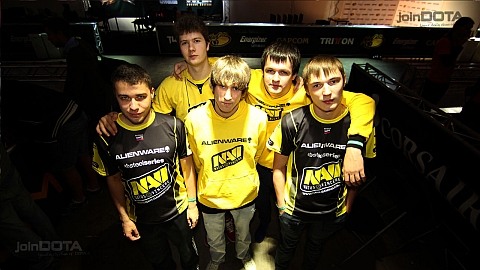 Image courtesy of jD.
Na'Vi's management announced a shocking change to the Na'Vi Dota 2 team. Ars-Art will be leaving the team to make place for funn1k.
-Update-
Apologies to our readers for jumping the gun through prodota.ru's announcement of KuroKy joining Na'Vi. Na'Vi website has stated that funn1k has joined the team but not KuroKy.
---
Earlier today, CEO of Natus Vincere, Alexander 'ZeroGravity' Kohanovsky
tweeted
that the Na'Vi Dota 2 team, a team which has not played up to their standards recently, will undergo some changes.
Kohanovsky
tweeted
again a few hours later stating that the new changes in the team will be announced tonight.
The forums blew up today with hundreds of fans storming Reddit, GGnet, and jD forums discussing the possible alterations needed for the team. Na'Vi organization did a great job being tight lip about the announcement to keep the public waiting in anticipation.
The rumor of funn1k joining became apparent and deemed too much of a coincidence when Team Empire announced his sudden departure one hour prior to Na'Vi's announcement.
Gosugamers has just received official confirmation that the current Na'Vi team will be losing Sergey
'Ars-Art'
Revin.
To fill in the shoes will be solo mid player and offlaner, Gleb
'funn1k'
Lipatnikov from Team Empire.
Statement by Ars-Art:

"I would like to thank Natus Vincere e-Sports Club for this wonderful year and a half that I've been a part of it. Thanks to the guys for their your support and victories. Thanks to the staff for all their assistance in every aspect. Special thanks to ZeroGravity, of course, who asked me to join Na`Vi back in that days. I want to wish good luck and new achivements to the new team. See you soon, just in a new squad!"
Statement by Puppey, captain of Na'Vi:

"Today I announce that one of our players will be leaving the team, Sergey "AA" Revin. The presence of Smile in this team will always be remembered, because he was a part of what created Na`Vi-

Times have been different and conflicts have arisen. It has been an uneasy environment for a long period of time, we have been trying to fix this situation but have failed to do so. That is why we will bring new blood and friendship to the team. Funn1k, an old friend of XBOCT and a remarkable player will be joining us today to rebuild Na`Vi and create a new environment"
Statement by Funn1k:

"I feel sorry to leave my current team, but still Na`Vi is on top of the e-Sports and it's worth trying to become the best. I am very happy that I will be now playing with this team and won't say smth like 'we will become number 1 in the world. I don't know if we will, but I know that I'll do my best to make it happen"
The formation of the previous Na'Vi line up came in November 2011. The ex-Na'Vi roster quickly shot up in GGnet rankings and placed first for a considerable amount of months.
Na'Vi competed in The International 2 in August last year and managed to place second despite being the only Western team surrounded by fierce Asian competitors.
Na'Vi's achievement in their previous roster are as below:
2nd - Star Championship, Kiev (2011) - $5,000
1st - The Defense (2012) - €6,000
1st - The Premier League (2012) - $5,000
1st - Star Ladder: Star Series #1, Kiev (2012) - $6,000
2nd - Dreamhack Summer, Sweden (2012) - €5,400
1st - The Premier League, season 2 (2012) - $5,000
1st - Star Ladder: Star Series #2, Kiev (2012) - $6,000
1st - joinDota Masters Special (2012) - €1,000
2nd - The International #2 @ Seattle (2012) - $250,000
1st - Star Ladder: Star Series #3, Kiev (2012) - $6,000
1st - GosuLeague: season 4 (2012) - $2,500
1st - Electronic Sports World Cup, Paris (2012) - $12,000
3rd - ASUS FBOTY, Kiev (2012) - $2,500
1st - GosuLeague: Season 5 (2012) - $2,500
1st - StarLadder: Star Series #4, Kiev (2012) - $8,000
1st - ESL Major Series One - Cup #1 (2013) - $600
2nd - ESL Major Series One - Cup #3 (2013) - $200
Time will tell if the new Na'Vi will be able to keep up with the enormous expectations the public will have for them.
Na'Vi is currently participating in EMS One (2nd place), RaidCall D2L Season 2 (10th place) and StarLadder Star Series V (14th place).
Team Empire are now down to a four men roster and will be looking to announce a fifth member in the upcoming days.
Na'Vi current roster:
Clement 'Puppey' Ivanov (Captain)
Danil 'Dendi' Ishutin
Alexander 'XBOCT' Dashkevich
Gleb 'Funn1k' Lipatnikov
Dmitriy 'LighTofHeaveN' Kupriyanov
Team Empire current roster:
Artur 'Goblak' Kostenko
Roman 'Scandal' Sadotenkov
Vladislav 'Blowyourbrain' Morozyuk
Airat 'Silent' Gaziev
Source:
navi-gaming.com