EG send Na`Vi home packing, Dota 2 down to the final four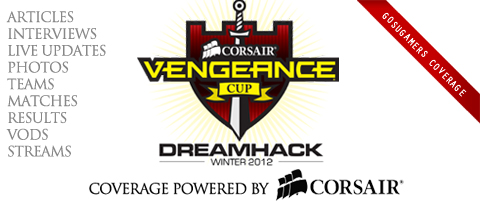 The final four of DreamHack Winter's Dota 2 event have been determined; Ukrainian favourite Na`Vi is not one of them however. The most successful team of the western world fell to solidly playing Evil Geniuses in a onesided quarter final. The Blues on the other hand, will be joined by Empire, nth and FnaticRC tomorrow when prize money is at stake.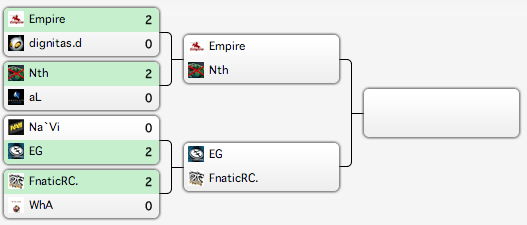 The round of quarter finals were opened by Empire who got to meet dignitas, as well as newcomers WhA looking to continue their dream by beating Fnatic. Both series emerged to rather onesided affairs.
Despite a big disadvantage in the first game, WhA shut themselves off under a big turtle shell quite effectively and prolonged a seemingly lost game until the 50-minute mark. Most resistance was gone in the second game however, seeing Fnatic in strong shape with a lot of potential to surpass the semi final as well.
Empire once again rolled with heroes they felt comfortable playing, letting - for example - Sockshka hard lane his Tinker, that would obtain BoT's faster by farming the closely located, repeatedly stacked ancient creep spot. Funn1k and Scandal playing the solo roles helped the Russians to success earlier and did so again. Combined with a few individual mistakes by dignitas, the firstly featured quarter final clearly ended in Empire's favour.
It didnt take nth long to work out a lead in the third quarter final either. While aL nearly got steamrolled in the first game, the rematch let the recently reformed squad show their potential, seeing them draw even in kills for a long time. As far as the advantage in obtained gold goes however, nth had it throughout both matches and didn't ever give it away. The Swedes will be Empire's opponent tomorrow in the first semi final taking place at 14:00 CET.
Lastly, it was Na´Vi's turn to keep up with the competition. It was supposed to be a successful attempt to win DreamHack after having lost to mTw in the grand final six months ago. After a disappointing first day, EG seemed to have learned their lesson though and erased most problem zones in their game, repeatedly catching Na`Vi off guard through good awareness and execution of their lineups. EG will therefore meet Fnatic in the second semi final coming up at 17:00 CET.