SlarLadder's first playday begins today.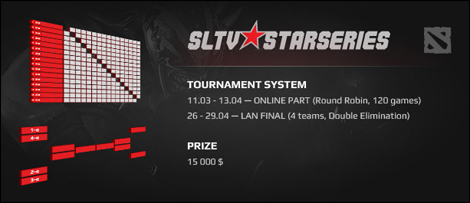 We will have the first glimpse of v1lat's ambitious project today and tomorrow. Na'Vi vs DTS and IG vs EG are the match-ups not to miss in this first round.
After a long wait that was required to have StarLadder's site up and running, we will now be able to watch the best teams in the scene fighting against each other. The first part of the tournament will feature a very big group-stage of 16 teams that will promote the top4 to LAN finals in Kiev in late April. The prize-pool? 15,000 dollars, distributed among the best eight teams.
Prize-pool distribution:
Champion: $6,000
Runner-up: $3,000
Third place: $2500
Fourth place: $2000
Fifth place: $500
Sixth place: $400
Seventh place: $350
Eighth place: $250
The first of the 15 rounds will start today at 18:00 CET with
PR
facing the Serbian
Fnatic
because our stellar western match (
Na'Vi
vs
Darer
) will be most likely postponed since NS seems not to be able to play today. We will have to wait to see the ArtStyle and G facing their once teammates. However,
It's GoSu
vs
EG
will provide us some rivalry to enjoy. You don't want to miss IG's attempt for vendetta after being kicked-out of Dignitas Cup by them.
Our schedule for today


Monday 12

Na'Vi - Darer
FnaticRC - PR
CLG - Infused
DTS - e-Sahara
17:00 CET
18:00 CET
19:00 CET
20:00 CET

Every single game will be streamed in English and Russian. v1lat will naturally cast for the western region while our own GoDzz, Purge and Maven will stream worldwide in English. You can watch StarLadder's teaser below to hype yourself before the most important online competition competition of Dota 2 begins.
GosuGamers wishes the best luck to all the teams involved in the competition. We will keep you updated with tomorrows schedule.
Links
StarLadder
- Source