'One of the most exciting endings I've been part of'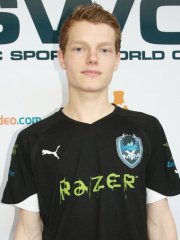 In the night before the FARM4FAME 3 finals we sat down with the well known MYM captain and strategist Jacob 'Maelk' Toft-Anderssen who gave us an insight into the team's feelings during the nerve-stretching second game against Na`Vi on day one of the playoffs and his opinion on the current state of the European professional scene in the wake of the huge headline-storm, that put DOTA 2 as close to us, as never before. We would like to thank mymym.com for putting us in touch with Maelk.
Thanks for accepting this interview. You and your team are currently boot-camping and reside together at one place. Would you describe the view and the atmosphere a little bit? How should regular gamers illustrate a MYM boot camp?
We started out by discussing to do two different boot camps, one in Denmark and one in Germany at an actual bootcamp-facility. We ended up deciding to stay in Denmark for the entire duration since all of us wants to see our friends and family from time to time inbetween.
We are staying at MaNia's place for over a month in total, in his apartment, where we're set up in his bedroom up against a wall sitting on a long row (the usual LAN-way). When we sleep, Demon and I have each our couch, MaNia has his bed and MiSeRy and Amel has a few matresses.
During the day it can get very, very hot in here since it's summertime and we've put up black plasticbags infront of the windows because MaNia doesn't have curtains! The atmosphere is relaxing and cozy with emphasis on having a nice time!
"
... over the past few months, we've went above and beyond to improve on all levels"
Ill get straight to the main reason why we are sitting here, game 2 of your match versus Na`Vi yesterday. Firstly I would appreciate to hear your general opinion on the game quality-wise. Would you consider it as high-class, or memorable as its getting celebrated right now?
Personally, it's one of the most exciting endings I've been a part of and we were all very happy with the turnout of the game. With that being said, the game as a whole isn't exactly thrilling to watch for the first 35-40 minutes.
We knew what style Na'Vi was gunning for and tried to shut it down during the picks, which we somewhat managed to do. We then failed our earlygame (partially due to my awful Crystal Maiden) and our lineup was incapable of coping with ganking Alchemist all the while struggling with AA's ultimate in fights.
Throughout the first 40 minutes we felt weaker than them if engaging in teamfights and ended up doing a poor trade in getting two barracks but losing four ourselves plus two throne-towers and, as everyone knows by now, nearly the throne as well.
After we pushed back their attack, we managed to build up the items we needed inorder for us to fight them succesfully and basically won all the fights we took aside from when we pushed their base the first time.
I can understand why it's hyped as much as it is, but that's solely for the ending. Truthfully, I think the games between Na'Vi and us often generate some of the most boring games we play, since both teams are on par and neither wants to give away the win (Relating to not only this match but also our previous encounter a month ago).
It's hard to explain why, but maybe we just want to play similiar styles but neither of us allow the other to do so. It's possible we simply know eachother too well and always end up doing strategies we're not comfortable with.
"
MYM vs Na`Vi game 2: it's One of the most exciting endings I've been a part of"
It is by now confirmed that you will face Na`Vi again today. What is your opinion on the overly aggressive way they play. They describe it a superior style of DotA. Would you agree?
They do? Haha, yeah I guess I would. A few versions back, defensive DotA and in particular the utterly boring '5-man train'-style was very dominant, but nowadays it's rewarded being aggressive and pushing so I definitely agree. I just hadn't heard they themselves had described it as a 'superior style'.
Puppey said in a recent interview that many teams abandoned their goals to reach the top-tier levels and wait for a new start with DOTA 2. Does this impression match your experiences when observing the professional scene throughout the last months?
No, I wouldn't say that. Obviously a lot of the teams are hoping for a bright future and hope to be among the pioneers in what can possibly be the next big thing in the world of e-sports on par with Starcraft II, but I don't think the teams have necessarily stopped trying harder because they're waiting. The top of Europe is as strong as ever, so is the Chinese scene, and I don't see the general level of skill ever subsiding. It's always rising from here on out.
To me, MYM improved a lot in the last months. The team-play appears to be more balanced, a bit similar to DTS when they had their golden era last year, after a long time of staying and performing together. Do you think MYM in the current roster plays together long enough by now, to seriously attempt a high placing at WDC or SMM with Chinese participation like DTS in Wuhan last year?
Yes, definitely. At the end of last year, we had the talent, but unfortunate circumstances and lack of teamplay were in our way of any notable success. This year, especially over the past few months, we've went above and beyond to improve on all levels and be able to take up fights, so its not only Chinese teams regarded amongst the best in the world.
We still have to prove ourselves though, as it has never really been an issue whether or not we could compete with the top European teams. So we're aching to play in the Asian pro-circuit.
"
The top of Europe is as strong as ever, so is the Chinese scene, I don't see the general level of skill ever subsiding"
Your wish will probably come true at least for now as you will face Asian teams at Gamescom. As an insider you obvioulsy knew a few things beforehand already, but as the announcement is out DOTA 2 suddenly became omni-present. As last question, do you believe the western professional scene will develop to an extent that puts a broader mass of teams on par with China?
Yes, once the European and American scenes are facing the same opportunities in terms of tournaments and salaries as the Chinese does, the scene will also pick up the gap between the two continents. I'm not one to inflict more damage to the Asia vs Europe-conflict that the fans seems to have though, and I hope it will just lead to a bigger professional scene with more tournaments involved. I hope we can learn from eachother and help eachother out rather than the current mentality with the fanbases feeling the Asians are superior and others trying to defend the fact that they're not. It's not really relevant what nationality you have but rather what kind of player or team you are. Personally, my alltime DotA-favourite is Dai (X!! of EHOME).
Thank you for your time and good luck today. Do you have shoutouts to give?
Shoutout to my DeMoN and the rest of my boys for a great boot camp thus far. Hoping for a good showing in Germany and thanks to all of our fans, MYM, RAZER, Western Digital and Puma for their continuous support.
MYM will face Na´Vi today at 19:00 CET in the FARM4FAME 3 grand final. The full interview with four more questions can be read at mymym.com
Links
GosuGamers
- Gosubet: MYM vs Na`VI
mymym.com
- Full Interview