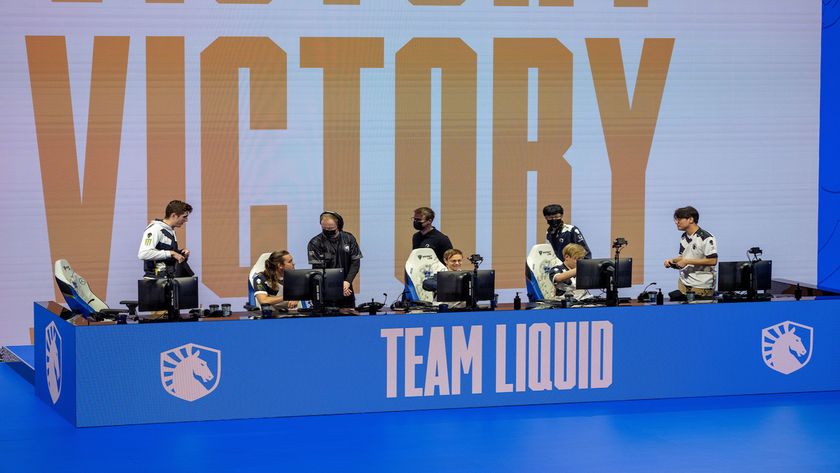 5 talking points for Day 1 of the Group Stage at Worlds 2021
Instead of doing our usual recaps, we're going to be focused on the five talking points that have been the highlight of day one of the Group Stages so far at Worlds 2021.
We're finally here! After a gruelling few days of Play-In Stage action and drama, we finally have our top 16 teams that will be facing off against one another on the Rift to see who has the right to claim the Summoner's Cup. The group stage will see all 16 teams divided into four groups of four where they will play a double-round robin, best-of-one format. The top two teams from each group will move on to the playoffs while the bottom two will be heading home.
We started the day off in Group A with 2020 winners DWG.KIA facing 2019 winners FunPlus Phoenix. We then moved on to a Group C doubleheader with Royal Never Give Up going against PSG Talon followed by Hanwha Life Esports versus Fnatic.
It was then time to focus on Group D, starting with LNG Esports facing up against Gen.G before moving to another double-header in Group B where T1 faced up against Detonation FocusMe, followed by EDward Gaming and 100 Thieves. We round off the night with the other Group C clash between Team Liquid and MAD Lions before rounding off the night back at Group A with Rogue and Cloud9.
The LCK is paving the way
South Korea has always been one of the top competitors in League of Legends and they reminded the rest of the world why they are such a feared region. On the opening day of the main event, all four LCK teams convincingly won their opening matches. DWG were first up against FPX, handing the 2019 winners a resounding loss in which the LPL squad only had two kills to their name while the LCK champions had 18.
Hanwha Life Esports also got in on the action, taking advantage of a weakened Fnatic without their ADC and showed why they shouldn't be looked down upon, even if coming from the Play-In Stage. Gen.G was also part of the action with their opening match against LNG Esports. The game ended without much bloodshed though; Gen.G took eight kills to LNG's one. T1 rounds up the LCK contingent with a convincing win over Detonation FocusMe, one of the stronger teams coming out of the Play-In Stage.
Rogue shines for the LEC
Heading into Worlds 2021, many were expecting the LEC to surprise us this year, mainly due to MAD Lions. The LEC number one seed has been in top form of late and the team has been pegged to be a shoo-in for the playoffs. Unfortunately, it didn't quite work out for the team as they lost their opening match against Team Liquid. Fnatic also tasted defeat, which meant that two of the LEC's top teams were already starting on the back foot.
With all the region's hope now on Rogue's shoulders on day one, the third-placed team in the LEC did not disappoint. They went up against C9 and made sure that they didn't make it 0-3 for the EU region. While there is still a long way to go in the tournament, something tells me we may not be done with Rogue just yet.
Mixed results for the LPL
It wasn't a good day for LPL fans as they witnessed FPX get hammered by DWG. It didn't stop there though as LNG was also resoundingly defeated by Gen.G, showing just how far ahead South Korea are ahead of China. It wasn't all bad though as EDG made sure everyone in Group B knows they aren't to be messed with while RNG made short work of Fnatic, something they'll be all too familiar with.
It's not the end of the world for the region though as there are still plenty of days left in the competition to look forward to. While it doesn't make for great reading, the LPL teams still have plenty to fight for, especially a team like FPX that can bounce back almost immediately.
Miss Fortune tears up the charts
Ever since the introduction of patch 11.19 just mere weeks away from Worlds, many experts and analysts have been speculating on which champions could shape the tournament meta. We also had our say on the matter but nobody could've predicted the impact Miss Fortune has had on the tournament so far. While she was the top pick during the Play-In Stage, not many were expecting her to play that big of a role during the group stages.
She has been picked a total of six times so far in the group stages, the most out of any champion. She was also picked a further 29 times during the Play-In Stage, signalling her importance as an ADC. The only problem with Miss Fortune would be to find the right team composition for her as she lost half of the games she's played.
What to expect from Day Two
With day one now done and dusted, we can now look forward to day two with plenty more action and drama left to unravel. It will be a fight for first place in Group A with both DWG and Rogue going at it while both C9 and FPX will be looking to score their first win of the group stage. Group B will feature something similar as T1 and EDG face-off to see who can top the group while 100 Thieves look to put Detonation FocusMe to the sword.
PSG Talon will be hoping to put today behind them as they take on Hanwha Life Esports tomorrow in Group C. They will be joined by both Fnatic and Royal Never Give Up with the LEC squad hoping to get themselves going. Lastly, there's Group D where Gen.G will play against MAD Lions and to end the night, we have LNG Esports versus Team Liquid.
(Image credit: Riot Games)