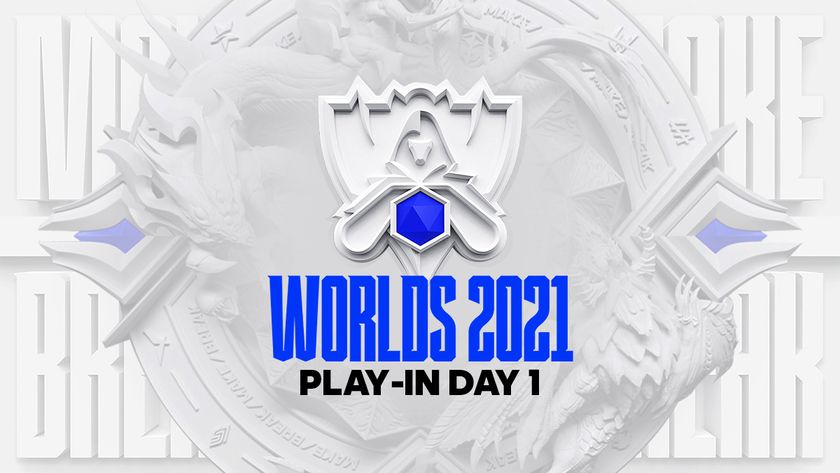 Play-In Day 1: LNG and GS go 2-0; DFM and HLE even things out; C9 marks win with style, and more
Worlds 2021 couldn't have started any better as we see LNG Esports take a quick 2-0 lead in Group A while Cloud9 get their first win in Group B alongside Galatasaray Esports. Hanwha Life Esports and Detonation FocusMe rise and fall even things out going into day two.
Day one of the League of Legends World Championship has lived up to its expectations as Riot Games head into its 11th iteration. The Play-In Stage has exceeded expectations on what the future games will look like with polished plays alongside a new meta.
At the end of the day, both LNG Esports and Galatasaray Esports lead their respective groups with quick two-nil victories across the board. They're followed close behind by RED Canids and Cloud9 who both gained their first victories of the day. Hanwha Life Esports and Detonation FocusMe have had a decent showing so far, winning and losing one game each. PEACE and Beyond Gaming didn't start well, losing their only game of the day. And lastly, there's Infinity Esports and Unicorns of Love, two teams who did not step up today and ended up losing both their games of the day.
Group A
We kick off the Play-In Stage in some style with Hanwha Life Esports facing up against LNG Esports. It also has an interesting subplot as it showcases HLE's midlaner Jeong "Chovy" Ji-hoon versus LNG's jungler Seung-yong "Tarzan" Lee, former teammates during their time with Griffin.
The Play-In Stage usually doesn't matter all that much in the grand scheme of things as it's seen as a glorified qualifier to see which four teams will make it to the Group Stages. Worlds 2021 tells a different story as it will now set the benchmark on how the latest patch 11.19 will play out for the rest of the tournament. With the Play-In Stage teams setting the meta and playstyle first, it sets the tone for which champions will work.
Both HLE and LNG start things off with a fiery encounter with Chovy going for a mid Tryndamere pick, something we touched on a couple of days earlier as well. While it was LNG who took an early lead in the game, they could not hold Chovy's Tryndamere back for much longer. He came to life in the 20-minute mark, taking advantage of LNG's mistake in the bottom jungle and putting his team on his back. Being the first match of the day, you could sense the tension in the game itself with both teams trying their best not to make any mistakes.
While it looked like LNG were going to take over the game early on, HLE persevered and soaked up the pressure before turning things up in the mid-game. The gold difference was a non-factor in this game as both teams were evenly matched until LNG got the upper hand in a mid-lane river engagement. This resulted in HLE losing four in the process before LNG moved on to slay the Baron. Things soon went from bad to worse for HLE on the 37-minute mark as they got caught in another five-versus-five fight in the river, which saw them lose four once more. Two minutes later, HLE decided to contest LNG in the Baron's pit but it wasn't enough as they got forced out of the area and ended up getting dived into their base.
Before you know it, LNG was knocking on the front door of HLE's base before taking down the Nexus. It was a pretty straightforward game for LNG, who performed well as a team and showed that individual skill doesn't matter in the grand scheme of things. While they did trip up at some parts of the game, they managed to maintain overall control over HLE and kept them at arm's length for the entirety of the match.
After an entertaining first match of the day, we're well and truly on our way into the Play-In Stage of Worlds 2021. The second match of the day features debutants RED Canids from Brazil to go up against the Costa Rican squad known as Infinity Esports. In a match that many touted to be an all-out brawl, the match certainly lived up to its name.
Infinity took a great start to the game in only six minutes, wiping out three from RED, who could only respond with a single kill. The game has been a quick back-and-forth with both teams going at each other whenever the chance presents itself. The core picks of Miss Fortune and Camille on Alexandre "Titan" Lima and Guilherme "Guigo" Ruiz respectively have been crucial for RED just decimating Infinity from the mid-game onwards. By the 30-minute mark, RED has a massive gold and map advantage while pressuring all three lanes to Infinity's base.
After another misstep in the mid-lane river heading to the Baron's pit, Infinity lost another two in a skirmish that essentially left their base two-man short. It was only a matter of time before RED would march down Infinity's base and when they did so, the Costa Rican team could do nothing to stop the rampant run to their Nexus. In a match that many were on the fence on who would win, RED comes out on top with a key victory on day one.
With both Infinity and RED setting the bar on what an entertaining LoL match looks like, we head into the third game of the day between LNG and PEACE. The Aussie squad has had a turbulent time before Worlds after losing their top laner, Yao "Api" Jian-Jing, who was unable to attend the tournament due to visa issues. As a result, they brought in their coach, Tamás "Vizicsacsi" Kiss.
PEACE starts the game off in an interesting fashion with Zed being picked up by Leo "Babip" Romer. But aside from that, LNG has had total control over the early game proceedings, particularly aiming Vizicsacsi on multiple occasions to ensure he doesn't get too comfortable in the game. This is a massive mind game from LNG that may very well work out in their favour. PEACE had been unable to pick off any of LNG out of position, which has resulted in the team's aggressive movements not working out.
But it was Jia-Le "Ale" Hu on his Fiora who had been the star of the game, securing all four kills for his team come to the 15-minute mark. The top laner has completely dominated his lane and had hit his timing to perfection. His constant rotations to the mid lane have also made it easy for LNG to take control of the map. LNG as a whole has been moving as a cohesive unit, being able to push and fight whenever they please. PEACE have tried their best to keep LNG at bay but it appears that the LPL underdogs were way too far ahead in terms of items, gold, and levels.
This came to a head as PEACE stepped into their jungle and got caught out by LNG and in just a matter of seconds, having their entire team wiped out. From that, LNG decided to march down the mid-lane and head straight for PEACE's Nexus, putting on a dominant display on the main stage.
The last game of Group A is an interesting one with both HLE and Infinity starting their tournament campaign with a loss to their names. With both teams looking for their first win, it's hard to determine who would have taken this game when looking at the draft alone. HyeokGyu "Deft" Kim went for his Ezreal once more to prove that game one was just an outlier. From the get-go, HLE took total control over the game after 10 minutes, gaining the first blood as well as taking over the map with ease.
Infinity did try their best to get back into the game and they worked hard for it when it mattered. The 15-minute mark proved vital for the team as they managed to take out four of HLE in quick succession after an awkward skirmish in the top river heading towards Infinity's jungle. They managed to catch HLE out of position and made quick work of them thanks to Sebastian "Cody" Quispe coming in clutch with his Zoe. This gave Infinity the chance to slowly claw themselves back into the game as they managed to reduce the gold deficit. However, HLE had too much of an advantage thanks to their early game antics.
This forced Infinity into making desperate plays, which ultimately didn't work out well for them. After straying too far out of their base without all their lanes pushed out, Infinity was forced into an awkward situation and thus left their bottom lane exposed and before long, destroyed. This allowed HLE to rat their way into the game and they did so successfully, giving themselves their first win of the day after their previous loss. Infinity can hold their heads up high though; while they did lose, their performances have been decent, which gives them something to work on heading into day two.
Group B
The first game of Group B pits two underdogs heading into Worlds 2021, Unicorns of Love and Detonation FocusMe. Both teams have been known to having moments of magic on the big stage as they have competed against other international teams in the past. DFM has been on a tear in the LJL and was eager to show what they can do on the main stage.
While OUL managed to take control during the early game, it didn't last long as DFM slowly but surely made their presence known. The Japanese squad showed just what to expect from them with their hyper-aggressive playstyle, which caught UOL completely off-guard. DFM took over the game from the first few minutes, not giving UOL a chance to breathe. Geon "Steal" Yeong Moon has been instrumental in the team's movements and pickoffs, playing Talon to perfection and picking off UOL time and time again. He was also involved in more than half of the team's kills, showing just how pivotal of a role he plays in the squad.
By the 25th minute, DFM had a sizeable gold lead over UOL with close to 4K gold. DFM also managed to secure their presence all around the map, ensuring UOL doesn't have a chance to traverse outside of their base. But with an over-aggressive playstyle comes over-confidence, which was DFM's mistake as they tried to force the issue while diving into UOL's base. This gave the LCL winners the chance to pick off two from DFM to make them think twice.
It all came to a Mexican stand-off for the drake in the 30-minute mark where both UOL and DFM met in the river. After dancing around one another, DFM decided to initiate the fight themselves and it worked wonders. They ended up wiping out four from UOL after chasing to the top lane. Both Yuta "Yutapon" Sugiura and Lee "Aria" Ga-eul were key in that team fight, not giving up on the chance to hammer another nail into the coffin. The final blow came soon after with DFM heading straight into UOL's base without any response from the latter, taking their first win of the tournament with ease.
The Turkish giants are known as Galatasaray Esports go up against one of SEA's top teams in the form of Beyond Gaming in what looked to be a tasty affair. The drastic contrast of playstyles between both teams makes it one exciting match with GS more known to sit back and farm whereas BYG just wants to fight and push. BYG would be looking to get Chiu "Doggo" Tzu-Chuan off to a good start. For GS, they will be wanting to play around Onur "Zergsting" Ünalan and his Bard, a champion he is more than familiar with.
However, it was GS who started the game on the front foot, able to get a two-for-one special on the top lane along with the first blood. This gave them a good gold lead to start the match and before long, they were still maintaining a slim lead 10 minutes in. But as the game ran its course, you could see that GS were slowly but surely extending their advantage over BYG  with faster farming rates while slowing the pace of the game down.
The TCL champions controlled the tempo of the game while BYG were playing keep up. This suited their playstyle, giving them a chance to trade key kills with GS. The first real team fight happened in the 22nd minute when both teams traded three kills each. Another happened soon after with GS catching BYG out of position, wiping out three again and opening up the door to Baron. The game soon became out of reach for the PCS boys as they got the whole squad wiped at the 33-minute mark, the final stain in an otherwise disappointing performance.
One of the LCS' most premier teams is toiling away in the Play-In Stage after performing admirably at the Mid-Season Invitational. Cloud9 go into their first game of the day in high spirits, knowing that taking a win over DFM will set themselves up in good stead going into day two. Arguably the third-best LCS team on paper, C9 have plenty to offer in the rift and they showed just that with a dominant display over DFM.
The LJL contenders had no chance from the get-go with C9 gaining the first blood early on and following it up key takedowns on the top lane. The NA squad were on top form today with the likes of Luka "Perkz" Perkovic just schooling DFM over and over again. He made his presence on the world stage well and truly known once more with a triple kill around 22 minutes, putting on a clinic with Sylas. To put his performance into perspective, he took eight kills to himself. Jesper "Zven" Svenningsen also had a decent showing on Miss Fortune, showing why she's a top pick so far in this meta.
Soon after that, it was cruise control for C9 as they kept DFM strictly in their base, farming around the jungles and pressuring the lanes before heading for the kill. They managed to dive the base and took the Nexus down with complete ease.
The last game of the day featured UOL facing off against GS with the TCL victors hoping to extend their lead whilst LCL winners were still searching for their first win of the day. Miss Fortune continues her fortuitous run on day one, finding her way into the GS line-up alongside Talon, a combo that has worked out well so far. UOL has had a decent first game but the second was a downright stomp from the Turkish team.
Roh "Alive" Jin-wook has come to life in this game on Miss Fortune, claiming five of the team's total of 10 kills at just 15 minutes. Aside from him, both Onur "Bolulu" Can Demirol and Berk "Mojito" Kocaman were also on top of their game, showing why Twisted Fate and Talon are still viable in today's meta. At 20 minutes, GS led UOL by close to 10K gold with a huge scoreline lead as well as taking advantage of the map and securing their objectives. This gave them a fairly comfortable level gap against UOL, ensuring they are kept starved for both gold and experience.
But transitioning from the mid-to-late game, UOL did manage to secure some key kills on the board, cutting down on some of the deficit in terms of gold, experience, and kills. Vladislav "Boss" Fomin had put the team on his back, carrying them through some of the skirmishes that ended up in UOL's favour. Sadly, their would-be comeback was not meant to be as GS forced a Baron push, which resulted in UOL replying in kind and ended up losing three in the process. This freed up the Baron for GS and they secured it whilst fending off a persistent UOL onslaught without much trouble.
Heading into 30 minutes, GS felt like it was time to end the game and indeed they did, carving through UOL's middle and bottom structures in an instant. After wiping out two more right next to the Nexus, it all began to look too much for UOL, who although fought valiantly, were no match for GS. They end up going two-nil in Group B in a surprise move, stunning many along the way. It's still a long road for UOL to climb as they have yet to go up against the likes of BYG and C9.
Worlds 2021 - Day 2
Heading into day two, we've got another full day of action on the Rift to look forward to. Group A will kick things off once more with HLE, RED, and PEACE looking to improve on their performances if they're looking to stay within touching distance of the LNG, who just needs to secure one more win to ensure they get a slot to the Group Stage.
As for Group B, BYG will be putting today behind them and looking ahead to tomorrow where they will have two more games to redeem themselves. C9 also has two games to look forward to and they'll be looking to be a thorn in the side of both BYG and GS, who will need to go 2-0 once more if they're looking to make it to the Group Stage.
Don't forget to tune in tomorrow for more LoL action with us!