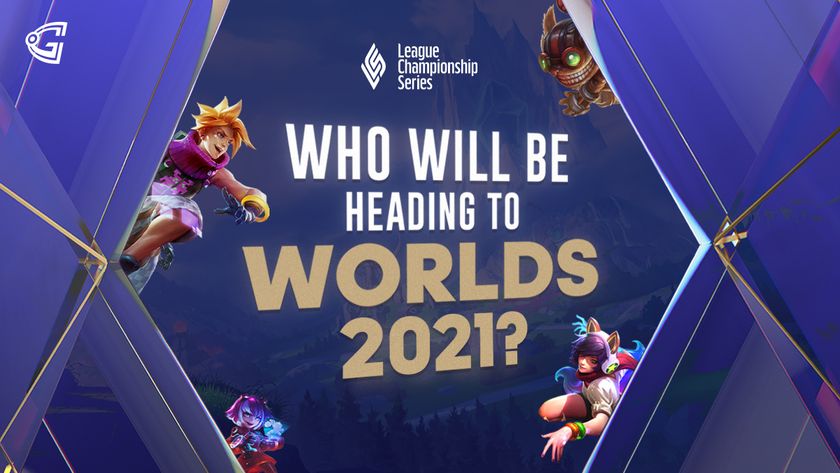 Who is going to Worlds from the LCS?
The likes of 100 Thieves, TSM, Evil Geniuses, and Cloud9 are all vying for their chance at the grandest stage of them all.
We are just mere months away from Worlds 2021 and we're now starting to get a glimpse of who will be heading to China once more. At the moment, many regions are currently going through their group stages and playoffs with the LCS being one of them. The group stages are done and we now have our top eight teams that will be fighting for just three spots to Worlds 2021.
Unfortunately, we say goodbye to both

FlyQuest and

Counter Logic Gaming as they crashed out in the group stages after a dismal showing. The latter was also embroiled in a Twitter controversy during the season, which certainly did not help with the team's morale moving forward. Both teams managed only single-digit victories with FlyQuest having a final score of 8-19 while CLG finished with 7-20. To sum it up, it has been a difficult year for both NA organisations as they finish the Spring and Summer Splits in a very poor fashion.
As for the top eight teams, they will be starting the LCS Championship in just three days. Here are the qualified teams: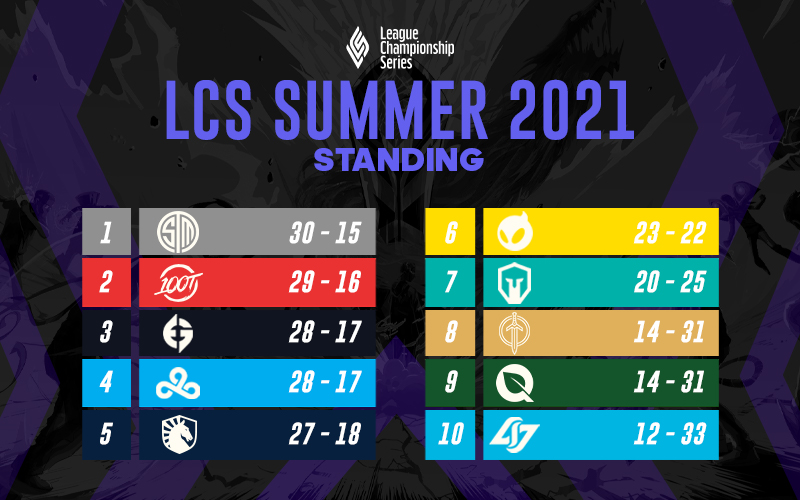 With

TSM and

100 Thieves leading the pack, they both get an automatic bye into the semifinals where they will wait to meet the victors from the quarterfinals. Now, this is where it gets good; the first match-up is between third-placed

Evil Geniuses and sixth-placed

Dignitas , followed up by a fiery encounter between
Cloud9 and

Team Liquid , who finished fourth and fifth.
From here, the winners between Cloud9 and Team Liquid will move on to meet TSM while the loser drops to the lower bracket where eighth-placed

Golden Guardians awaits. As for the match-up between EG and Dignitas, the winner goes on to face 100 Thieves whilst the loser will go up against seventh-placed

Immortals . All matches will be played in a best-of-five series format.
Three-way dogfight
Looking at the Summer Split records on its own, it makes for a pretty interesting read with TSM, 100 Thieves, and EG sharing the top spot at 18-9. Now, the only reason TSM tops the list ahead of 100 Thieves and EG is the Spring Split results, which have been carried over. Because of that, they were able to just edge past the rest of the pack. Given their form, it wouldn't be a surprise to see these three teams head to Worlds. 
If EG were to go all the way, this would be their first-ever appearance at Worlds, but the same can't be said for TSM and 100 Thieves. The former has only ever missed out on Worlds twice back in 2018 and 2019 whilst 100 Thieves has managed to make it at least once in 2018 but fell short in the group stage. Still a relatively young squad, the team is full of confidence, especially their jungler, Can "Closer" Çelik . He was voted the group stage MVP on nine separate occasions, which goes to show just how vital he is to 100 Thieves' run to Worlds.
As for TSM, they have their secret weapon in the form of Mingyi "Spica" Lu . He has also been on hot form of late, bagging nine MVP titles as well. EG will be pinning their hopes on their midlaner, Daniele "Jiizuké" Di Mauro , who has had a great time during the group stages, picking up five MVP titles.
All three teams are definitely within a shout of going to Worlds, but it certainly isn't set in stone just yet.
Dark Horses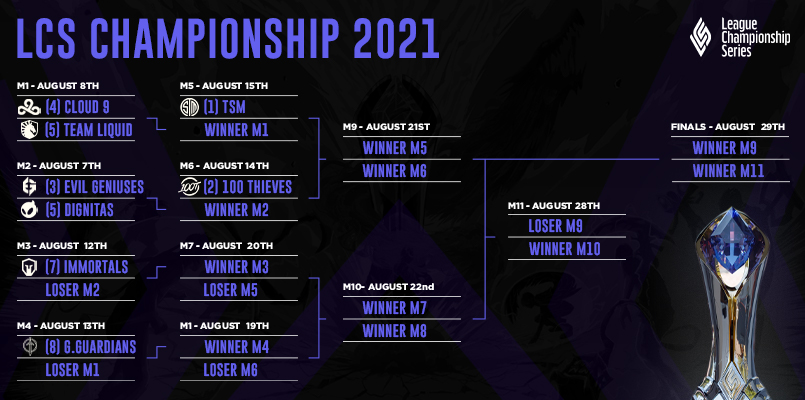 You can't write out Cloud9 just yet as they were able to overcome odds and make it to MSI 2021. They are one of the few teams who have been to Worlds on multiple occasions, spanning from 2013 to 2019. That's a total of seven times, just one shy of TSM's eight appearances. While they missed out last year, they are hoping to not make the same mistake this time.
Team Liquid is also another potential dark horse as they have been to Worlds for three straight years from 2017 to 2020. However, they have never made it out of the group stages, so let's hope they break their duck this year. There is also Dignitas but don't pin all your hopes on them. As one of the oldest teams in the LCS, they have only ever gone to Worlds once back in 2012.
Immortals and Golden Guardians make up the rest of the list but we wouldn't really consider them dark horses seeing as their performances haven't been convincing enough to prove that they have what it takes to make it to Worlds. While Immortals have been in 2017, that was their first and only appearance, which ended in the group stages. As for Golden Guardians, they have yet to know what being at Worlds is like.
Who is representing LCS at Worlds 2021?
Many are expecting both TSM and 100 Thieves to head to Worlds but the last slot is still up in the air. Of course, it's the third-placed team that will have to play more matches during Worlds. The team that finishes first and second at the LCS Championship will head straight to the group stages while the third-placed team will be in the play-in rounds. This is a toss-up between three teams: EG, Team Liquid, and Cloud9.
All three boys in blue will be looking to make it to Worlds 2021 and Cloud9 certainly has the highest chance out of the three. Already knowing what it will take to go all the way, they aren't shy to get the job done when it starts getting tough. They've done it in the Spring Split to get to MSI, they might just do it again.
Team Liquid will also be looking to cause an upset as well as make their fourth consecutive appearance at Worlds. As for EG, they are still within a shout but their inexperience at big stages might just be the hindrance that stops them from going far. Of course, these are just predictions so be sure to check back with us for more LCS updates as we look forward to the Championship playoffs.