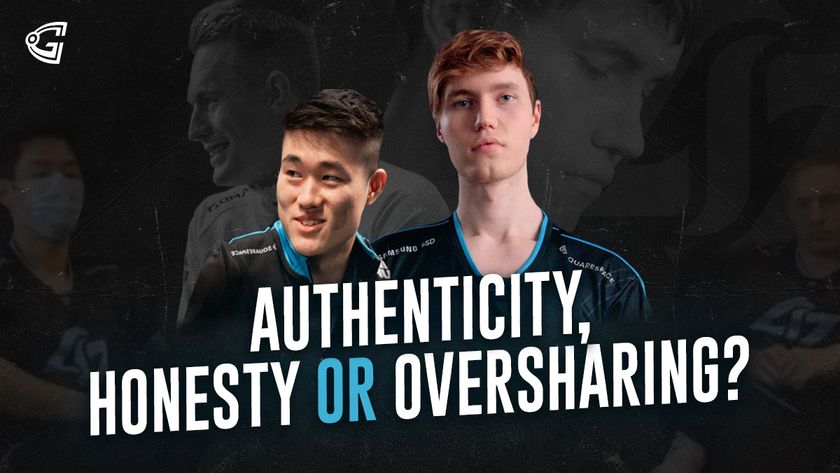 When going behind-the-scenes becomes too much in esports
As esports becomes more and more mainstream, is being too transparent too soon the way to go?
How far will transparency get you in esports? With fans demanding more behind-the-scenes look at how an esports team operates, organisations are finding it harder to draw the line between the two. Is giving fans and supporters an intimate look into the inner workings of the team considered as transparency or is that bordering on too much? As these are essentially two different ways of going about it, there needs to be a balance.
Esports as a whole is trying its best to set itself apart from how traditional sporting organisations run their events, while still fitting in as well. When it comes to traditional sports, however, there's already a streamlined process on how things work. They know the kind of content they want to put up for the fans and what doesn't need to be seen. As for esports organisations, that doesn't seem to be the case sometimes.
Post-match interviews are one aspect that both esports and traditional sports push very heavily. Both are relevant in their respective industries but it's only ever done properly in traditional sports. Like the NBA or the EPL, players and/or coaches would usually give post-match interviews regarding the game and their thoughts on what happened. Players and coaches are already taught how to approach social media. There has to be a clear difference between what can be shared and what should be not.
For esports organisations, sometimes oversharing can be a bad thing.
Take Counter Logic Gaming for example, who earlier this week posted a video on Twitter giving us an inside look at a private meeting with its League of Legends team. Their General Manager, Daniel "Tafokints" Lee was seen speaking with the squad about their recent results and because of their poor run of performances, there will be incoming roster changes. The entire behind-the-scenes look was part of the team's latest collaborative project with Bud Light Gaming on its video series, "Cool Down". On the surface, it looks just like any other PR campaign to give fans and viewers a closer look at the working dynamics of an elite esports team. But the video was deleted soon after and with it, a response followed up with CLG's apology towards their approach on the matter.
So what's the tea all about?
Once the video was posted, it was met with backlash from the LoL community targeted towards CLG's treatment of their players. The decision to leave the players an ominous message - in regards to their future within the team - came off as both merciless and unjust in the eyes of the community and over 400,000 of their followers on Twitter. 
And with that, the horde of comments followed. There were many opinions voiced, most notably on two ends: one that's against CLG's treatment of their players and another that finds it to be acceptable.
On the one hand, it was already humiliating and embarrassing for the players involved knowing that one of them, if not all, will be dropped. To make matters worse, throw in a couple of Bud Light adverts in-between the video for good measure. This was just a callous play by CLG, taking in no consideration as to how the players, as well as the fans, might react.
Many notable figures within the community spoke out against content like this, stating that this is the type of conversation that should happen behind closed doors, especially when it comes to your players looking at their futures through the barrels of a gun.
Another way of looking at it is that this is part and parcel of being part of an esports team, especially if you're part of a team that is backed by someone as big as Madison Square Garden Sports (MSG Sports). If you're not familiar with MSG Sports, they're the same holding company that owns the New York Knicks. So if you've got backing of that magnitude, you can imagine how big the results are to them. Speaking of MSG Sports, it's already fairly well-known about how they've been treating CLG.
In their response tweet, CLG spoke of transparency and how they wanted to be open and honest with their fans when it came to the impending roster changes that were about to come. Sure, wanting to be transparent is one thing but showing fans that their favourite players are probably going to be dropped and having to see the look of despair in their faces says it all; it's not a good look. They're not alone, though, as TSM was also known for putting their players on the spot in various tweets in the past.
So what's the difference between wanting to be transparent and wanting to show fans more of what they've been asking for?
There is a fine line between the two aspects and if we're being completely honest, the only thing CLG did wrong was posting that video in the first place. Conversations like that happen all the time, but behind-the-scenes and away from cameras. The purpose of having them in a private team meeting in the first place to showcase authenticity was done in really bad taste at the end of it all. 
This was neither the case of being transparent or even showcasing a behind-the-scenes look into a particular situation. A good way to showcase behind-the-scenes footage would be the team talk after their win against TSM or even what the atmosphere was like after winning all their games in week three. Instead, they opted to try being transparent whilst showing a behind-the-scenes look of what that is like. If you're looking for transparency, that can be dealt with in a multitude of ways. Even an open and honest tweet in regards to the team's recent results and how they would be heading down alternative routes to look for a solution would've been a lot more transparent.
The team has since apologised, but that's not all because soon after that, they announced the signing of Tanner "Damonte" Damonte, the former mid-laner for 100 Thieves. Guess Tafokints wasn't kidding when he said that changes were going to be made. As it stands, Damonte will be starting for CLG from this moment forward with just three weeks to go in the LCS 2021 Summer Split.