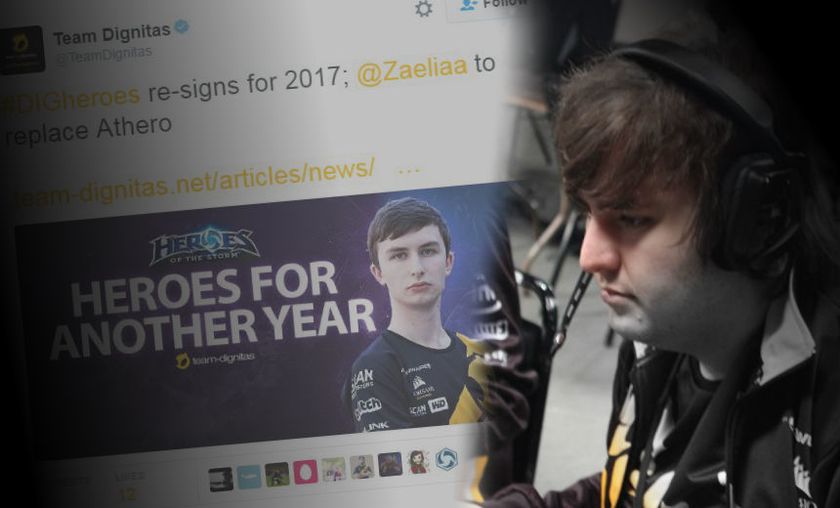 Dignitas re-signs for another year of Heroes. Replaces Atheroangel with Zaelia.

I won't be able to join an HGC team this split meaning that I will be working with players that did not qualify to get into the league and to find my passion to play the game again.
Earlier today, Dignitas released the news (alongside a video re-capping some of the best moments for the team in 2016 and plans for the future) that Lawrence "Atheroangel" Harper would no longer be playing for the team in 2017. His replacement, Kenn "Zaelia" Rasmussen will be joining the team as a Melee Assassin player.
The team had this to say about the news:
"
 First off, I'd like to thank Athero for coming out of a planned retirement to play with us, when we lost Alex just a month before Blizzcon. He had to swap to a new role at the same time as adjusting to a new team, and it was definitely not easy for him."
We've decided to make this change though because we believe that 2017 was a new beginning not just for Heroes of the Storm, as a game and an esport, but for us as well. We have and will remain committed to our goal of being the best team that we can be, and we saw something special in Zaelia. Mechanically he is one of the top players in the World, and he has the drive and attitude to back it up. I fully believe that despite the difficult situation he will be placed in, he will be able to rise to the challenge and become the world class player that we need... "
- James "Bakery" Baker, DIG Heroes team captain
After this news broke, Atheroangel went on to tweet a longer explanation of his feelings plans for competing with a mystery team of players, intending to qualify for HGC through the open series. 
In the TwitLonger, Atheroangel reveals that criticism and hate from the Heroes community after this poor performance at BlizzCon was a large factor in his struggles maintaining the will and motivation to improve. It appears that by the time he became determined to improve (after coming back from the Gold Series league) it was already too late and the team had decided to pick up Zaelia.
"
Now im not going to say I played well at all for Blizzcon I have even admitted on multiple occasions that I was the worse player on the team for that tournament and as well for GCWC. Post Blizzcon I come back home still doubting whether I want to actually play and my motivation being shot down by continuous hate and backlash from the community. I know some people will say "well just ignore the hate" or "just relax and work on improving" however it definitely affected me a lot more than it should have.
"
Despite the missed opportunity, it appears that all parties involved are on good terms and Atheroangel wishes Zaelia the best of luck. These type of roster changes have been occuring with increased frequencly since the new year. I doubt this will be the last.
Follow us on Twitter @GosuGamersHotS and on Facebook for more competitive Heroes of the Storm news and coverage from around the world.