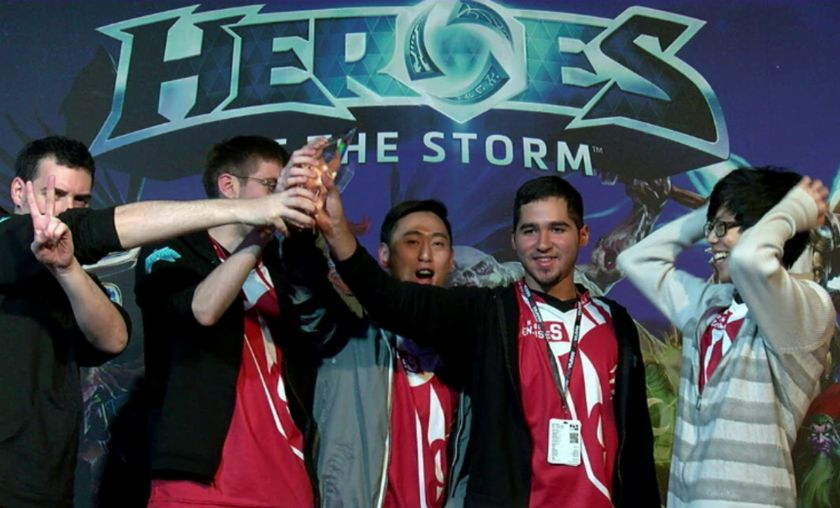 Murloc Geniuses win back-to-back NA Regionals, but who will join them at Blizzcon?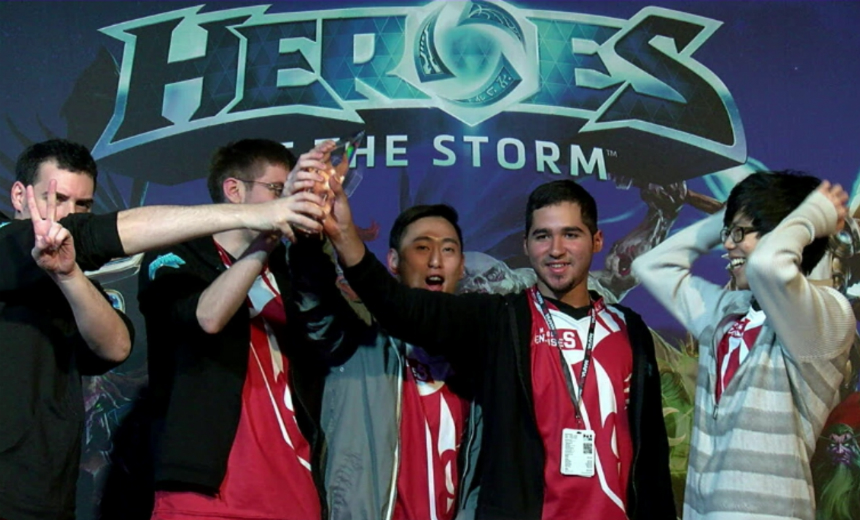 Similar to Europe, a tiebreaker between second-placed teams determined who would join Murloc Geniuses at Blizzcon 2016.
Event hub
In the final day of the NA Fall Regional #2, Murloc Geniuses once again reigned supreme by defeating the resilient Denial eSports 3-2. With the win, Murloc Geniuses became the first NA team to win back-to-back regionals in the same year. In the ensuing tiebreaker, Denial eSports triumphed over Gale Force eSports, securing North America's final spot at Blizzcon 2016.
You can watch the final matches here (part 1 and part 2).
Round 1 - Best of 5
Round 2 - Best of 5
Denial eSports vs. Astral Authority (Semifinals)
Although Denial eSports lost early in the first NA regional, the team would not disappoint again. In the first semifinals, Denial crushed Astral Authority 3-0.
In the first game on Cursed Hollow, Astral Authority immediately drafted Medivh and complemented him with Lunara, Li-Ming, Auriel, and Muradin. Denial responded with a highly mobile and sustainable composition: Greymane, Brightwing, Falstad, Tassadar, and Leoric. Astral controlled the game early on, securing the first curse of the game. However, Denial stole Astral's boss and the momentum. From that point on, Denial grabbed the reins and never let go, taking a 1-0 series lead.
In game 2 on Tomb of the Spider Queen, Denial selected Kerrigan and Sylvanas. Astral Authority once again brought out their secret weapon Chen. Although game 1 was close, Denial annihilated Astral Authority. At the end of the 12 minute game, Denial did not lose a single tower, secured 20 kills, and led by 5 levels.
After the game 2 slaughter, Denial took their opponents to Sky Temple. While not as one-sided as game 2, Denial easily triumphed by constantly winning the numerous team fights. With the 3-0 victory, Denial waltzed into the grand finals without losing a single game.
Team Naventic vs. Murloc Geniuses (Semifinals)
In arguably the most thrilling series of the tournament, Murloc Geniuses squeaked by Team Neventic with a back-and-forth 3-2 victory. Going into this series, Murloc Geniuses had already secured their spot at Blizzcon. However, their only loss in the first NA regional was to Naventic. Although they had the chance to appear in all three of 2016's global championships, Naventic unfortunately will not participate at Blizzcon.
The series started on Tomb of the Spider Queen. Naventic drafted an intimidating team fight composition, highlighted by a rare Tyrande selection. Murloc Geniuses' weak team fight draft had no answer for the numerous stuns and damage output from Naventic. Naventic quickly snatched the momentum and cruised to a 1-0 lead.
In game 2 on Towers of Doom, Murloc Geniuses drafted Stitches who was played by Fury. Stitches secured several critical Hooks and thus kills, allowing Murloc Geniuses to establish a seemingly insurmountable lead with a 32 to 1 core health lead. Naventic, however, showed their composure and experience. With Auriel's Crystal Aegis, Tyrael's Sanctification, and Brightwing's Iceblock; Stitches's Hook and Gorge combo could no longer reliably secure kills. As a result, Naventic commenced an unbelievable comeback. At the end of the game, Murloc Geniuses's advantage tumbled down to just a mere 2-1 core health lead. However, in the final fight, Fury's Stitches landed a critical Hook onto the enemy Auriel, while Falstad used Wind Tunnel to push the rest of Naventic back. After killing the isolated Auriel, Fury once again landed a Hook onto Lunara, sealing Naventic's fate and tying up the series 1-1.
Game 3 might be the most talked about of the series. Naventic finally showed why all of the NA teams have consistently banned Lt. Morales during the tournament. In game 3 on Sky Temple, Naventic drafted Tyrael and Lt. Morales with the plan to backdoor Murloc Geniuses' core by using Morales's Medivac and Tyrael's Sanctification. Within ten minutes of the game, Naventic successfully destroyed Murloc Geniuses' upper keep and removed 40% of their core's health. In the final game sequence, Murloc Geniuses marched towards Naventic's bottom keep, while Naventic immediately flew towards Murloc's core. I suggest watching the video below to see how this game unfolded.
Angry over their miscalculation in game 3, Naventic dismantled Murloc Geniuses in the next game in less than 11 minutes. Naventic's Illidan and Lunara wreaked havoc on the Murlocs, who had no answers whatsoever.
In the fifth game, Naventic selected Infernal Shrines as the final map. Naventic centered their lineup around Greymane by complementing him with Uther, Tyrael, Tassadar, and Li-Ming. Conversely, Murloc Geniuses drafted a more well-rounded composition composed of Zagara, Rehgar, Kerrigan, E.T.C., and Tychus. The Murlocs dominated with constant kills and team fight victories. Despite some hiccups and sloppy decision making towards the end of the game, Murloc Genisues' lead was too large for Naventic to rally.
Murloc Geniuses vs. Denial eSports (Grand Finals)
In the grand finals, Murloc Geniuses showed why they were the defending NA champions by narrowly defeating Denial eSports 3-2. Many disregarded Murloc Geniuses' win at the first regional as a fluke. However, once again, Murloc Geniuses proved the doubters wrong by defending their championship.
In game 1 on Cursed Hollow, Denial selected Tracer. Murloc Geniuses countered with a double support composition, led by Li Li and Rehgar. Although Denial controlled the tributes early on, Murloc Geniuses controlled the later team fights. Denial won a late game team fight and boldly attempted to end the game. However, their audacity was not rewarded as Murloc Geniuses successfully defended and wiped the entire Denial team.
Down 0-1, Denial brought out Medivh and Kerrigan on Towers of Doom, while Murloc Geniuses drafted a relatively standard composition. Although the game was close, Denial's Kerrigan could not secure any kills towards the later portions of the game. By neutralizing Denial's Kerrigan, Murloc Geniuses took a commanding 2-0 lead.
In game 3 on Sky Temple, Denial drafted Glaurung's signature hero, Zeratul. Murloc Geniuses controlled the early game with Kerrigan, E.T.C., and Uther. However, in a key team fight on the middle shrine, Glaurung's Zeratul survived a near death and retaliated with a Void Prison, which was followed up by a Sylvanas Wailing Arrow. The fight's sudden reversal gave Denial the momentum they needed to eventually secure their first win in the series.
Murloc Geniuses took Denial to Garden of Terror for game 4. Denial successfully secured hero kills with Tracer, but Murlocs led in terms of structures throughout the entire game. However, near the end of the game, Murloc Geniuses decision to steal seeds cost them three of their heroes. Denial capitalized on the crucial mistake and ended the game, tying the series 2-2.
The fifth and final map was Blackheart's Bay. Murloc Geniuses drafted map control and wave clear with Xul, Sylvanas, E.T.C, Rehgar, and Greymane. On the other hand, Denial drafted Li-Ming, Tassadar, Muradin, Brightwing, and Illidan. Murloc Geniuses established an early lead with their superior wave clear and never looked back. They shut down Denial's Illidan and completely controlled the doubloons. With the convincing win, they established themselves as the clear #1 team in North America.
By winning both NA regionals, Murloc Geniuses gave Gale Force eSports a second chance to qualify for Blizzcon. The second place team at the first regional, Gale Force eSports, and the second place team at the second regional, Denial eSports, faced off in a best of three series to see who would join Murloc Geniuses at Blizzcon.
Denial eSports vs. Gale Force eSports (Tiebreaker)
Despite losing in the grand finals, Denial eSports recovered and defeated Gale Force eSports 2-0 to secure their spot at Blizzcon.
In game 1 on Sky Temple, Gale Force eSports surprised with a final pick of Sgt. Hammer. Denial countered with Medivh. Even with Medivh, Denial could not isolate Sgt. Hammer. As a result, Gale Force dominated nearly the entire game. However, despite no clear way to lose, Gale Force collapsed. Even with their seemingly insurmountable lead, Gale Force consistently took unnecessary team fights and eventually suffered a full team wipe. Consequently, Denial completed the improbable comeback.
For game 2 on Tomb of the Spider Queen, Denial unleashed Rexxar. Rexxar controlled the objective, but it was Denial's Kerrigan that secured kill after kill. Gale Force could not rebound from their collapse in game 1 and quickly crumbled. With the 2-0 victory, Denial booked their ticket to Blizzcon.
Blizzcon 2016
As of today, the current participants for Blizzcon are China's ZeroPanda and Super Perfect Team, Europe's Team Dignitas and Fnatic, and NA's Murloc Geniuses and Denial eSports. Murloc Geniuses already secured NA's #1 seed, meaning they will get an immediate spot in the second group stage phase of Blizzcon. Denial eSports, conversely, will have to play in the first group stage phase before they can join their fellow NA team in the second stage. Tune in to Blizzcon 2016 on November 4-5 to watch the biggest Heroes of the Storm international tournament of the year.
You can view the full results of the NA Fall Regional #2 here.
Follow us on Twitter @GosuGamersHotS and on Facebook for more competitive Heroes of the Storm news and coverage from around the world.