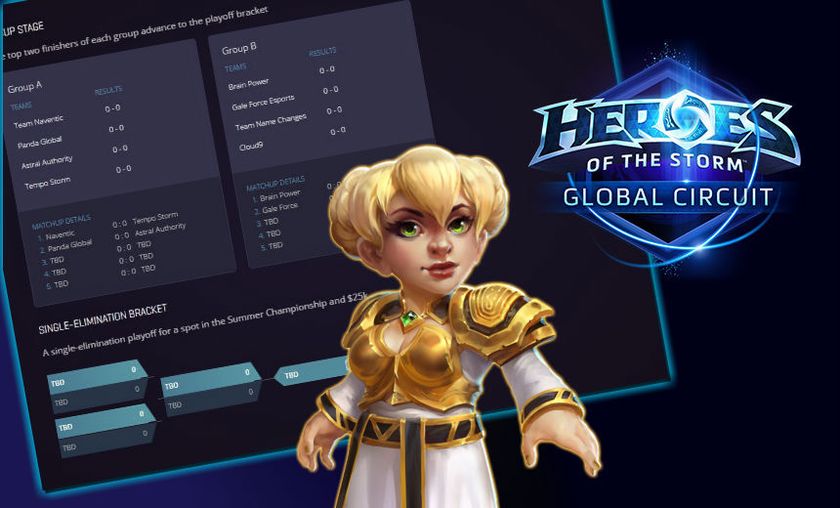 Previewing the ESL North America Summer Regional Championship
The groups have been released for NA Regional #2. Which teams will advance to the Single Elimination Playoffs? Will we see any Tracer or Chromie?
The ESL North America Summer Regional Championship will take place over three days, starting on June 3 and ending June 5. The first day will be watchable on stream only, with the first four matches of both Groups A and B being played. After that, ESL will open the doors of their studio, allowing a live audience to watch the deciding matches, semi-final matches on Day 2 and the Grand Finals on Day 3. Read the full release here.
We already reviewed all 8 of the participating teams in this previous article, but now that the groups are out, let's look at each of them and predict which teams will move on to the Semi-Finals and Grand Finals.
Group A
Upper Bracket
Round 1 - Best of 3
Round 2 - Best of 3
Lower Bracket
Round 1 - Best of 3
Round 2 - Best of 3
Final
Team Naventic is the clear favorite of Group A. They should easily advance to the semi-finals, and will also be heavily favored to make it to the grand finals as they will be facing the #2 seed in Group B. Tempo Storm is also pretty much a lock to finish in last place, as they finished last in their group at DH Austin, struggled throughout the ESL qualifiers and have Zixz, their support player, main tanking for them.
This leaves all eyes on Astral Authority vs. Panda Global - these two teams are almost evenly matched and will in all likelihood play each other twice. While the result of the first match will be interesting, keep in mind that if everything goes as expected, only the result of the decider match between them will actually count for anything. Therefore, both teams may hide strategies in their first matchup.
Group B
Upper Bracket
Round 1 - Best of 3
Round 2 - Best of 3
Lower Bracket
Round 1 - Best of 3
Round 2 - Best of 3
Final
The most likely team to make it out of Group B is Gale Force Esports. No, that does not necessarily mean they are the strongest team in the group - it just means they consistently play at a high level and have the advantage of continuity while both Brain Power and Cloud9 underwent roster changes. The big one was Arthelon leaving C9 and being replaced by Cattlepillar - who used to be the main tank for Brain Power. This leaves Brain Power scrambling to replace him, and how good they will be with a new tank player remains to be seen.
If C9 plays at a high level, as they often do at LANs, they may very well finish first in the group - but it is also possible they finish 2nd or even fail to advance if they can't get a good level of instant synergy with incoming member Cattlepillar. TNC is widely expected to finish last in the group, but keep in mind this team showed a lot of fight at Dreamhack Austin and has consistently performed well in the qualifiers. Finally, the winners' match in this Group will have extremely high stakes - the winner probably faces Astral Authority or Panda Global in the semi-finals, giving that team a strong chance to make the Grand Finals. The loser will face Team Naventic in the semi-finals, which probably eliminates that team from the tournament.
Who Qualifies for Dreamhack All Stars - Summer?
The short answer is, whoever wins the tournament - unless that team is Team Naventic.  If that team is Team Naventic, then C9 will be the 2nd NA seed in Sweden should they face and lose to Team Naventic in the Grand Finals. Otherwise, C9 and the 2nd place finisher in this tournament will face off in a Bo3 right after the Grand Finals with the 2nd NA seed at Dreamhack All Stars - Summer on the line. Read the full details here.
Will we see any Tracer or Chromie?
Keep in mind this is only speculation - but my best guess is that we will see Tracer but not Chromie at this NA tournament. Both of these heroes are conditional picks, which means they will always be last picked as both are easy to counter if picked too early in the draft. Tracer will most likely be picked when the other team has a support other than BW or Uther already picked and Tassadar has already been picked by the team considering the Tracer pick.
The problem with picking Chromie is that she has a very small niche where she excels, as evidenced by the currently 32.5% win rate on Hotslogs.  Dustin Browder says there are discussions about buffing her hitpoints.
Pros generally don't play under tuned heroes in tournaments - unless the other team has screwed up the draft and the conditions are right for the otherwise under tuned hero to dominate.  
The ESL North America Summer Regional Championship starts on June 3 at 10 am PDT.  Follow all the action on the official stream and find out which NA team will represent NA as the #2 seed at Dreamhack All Stars - Summer beginning June 18!
Follow us on Twitter @GosuGamersHotS for more competitive Heroes of the Storm news and coverage.