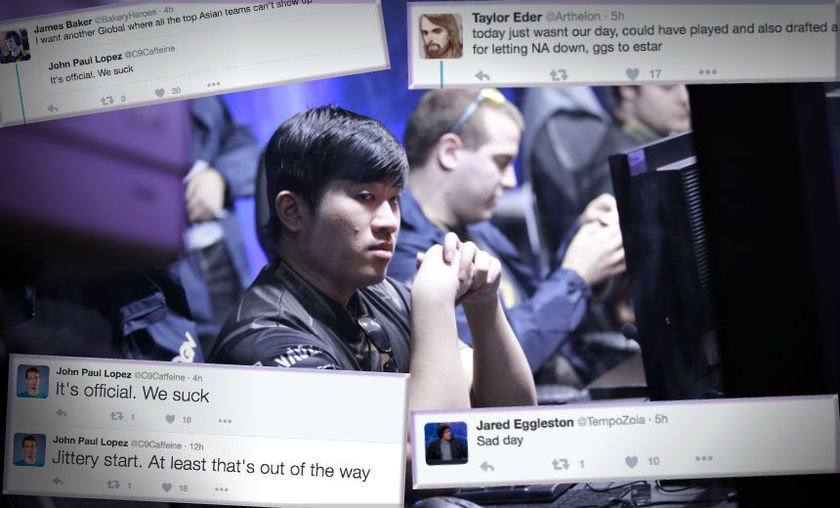 NA and EU face reality as both regions get knocked out of Spring Global Championship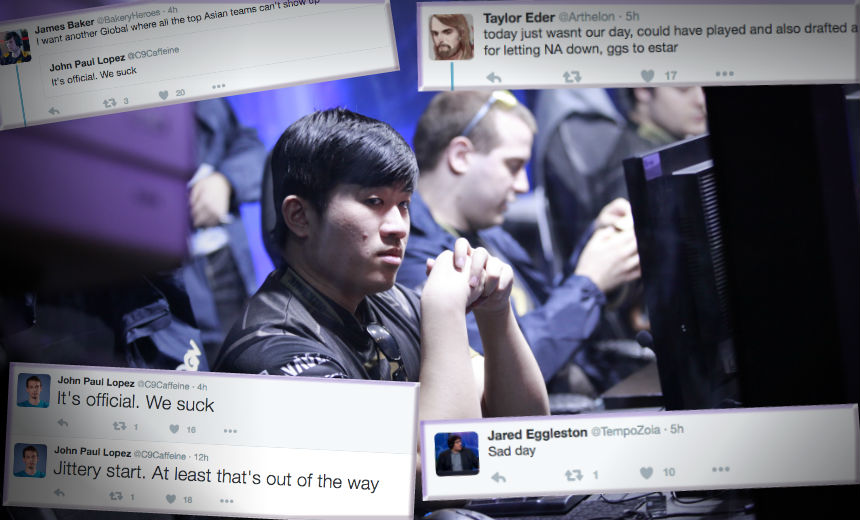 It was a demoralizing second half to the Spring Global Championship for EU and NA fans, as not a single team from either region made it to top four.
The first day of the Spring Global Championships went as expected. Australia, Taiwan, Southeast Asia and Latin America were given their chance to make a major upsets but when faced against the elite teams from major regions their defeat was quick and painful. Games as short as 10 minutes and 2-0 stomps ended their tournament aspirations.
Then during Day 2 , Cloud9, Naventic,Team Dignitas and mYinsanity looked lost against China's eStar Gaming and EDward Gaming and Korea's MVP Black and TNL. Cloud9 and Dignitas were the most powerful western teams, and while their respective matches against EDG and TNL were at times close, they were always on the backfoot.

Naventic drew the short straw and had to face the almighty MVP Black. The result was a series of games so onesided it was hard for NA fans to watch. How does MVP Black make this look so effortless?

After the dust  settled, the hopes and western heroes fans collectively dropped as the realization of an all Chinese and Korean top four really sunk in:
Round 1 - Best of 3
Round 2 - Best of 5
The competitive community was devastated:

It's sad to see such fierce competitors be so hard on themselves, but that is the nature of esports. Competing in Korea might feel demoralizing, but any team worth their salt will see this for what it really was: a wake up call. It's clear that Korean and Chinese teams have a different take on how Heroes should be played and the west needs to start taking notes. 

We can start with understanding why Tyrael is so godly, respecting double support and double warrior lineups, and moving away from the "playmaker" style of Heroes that relies on one extremely skilled player on a high impact hero. When we watch MVP Black or eStar play, it doesn't feel like 5 individuals each trying to make plays. They move as one and each player operates with utmost faith in each other. 

Everyone is proud of the accomplishments our EU and NA teams have made, and we saw some true shades of greatness during this tournament, particularly from K1pro, Bakery, and iDream's mechanical play. Cloud9's strategies and hero drafts on a different level and Dignitas, at times, moved as one cohesive unit.
But as supportive as us fans can be, we can't ever make any of the teams feel good about their performance. It's the nature of esports and the mark of a true competitor. When you lose in such a fashion that forces you to accept there is "another level" you have yet to reach (all while knowing you have the potential to get there) all you want to do is go back to the lab and level up. The last thing you want to hear is how good you are:


All right, we won't say it. You can do better, western Heroes teams. I'd say better luck next time but luck has nothing to do with it, you will beat Korea and China when you outplay them.