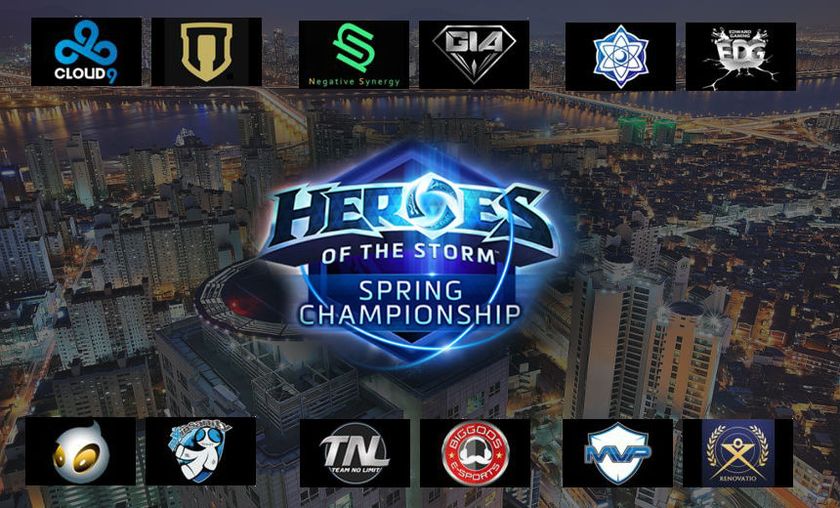 World's best decided at Spring Global Championship
It's finally here! The biggest Heroes eSports event of the year so far is this weekend in Seoul, South Korea and one team will be crowned World Champions.
After a long spring season in competitive HotS, 12 of the best teams spanning eight regions across the world will fight for a $500,000 prize pool, and (almost) more importantly the honour of being named the best Heroes of the Storm team in the world. These teams are already the best in Heroes eSports, but only one can come out on top. The action starts on March 31 at 7:00 p.m. PDT.
Here are the teams:
Cloud9, Team Dignitas and GIA all played in the last World Championship at BlizzCon in Nov. 2015 where Cloud9 earned the title of World Champions, but it's up for grabs once again this weekend. The NA/EU rivalry has only intensified, and we will finally see which region comes out on top. Don't write off any of the other regional teams though, they are all the best in their respective areas and don't regularly compete with teams across the world, so prediction is risky at best.
MVP Black is considered by many to be the best team in the world right now, followed closely by Cloud9, eStar and Dignitas respectively. We'll finally find out if Cloud9 can defend their title, or if a new team will take the throne, but it's fair to say it will be no walk in the park for the reigning champions.
mYinsanity has really performed this year and is representing the second European spot behind top EU seed Dignitas. Darkmok of mYi said their team synergy has been something they've looked to improve over the last year:
"
Heroes of the Storm is mostly about team synergy and doing the right thing in the right moment, so I guess that's where we as a team and I, myself improved on."
Blumbi goes one step further, attributing their level of success to strong team synergy:
"
We as a team mainly improved our communication/understanding of the game in its current state and we found our own playstyle which is a huge part to our success."
Naventic is a North American team who completely shook up the region this year. They beat Cloud9 at Heroes Rising in January, but Cloud9 got their revenge in the NA Regional. Erho of Naventic says trusting their shotcallers is key in their success:
"
As a team we've learned to trust shot calls. Everyone on the team has the capability and the preference to shot call, so it was an adjustment and still is in some cases."
Where to Watch:
The Spring Global Championship will have three streams on Twitch:
Blizzard has 12 casters from many regions who will be hosting the event. 
 This weeeknd should provide the best competition in Heroes eSports we've seen so far this year, so tune in on Twitch to catch all the action!
Follow us on Twitter @GosugamersHotS for more Heroes of the Storm esports news.