Five questions with Cydonia: "There are a lot of encouraging signs for Hearthstone at the moment"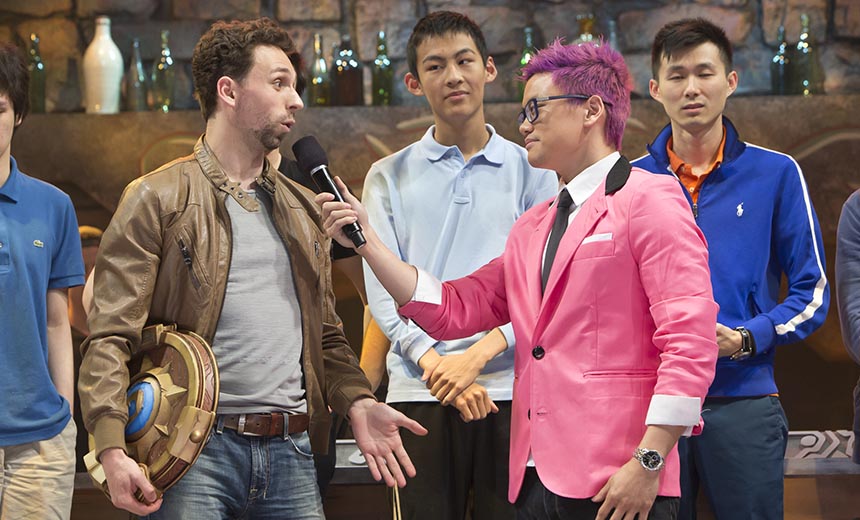 Julien "Cydonia" Perrault was nobody before the 2016 Summer Championship in the Americas until the HCT system did its thing: Take a player out of obscurity and turn him into one of the fastest rising stars in Hearthstone.
Cydonia's flourishing career came as a savior to the struggling North American scene and Canada's presence on the Hearthstone world map. After losing Austin "SilentStorm" Li to semi-activity after his Legendary Series championship in 2015 and Ryan "Purple" Murphy-Root after his run in winter of the same year, the Maple Leaves didn't have a strong representative until Cydonia's discovery.
Today, Cydonia represents one of Americas' best hopes for a dominant 2017 alongside swiss mastermind Frank "Fr0zen" Zhang and up-and-coming Raymond "Rayc" Cipoletti. Not even a year old, his career features an HCT AM Championship, a top eight from Blizzcon, a top four from PAX East Major, an all-kill against China in CN vs. NA Championship and a contract deal with Team SoloMid, one of esports most decorated brands.
Catching him in his short home break between two majors, I chatted up Cydonia regarding his recent move to TSM and the worrying trend of big teams dropping their Hearthstone divisions.
Previously on "5 questions with" Lifecoach: "The direction Hearthstone is headed contradicts what the pros want"
* * *
You are now officially with Team SoloMid. How long have you and the team been negotiating the move?
TSM was actually one of the first teams to approach me last year a bit before World Championships so they have been following my progress for a while. Negotiations got more serious in January when I came back from China.
TSM has traditionally favored popularity streamers over competitive pros, you are basically their first. Don't you feel lonely?
TSM made it very clear that they wanted me as a competitive player and that they expect me to compete in many events and perform. For example, they sent me to PAX East, SXSW, and I will be at Dreamhacks as well this year. However, it's important to them that their Hearthstone pros also have a big community presence and I will be streaming a lot more between events with their support. I really love going to events and interacting with the community so that is great for me, too.
There has been a recent unfortunate trend of high profile teams dropping their Hearthstone divisions, most recently CLG. How secure would you say is the employment of up-and-coming stars and what needs to change first and foremost in Hearthstone so that stability can be achieved?
It's always disappointing to see players getting dropped, especially if they were working hard and performing well. Teams have shown recently that they were willing to sign players to participate in team events like Trinity Series and there seems to be a lot of potential for team events in Hearthstone with the Global Games pioneering a new format as well.
Hopefully, we see more of these tournaments which will incentivize teams to keep a stable Hearthstone roster and build rivalities with other teams like we see in other esports.
North American Hearthstone looks to be on the rise this year after struggling in 2015 and 2016, most recently proven through the results at PAX last weekend. Is this the year where AM finally wins the EU vs. AM rivalry?
The top NA players play at a really high level right now and I think the results of last weekend were no fluke. We'll have a better idea where every region stands after Winter Champs in Bahamas and after majors happen on both sides of the ocean but I have high hopes for NA this year.
You are one of the most successful products of the 2016 HCT system, together with players such as DrHippi. What are your thoughts on the direction competitive HS has been going, both last year and now in 2017?
I'm a competitor at heart so I am very happy to see the major circuit expanding with ONOG and Dreamhack, HCT growing, the introduction of HGG, Trinity Series, NA vs. CN, etc. There are a lot of opportunities at the moment for pros to compete and for amateurs to make a name for themselves as well like I did last year, though it has gotten more difficult with the level of the competition increasing so much.
As far as the game itself, there has been a lot of dissatisfaction about the metagame lately but it is very difficult to balance a game with such a large competitive community that has four months to figure out a meta before the next expansion. I think Blizzard will figure it out though, possibly with more frequent card releases in the future. I think there are a lot of encouraging signs at the moment and I can't wait to see the next expansion and the HGG voting results.
Bonus sixth question: You spent a week fighting China at CN vs. NA Championship. What wisdom did you learn from the hosts?
I learned that it's ok to copy your opponents' decks after they beat you like they did with our questing rogue. *laughs*