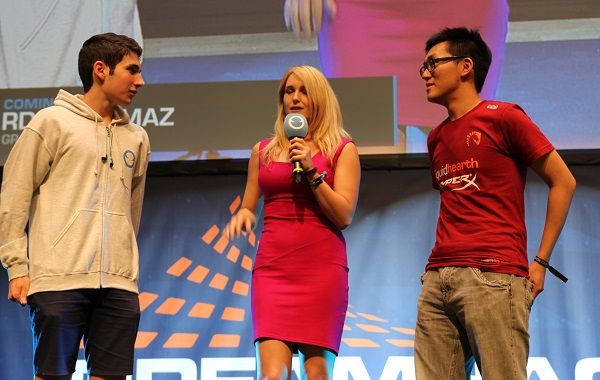 GosuRankings report: Hearthstone player rankings, June 2014

---
Because this is the first time we ever do a feature on GosuRankings, I guess a few words of introduction need be written. Please, do go through the paragraphs below, they are an important guide to what GosuRankings represent, how to read them, how are they calculated and how do they behave within the current state of competitive Hearthstone.
Q: What are the GosuRankings?
A: The GosuRankings are GosuGamers' official player and team rankings, first established during the BroodWar days of the website. With time, they were linked to more and more disciplines and at the present time, they are among the most accurate player/team ranking systems for Dota 2, League of Legends and since March 2014 – for Hearthstone as well.
In its core, the GosuRankings are a collection of competitive tournaments with varying importance which determine players' position in the rankings depending how they have performed in the tournaments recorded in the database. As of the time of this article, more than 250 Hearthstone televised tournaments, weekly cups, qualifiers and showmatches have been recorded. Note, that GosuRankings do not take into account ladder results or player's popularity – it is only tournament performance that matters.
Q: What do you mean by "varying tournament importance"?
A: We believe that like in every sport, different tournaments have different importance. Winning BlizzCon world championship, for example, should yield significantly more points than grabbing a $100 weekly cup. When we create a tournament, we weigh in several factors like prize pool, participating players, format, offline/online, length of tournament and several more.
We also constantly re-evaluate these tournament tiers and adjust future events based on where they stand in the current competitive eco system.
Q: How are players' rankings calculated?
A: The GosuRankings are loosely based on an Elo system, with few adjustments to have it more adequately fit the needs of the eSports climate. When they compete in tournaments, players win and lose different amount of points, which depends on the current ranking of their opponent (you win more points if you beat a higher-placed player and vice versa) as well as the tournament tier (you win more points if you win a match in highly-ranked tournament).
A couple of mechanics have been implemented on top of that system to make it more accurate. First, inactive players will experience rating decay after a certain number of days with no matches played. Decay brings players closer to the starting 1,000.
In addition, the GosuRankings employ the so called "reliability rating" which is another multiplier that affects inactive players. The reliability rating starts at 1.00, gradually decays when a player doesn't compete regularly, and affects the end Elo rating as well as how many points they will gain/lose on their next match. Players will always want to have their reliability rating at 1.00 which in turn incentivizes them to compete more often.
Q: You mentioned something about Hearthstone competitive climate. What the hell do you mean by that?
We've been monitoring the competitive Hearthstone scene since early January when we decided we definitely want to make GosuRankings a thing. For these past sixth months of tournament backlogging, talking to players and observing the game in general, we've found out several bullet points worth listing down:
 
Hearthstone – like most card games – is a much more volatile game than other eSports disciplines. The random element means that at any point of time, the best player can easily lose to the worst player. This will never happen in StarCraft 2, for example, where a Jaedong simply won't lose to a bronze leaguer. As a result, it is difficult for Hearthstone players to maintain a steady win rate and their Elo often has big drops or rises, larger than the players in other disciplines.
The majority of the competitive scene is still composed of weekly open tournaments and those are low-ranked by default. Although we're getting more and more high-paying tournaments, those of which going into the five figures are still a handful. This results in two things:

The GosuRankings experience a major sway after every major tournament. Sometimes this shift looks bigger than it should, but that's a direct consequence of the state of the scene
The discrepancy in the number of weekly and big tournament leads to having a lot of players between 1,000 and 1,100 rating since there aren't many opportunities to gain points in bulk. This in turn results in big fluctuations in this range after every single weekly cup which will never happen in eSports with more developed competitive scene and should stop happening in Hearthstone after a while

With all that in mind, do note that at this point, the Hearthstone GosuRankings should not be read literally. There will never be a HS player ranking which will accomplish that, because of the nature of the game. Instead, treat them as a basic outline of who the good players, factoring in their all-time records and current performance.

Q: What's next?
While we do take great pride in our rankings, we fully realize there are still ways to make it more complete. We're currently working towards building a stronger coverage team whose aim will be to monitor even more tournaments than before, so we never miss anything important in whatever region.
Speaking of regions, starting July we'll turn a second pair of eyes towards Asian Hearthstone. Right now, there's exciting competition happening East of us like CN vs KR masters and a slew of Chinese tournaments that are eluding the attention of the wide public. We want to not only record and rank the Chinese, Korean and SEA players but also support all this with some nice coverage so that you can put a face to the unknown nicknames.
Now that was a wall of text. I say enough of this and let's look at some rankings, player stories and team tiers.
As noted above, the current GosuRankings are the result of more than 250 events, dating as far back as October 2013. We're aiming to have as complete scope of tournament as possible and thus have logged in big tournaments like DreamHack and SeatStory Cup, online events like Tavern Takeover, weekly open cups such as GosuCup and NESL, as well as showmatches like Deck Wars and King of the Hill.
NOTE: The rankings displayed below are as of July 1st. 
Global rankings and top 5 recap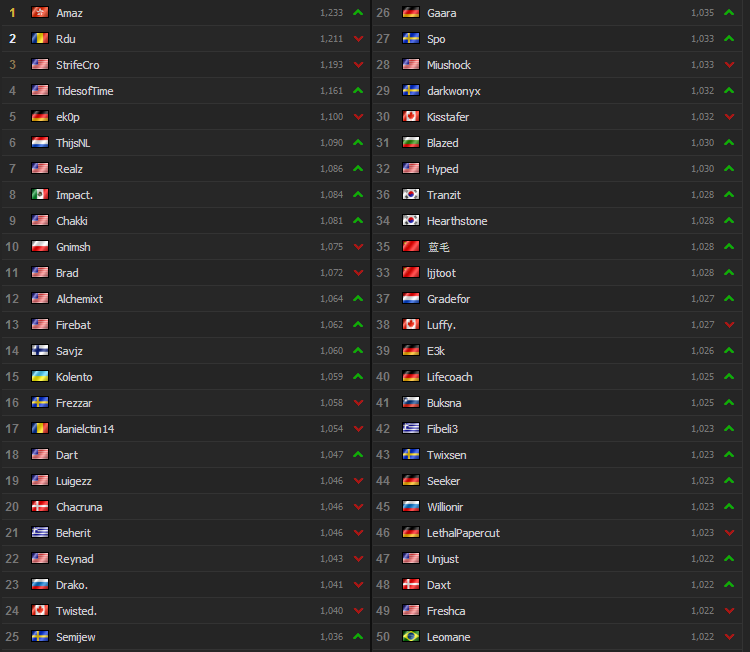 June was an important month for Hearthstone. The scene didn't get as many big online invitationals as compared to May, but it did boast the biggest Hearthstone tournament in the west – DreamHack Summer.
Just as its predecessor, DreamHack Summer had a huge impact on the ratings. A lot of matches between some of the best players in the world were played and, consequently, a lot of points were gained and lost. It forged unique stories, sparked controversies and for a few days after it we had a new GosuRankings king. But DreamHack was not the only tournament and lots of things changed between Rdu's victory and the end of the month.
After a ridiculous 90,91% win-rate in June and recovering from a horrible May where he experienced inactivity mixed with poor results, Team Liquid's Jason "Amaz" Chan is back on #1 in the GosuRankings for the first time since before DreamHack Bucharest. Amaz had a terrific month, finishing second in Jönköping and then going undefeated in Marseille in M-House Cup, beating names like Gaara, Gnimsh, Realz and Kolento. Today, Amaz is sitting on 74% all-time win-rate, almost exclusively consisting of major tournament matches, something few players are privileged with.
Following his victory at DH Summer, Radu "Rdu" Dima briefly held the top position in the rankings. While this might seem like an anomaly or over-rating the tournament he won, one must have in mind that Rdu was already ranked top 10 in the world in May, following his top 4 at DreamHack Bucharest and great run at EU vs CN Masters.
When WellPlayed Cup wan announced, Rdu received yet another chance to prove he's not a fledgling anomaly. Only the 1-4 loss to TidesofTime pushed him off the #1 throne as the very same weekend Amaz had prevailed in Marseille, beating the Romanian to the top with about 20 points.
Third in the rankings comes Cong "StrifeCro" Shu, which at this point surprises us not. Even though StrifeCro was inactive during the second half of June and suffered Elo decay and decrease in his reliability rating, he had already accumulated so many points after May that it was enough to keep him in the top 3. In fact, it's exactly our reliability rating multiplier that pushed him down to third: His net Elo is 1,217, which would've placed him above Rdu in the rankings.
The month didn't start well for Drew "TidesofTime" Biessener. The Tempo Storm player had to surrender the NESL throne, suffered group stage elimination at DreamHack and failed to make it to the HearthWars playoffs. This is where WPC came to save his rating. Tides went through Kitkatz, Reynad, Sjow, Darkwonyx and finally #1 GosuRankings player at the time Rdu to recover at least a portion of his lost Elo and make it to #4.
Jan "Ek0p" Palys completes the top 5 for this month, just barely outracing ThijsNL and Realz. The German, now wearing the Cloud 9 jersey, also didn't have the best of months but managed to maintain his points mostly by doing well at DreamHack and being flawless in the group stages.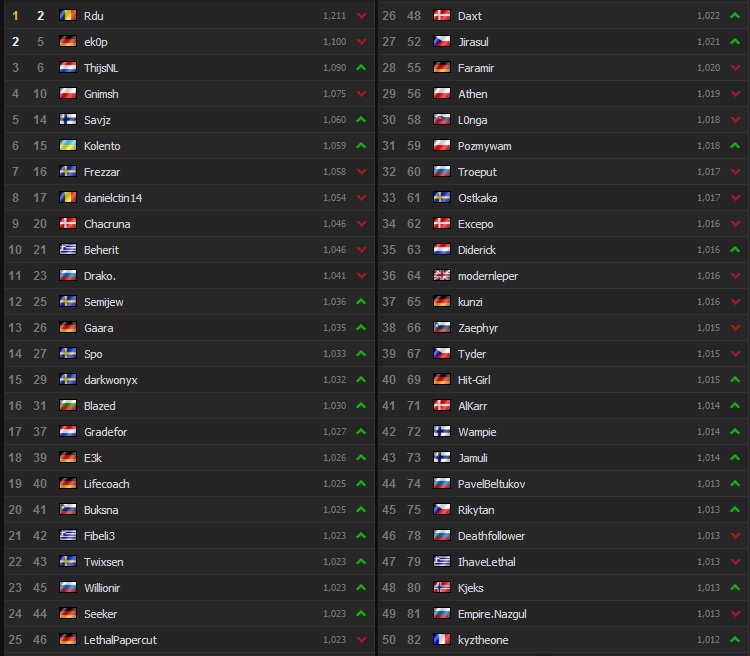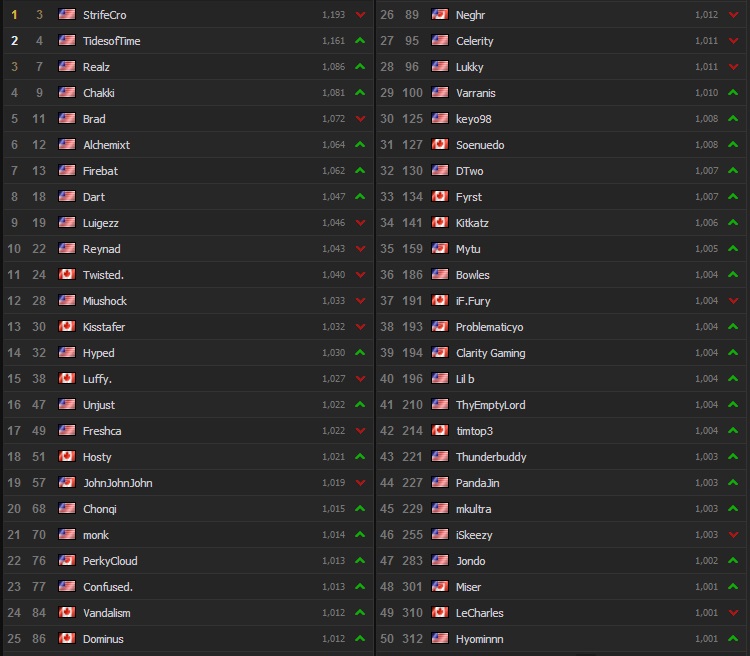 Rdu might be the second best player after June in the GosuRankings but he's certainly number one when it comes to drama.
In the middle of last month, the Romanian up-and-comer – now playing for Meet Your Makers – travelled to Sweden for DreamHack Summer, accepting one of the twelve seeds for the tournament. Although not completely unknown being a top four finalist from the previous edition and having success at the EU vs CN Masters in April, Rdu wasn't really expected to do that well, not with the myriad of other big players who would appear on the grand stage.
Nevertheless, Rdu somehow did it. He finished second in his group, beat Ek0p, Reynad and Amaz in the playoffs and happily stood champion of DH Summer, banking $10,000 on the back of killer Miracle bursts and clutch Frost Mage plays.
Yet the joy of the win was not untarnished. Seen receiving messages from his friends regarding his opponent's cards, Rdu quickly fell under the attack of the community. Reddit "investigators" started digging, looking for evidence which could prove that the Romanian was indeed playing unfair. He went from hero to villain in milliseconds in the quickest fall from grace in modern eSports history.
Though many pro players stood behind Dima and opposed the cheating accusations, his reputation was already damaged. The controversy followed him everywhere. He was called out by vocal community members like Andrey "Reynad" Yanyuk who spilled more fuel into the fire and a huge chunk of Hearthstone fans were completely unable to look at the Romanian with positive eyes. This seventeen year old kid was experiencing what was likely the worst time of his career – a cruel twist of events seeing how he had pocketed five figures just days ago.
Nowadays, Rdu is in the obscene situation of having to absolve himself for what could very well be a fictitious crime. Finishing second at WPC helped him a bit with that but we're yet to see just how much more he has to win before wiping his reputation clean.
Kolento has always been greatly appreciated by the Hearthstone fanbase. Even today you could tune in to his stream and find him somehow holding high spots in all three ladder regions, displaying unparalleled knowledge of how to beat the online competition. Despite not being that vocal or analytic in his play as other streamers, simply watching him is a lecture on how to play constructed Hearthstone, whether it's building or polishing a deck or knowing how to adjust to the ever changing meta on ladder.
With all his online successes, however, Kolento was still to make a splash in actual tournaments. In April, he failed to make a good run in EU vs CN Masters and he was eliminated in the first round of playoffs by Beherit. In May, he took first at ZOTAC EU #15, only to follow it up with a crushing 0-3 elimination by Ek0p at Deck Wars Season 1 finals, a tournament he was expected to do especially well. His first appearance in Gentlemen Cup subbing in for DogeHouse ended in a loss (1-2 to Ostkaka). When we launched our May rankings report, he wasn't even top 50 in Europe, which drove lots of his fans mad.
Then came the Numericable M-House Cup. Although Millenium staff initially teased Kolento as one of the invites, we weren't too quick to get our hopes up – the Ukrainian still had to apply for a visa to travel to France and there was always the possibility of having to miss the entire event.
Eventually, though, Kolento did make it to Marseille for his first ever big tournament and he did not disappoint. After two days of Hearthstone, the Ukrainian managed to overcome players like Gaara, Gnimsh and Kungen and finish second in the tournament behind Amaz. His climb up the rankings was swift and from barely being top 100, he's currently sitting on #15 worldwide and #6 in Europe.
What a weekend for Mr. Malsh!
Unfortunately, the GosuRankings still doesn't allow us to adequately track team rankings. Our future plans include an algorithm which can calculate that based on members' individual performances (i.e. every win a player scores helps not only him but his team as well) but for now this is still uncharted territory.
Nevertheless, we believe ranking teams is fun even if there is no mathematics to support it. Last month, we tried separating teams into two tiers but this month we're trying something different. Instead of doing an editorial power rankings, we've calculated the average Elo of the most popular teams and rating them this way. 
Do tell us which of the two you prefer better!
NOTE: Only teams with three or more players have been ranked and only those players with recorded matches on GosuRankings are taken into account. Teams with Elo lower than 1,000 are omited.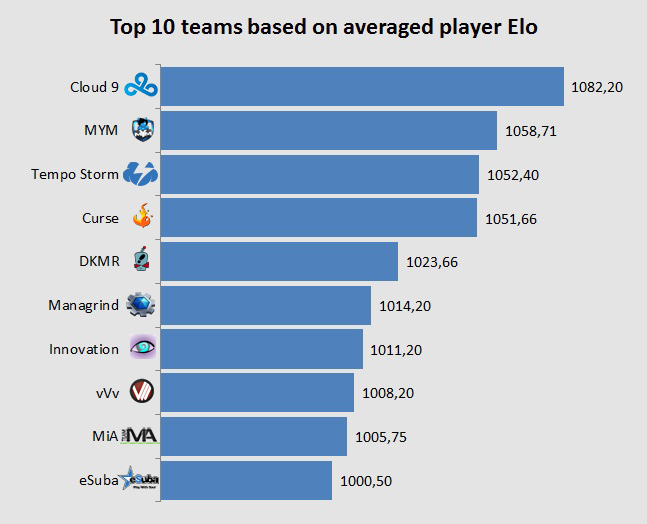 Kolento photo by Millenium. All other photos by GosuGamers.
---
Did you enjoy this article? Do you like what we do? Follow us on Twitter to keep up with the pulse of Hearthstone!
Follow @GosuGamersHS