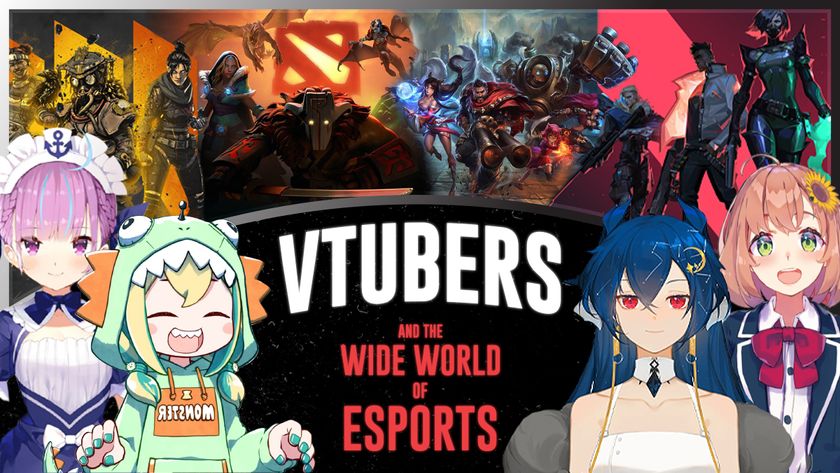 Vtubers and the wide world of esports
Virtual avatars are injecting some fun and entertainment into everyday lives with esports
Virtual youtubers, or Vtubers as they are known, are virtual avatars and personas that live online; engaging with their community and fans via streaming platforms such as Twitch or Youtube Gaming. 
With millions of people following these entertainers, it is no suprise that some of them play esports titles as part of their repertoire. What makes them different from other streamers online is that their target audience embraces the duality that they offer – an animated avatar being controlled by a real person behind the scene.
Fans support the Vtubers by tuning in their streams and also donating to them through the donation system available to the streamer on the platform – Superchats for Youtube and Bits/subs on Twitch. With an estimate of over 10,000 Vtubers  (source: Panora Tokyo) currently active worldwide as of January 2020, that is a lot of online streaming.
By game type, here are just some of the many Vtubers out there currently playing an esport title:

Umitsuki Yuru
Umitsuki Yuru has been playing League of Legends for quite some time now and actually lists the game as one of her favourites. Her gimmick is that she is from the sea, so naturally she picks Nami as her choice of champion to play in the game.
---
The Snappy Dragon
The Snappy Dragon is one of many Vtubers with a male voice, but a female persona. They don't share full play videos on their channel, but just highlights of games. 
---
Kawaii LOL Vtubers
Kawaii LOL Vtubers is a group of Vtubers from Japan, who actively play League of Legends. The team consists of Yuruico Vaisravana, Neko Komaru, Iris Vail, Nekoma Shiroa, and Izumiya Konomi. 
---
Minato Aqua
Minato Aqua hails from the popular Hololive Vtruber group, which is a group under the Cover Corporation. She is part of the second generation in the group and is an active gamer herself. Apart from League of Legends, she is a Diamond Rank player in Apex Legends

Aadya
Aadya, formerly with the group Nijisanji India, actively played and participated in ranked matches in VALORANT. She usually plays with her generation mates in Nijisanji India, but also often plays solo with random players in the ranks. 
---
Pikamee
Pikamee, from the Vtuber group VOMS, is an active player for VALORANT. She has worked with AMD as part of their #AMDSTREAMERCHALLENGE in 2020, while playing VALORANT. She has collaborated with many other content creators for VALORANT, and to this day it is her game of choice for streaming purposes. 
---
Nakiri Ayame
Nakiri Ayame hails from the Hololive group, under their second-generation alongside Minato Aqua. Like Aqua, Ayame is also a gamer and showcases many let's play streams featuring video games. VALORANT is one of her choice games, which she either plays solo or runs as a collab stream, usually with her gen mate Murasaki Shion.

Nazuna Kaga
Nazuna Kaga is one member of the Virtual Esports Project - a group of Vtubers based in Japan. She is under the group Lupinus, and her specialty is FPS gaming. Apart from CS:GO, she also plays VALORANT and Apex Legends
---
Nokoto Kuroe
Nokoto Kuroe is an independent Vtuber that streams on her youtube channel. She is not affiliated with any organization. Her repertoire of games she plays on her channel ranges from RPG to FPS games, which includes CS:GO, VALORANT and Apex Legends

Himawari Honma
Himawari Honma is a member of Nijisanji. She was previously affiliated with the group Nijisanji Gamers. As a gamer, she plays a wide variety of titles as part of her streaming career, and Dota 2 is one of them. 
---
Kanata Hikari
Kanata Hikari is another independent Vtuber plying her trade on Youtube. Her gaming content is not as varied as other Vtubers out there, but she is one of the few that plays Dota 2 on her channel

Hololive
With the popularity of the game Apex Legends in Japan, it is not surprising that it is the game of choice for many Vtubers based in Japan. Many of the Hololive members like Minato Aqua, Usada Pekora, Amelia Watson, and Kureji Ollie choose to play this game on their gaming streams.
---
Kuzuha
Kuzuha is a rare breed in the Vtuber world - he has a male persona with male voice. Like many of the Japan-based Vtubers, Apex Legends is his choice of FPS Multiplayer game for his streaming sessions.  
---
Shibuya Hal
Shibuya Hal is a male Vtuber associated with the organization upd8. His primary streaming game is Apex Legends, but he also streams VALORANT to spice things up. 
Esports Organization affiliated Vtubers
Cloud9 became one of the first esports teams to debut their own Vtuber. Vienna joined Cloud9 in February 2020 but has since reinvented herself as a Vtuber, creating content for the organization on her Twitch and social media accounts. She is both a Twitch and League of Legends partner - and will be focusing on League of Legends content. 
She recently 'debuted' or started streaming as a Vtuber in May 2021, and has since racked a significant number of followers. 
Group Competition

Not only Vtubers stream on their individual channels, but when the time is right, they will collaborate and even work together as part of a competition. Case in point - the recent Vtuber VALORANT Invitational, which was organized by domoarigathanks, a famous person in the North American Vtuber circles. Many Vtubers like Hazumi, Saki.exe, Artemis and Yasushi took part in the competition. 
https://www.twitch.tv/videos/999570070
There is also the Vtuber Most Cooperative Tournament, which involved Japan-based Vtubers. 20 teams of three took part in the tournament, with the independent team Tokyo Skull Town winning the competition. The winning team consists of Paka_el, Seto Asahi and Hachiten - all independent Vtubers. 
---
The fact that Vtubers are actively playing esports is no surprise – esports captures a big chunk of audience engagement, especially during these troubled pandemic times when alternative forms of entertainment are sought to fill in the time available.  
In fact, we see multiple avenues where the Vtubers can lend themselves to be accepted as the voice of the community - hosting, conducting interviews, becoming part of a panelist of peers, collaboration with big-name streamers and/or brands - the sky's the limit for what Vtubers can become.
We don't see this trend going away soon – in fact, with the example of Vienna by Cloud9, we foresee more esports brands and organization will embrace the world of Vtuber as more of their fanbase turn to this new form of entertainment to supplement their own engagement with their favourite esports team.