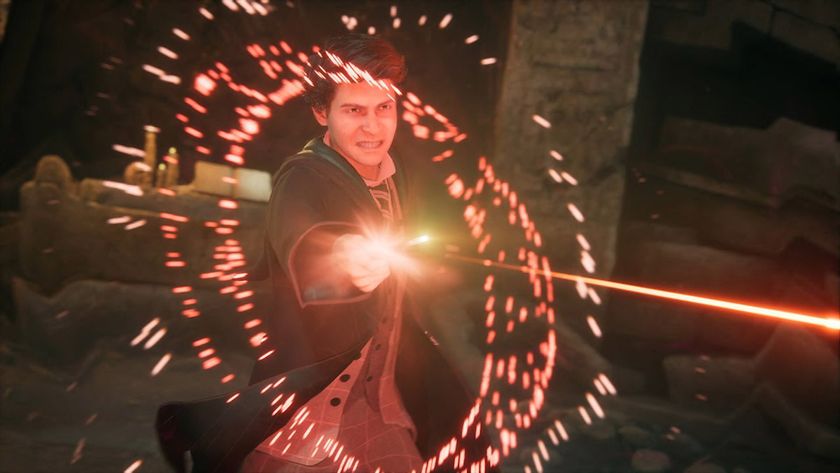 Gamescom Opening Night Live's biggest trailers: Dead Island 2, Genshin Impact and more
Image: Warner Bros. Games
Gamescom Opening Night Live 2022 gave us a ton of new trailers for games like Hogwarts Legacy, Dead Island 2, Genshin Impact and more.
Gamescom kicked things off this week with its annual Opening Night Live livestream, showcasing two hours of trailers and announcements from tons of upcoming games. We got new footage from Hogwarts Legacy and Gotham Knights, and big game reveals in New Tales From the Borderlands and Dead Island 2. 
We also got a podcast from Hideo Kojima and a Pokemon concept car, so… pretty interesting show! Here's the rundown of all the biggest announcements and trailers that dropped today:
Dune: Awakening
We're getting a Dune survival MMO! Developed by Funcom, Dune: Awakening will let thousands of players inhabit the harsh sands of Arrakis as they build shelters, join factions, harvest spice and go to war with one another for supremacy over the planet's resources. And if that doesn't sound stressful enough, you'll have to do deal with lots of pesky sandworms along the way too. 
Hogwarts Legacy
Torture your friends and kill people - that's what going to Hogwarts is all about! No, really. This trailer for Hogwarts Legacy focuses on the player unlocking the secrets of the Dark Arts, which means making use of the three Unforgivable Curses. You decide the morality of your character in this game, but leaning towards dark magic will mean torturing foes with the Cruciatus Curse, and killing others using Avada Kedavra. After a recent delay, Hogwarts Legacy is now on track for a February 10, 2023 release. 
New Tales From the Borderlands
One of Telltale's most celebrated adventure games is getting a sequel, but sadly without Telltale itself at the helm. Borderlands creator Gearbox Software is in charge this time around, putting out another episodic narrative game that follows an unlikely trio of down-on-their-luck civilians named Anu, Octavia and Fran as they try to stop a planetary invasion. The game launches on October 21 - a packed month for videogames!
The Callisto Protocol
Launching just in time for the cosy Christmas season is this gory horror survival game with monsters abound. This new trailer focuses on the player's stasis abilities, enemy dismemberment and monstrous mutations that happen when you leave growing tentacles unattended for too long. Word to the wise: don't ignore the tentacle. 
Genshin Impact's big 3.0 update and Sumeru
Genshin Impact's next big update introduces the green locales of Sumeru, which this new trailer shows off in all its glory. New story quests, environments, enemies and more await players in this open-world environment, alongside plenty of new characters to pull. Get those wishes ready. 
Honkai: Star Rail
But wait, that's not all Hoyoverse had to show! The Genshin Impact developer's next game takes players to a starbound train rocketing through space, where they'll have to solve a dark mystery. 
Gotham Knights
Gotham City is a big place, and now that Batman is dead, its villains are crawling out of the woodwork and vying for power. This trailer reveals two new villains the Batfamily will have to throw hands with: Harley Quinn and Clayface, both of whom sport new designs for the game. In addition to those two ne'er-do-wells, you'll also have to fight off Mr. Freeze as he attempts to turn Gotham City into an ice skating rink. To quote the villain in Batman & Robin: "Alright everyone… Chill!"
Lies of P
Inexplicably inspired by the tale of Pinnochio, this Souls-like game has players explore the broken-down city of Krat as they quest to find Mr. Geppetto. You play as Pinocchio, a puppet mechanoid who has to slay all manner of monster in his path as he searches for the mysterious Mr. Geppetto. Think Bloodborne, but steampunk!
Goat Simulator 3
No - you didn't miss Goat Simulator 2. Developer Coffee Stain just skipped straight from 1 to 3, because that's just how this franchise rolls. This sequel shows off a visually upgraded sandbox adventure with just as much chaos as the original Goat Simulator, but a lot more content. You'll play as a goat exploring an island either alone or with friends, blasting away NPCs with alien weapons, turning into rhinos, playing minigames, joining a cult, driving cars, doing yoga, getting swallowed by Moby Dick and more. So much more. Seriously, just watch the trailer. 
Return to Monkey Island
We're getting a new Monkey Island game! This new trailer is less about gameplay and more about showing off the sequel's new artstyle and characters, while a host from the marketing department shows you around and flails his arms wildly. As one does. 
Killer Klowns From Outer Space: the Game
This is it: the deepest cut we have ever seen a studio make in turning horror IP into a Dead by Daylight-style multiplayer survival game. Based on the '80s cult classic horror movie of the same name, this game has players step into the oversized shoes of the alien Killer Klowns as they invade Earth - or the poor humans trying to fight back. The game launches in early 2023. 
Sonic Frontiers
This new trailer for the upcoming open-world Sonic game sheds more light on its story. Sonic has become stranded on a strange island while searching for Chaos Emeralds, which he'll have to fight off using the power of the mysterious ancients. The trailer hints that some of Sonic's friends, such as Amy, might be imprisoned around the island. 
Atlas Fallen
Focus Entertainment and Deck13 Interactive's new action-fantasy RPG takes players to a sandy semi-open world filled with mysteries. This game puts a lot of emphasis on quick movement, action-packed combat and shape-shifting weapons. It can also be played solo or in co-op. 
The Outlast Trials
The Outlast horror franchise is taking a bit of a pivot in its next installment. Players are tasked with surviving a horrific experiment carried out by the Murkoff Corporation during the Cold War era, and for the first time in this series, they'll do it in multiplayer. The game's closed beta begins on October 28 and runs until November 1. 
Moonbreaker
This one is pretty interesting. Subnautica's developer Unknown Worlds has revealed their next game: a turn-based strategy game that has you move miniatures around a board in battle - and you can even paint them! The game's story is being developed with Brandon Sanderson, the acclaimed author behind Mistborn and the Stormlight Archive. This game launches in early access on September 29, 2022. 
The Expanse: A Telltale Series
Beltalowdas were treated to an in-depth look at Telltale's next game, which spins off of Amazon Prime Video's (incredible) sci-fi series The Expanse, based on the book series of the same name. This game follows a fan favourite of the series, Camina Drummer, as she unravels a mystery that begins with the discovery of headless corpses on a shipwreck in deep space. 
DualSense Edge
Sony PlayStation has revealed a customisable new PlayStation 5 controller that improves upon the DualSense with more customisation. You can swap out stick modules on this one. 
A Pokemon car, for some reason?
These shows always have a few announcements that leave you scratching your head, and this was one of them. This Pikachu-themed electric concept car comes from Mini, with all sorts of Pokemon imagery in the form of display screens that light up from within the car and decals. It's called the Aceman. 
Hideo Kojima has a podcast now
Where Geoff Keighley goes, Hideo Kojima will follow. The Japanese game developer, best known for creating Metal Gear Solid and more recently, Death Stranding, popped up at Opening Night Live 2022 to drop massive news: he has a podcast now! Kojima's podcast, Brain Structure, will drop exclusively on Spotify in both English and Japanese, starting on September 8. Keighley will also appear on the podcast in a regular segment. 
Dead Island 2
Eight years after its initial reveal in 2014, Dead Island 2 is actually real and actually coming out this February. The first-person zombie game takes place in post-apocalyptic Los Angeles, with six playable characters to choose from as you fight back the zombie horde in a pulpy story campaign. You can play the game solo or in up to three-player co-op. Dead Island 2 launches on February 3, 2023.