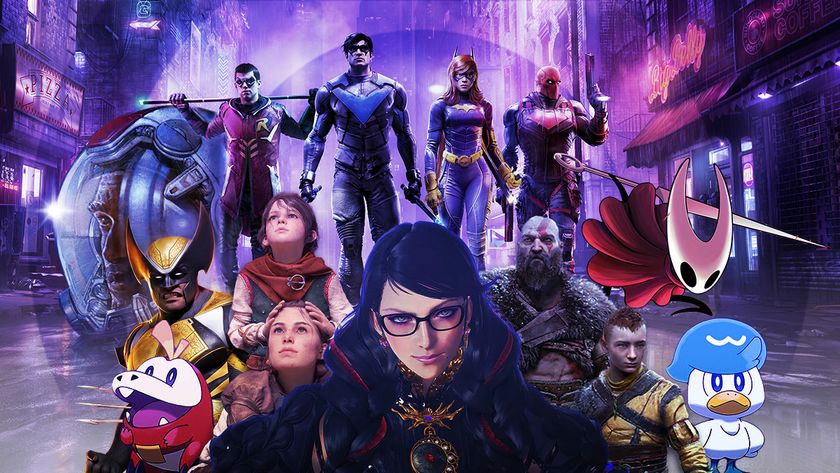 Our 15 most anticipated videogames coming out in 2022
2022 is a stacked year for gaming, so we're listing down all the games we're most excited to get our hands on.
From big-budget blockbusters like God of War: Ragnarok to smaller indies like Sea of Stars, 2022 is a stacked year for exciting new game releases. We're about to see the return of iconic game franchises like Monkey Island, and a whole game centered around the supernatural side of Marvel Comics. It's an embarrassment of riches, but we've done our best to pick out the 15 games we're most excited to play this year:
The Day Before (June 21, 2022)
The Day Before has a ton of potential going for it. This open-world MMO survival game takes players to a city in post-apocalyptic America, where humanity fights for survival against zombies and themselves in equal measure. Food, weapons and vehicles are a rarity, and sometimes the easiest way to get something you need is by taking it from someone else. From its trailers, this MMO is shaping up to be a gorgeous third-person shooter that could be a lot of fun with friends. 
Warhammer 40,000: Darktide (September 13, 2022)
If you liked Warhammer: Vermintide 2, this new Warhammer game offers up another serving of that frenetic multiplayer cut-em-down gameplay from developer Fatshark. Four-player teams work together to slay waves of monsters in this first-person shooter. The story follows a squad of Inquisitorial Agents who investigate a potential Chaos infiltration on Atoma Prime, located in the Hive City of Tertium. The game's written by Dan Abnett, who's written some pretty great comics - such as Nova, Aquaman and The Thanos Imperative. Unlike Vermintide 2, this game puts more focus on ranged combat than melee combat. To quote Neo, that means guns. Lots of guns. 
Forspoken (October 11, 2022)
Given how popular the 'Isekai' genre has gotten in anime and manga, it was only a matter of time before it gave us a big-budget game too. This action-RPG comes from Luminous Productions, the development team behind Final Fantasy 15. The story follows Frey Holland, a young woman who finds herself transported from modern day New York City to a fantastical realm called Athia. Armed with new magical powers, she has to go up against the tyrannical Tantas ruling over Athia, make new friends and somehow find a way back home. 
Gotham Knights (October 25, 2022)
Bad news: Batman is dead. Good news: he didn't leave Gotham City unprotected. His adopted kids - Robin (Tim Drake), Batgirl (Barbara Gordon), Nightwing (Dick Grayson) and the Red Hood (Jason Todd) are stepping up to fill the vacuum their father figure has left behind to protect the citizens of Gotham and keep its streets crime-free. Not only will they have to go up against familiar Batman villains like Mr Freeze and Two-Face, but much more mysterious figures known as the Court of Owls and their assassins working in the shadows: the Talons. 
The Court of Owls saga is one of the best Batman stories of the last decade, and this is the first time we've seen them in a major DC Comics story beyond comics and animation. Let's hope Gotham Knights does the Court justice. 
Starfield (November 11, 2022)
Starfield is Bethesda's first original IP in 25 years, and it's a sci-fi game! This open-world (open-galaxy?) game takes place in The Settled Systems, in the year 2330. Two factions called the United Colonies and the Freestar Collective fought a brutal Colony War 20 years ago, and you enter the fray with both factions living in an uneasy time of peace. You play as a member of the space-exploring organisation Constellation, but we're willing to bet that your adventures as an interstellar scientist won't be all that peaceful. 
Stray (Early 2022)
In Stray, you play as a cat. Oh, you need more? Okay, you play as a cat in a neon-lit decaying cyberpunk city, untangling an ancient mystery as you fight back robotic threats and deliver packages to friendly people. Stray looks like a really pretty indie with atmosphere to spare - and we're already in love with the small flying drone called B12, whom your cat befriends on their journey. 
Redfall (Summer 2022)
Vampires, they're a rowdy bunch. From the makers of Dishonored and Deathloop come this multiplayer open-world co-op shooter in the vein of Left 4 Dead. Armed with supernatural powers and very loud guns, you'll fight against hordes of superpowered vampires with friends. This is Arkane Studios' first multiplayer-focused game, but the developer has a habit of churning out incredible experiences and Redfall looks no different. 
Marvel's Midnight Suns (Q3/Q4 2022)
Before Blade and the darker side of the Marvel universe make their big screen debut, they'll first be explored in this tactical game. Midnight Suns follows a superhero team consisting of Avengers and supernatural heroes alike as they fight back against a reawakened Lilith, who happens to be the Mother of All Demons. Their best hope of victory is waking up an ancient supernatural force to fight for them: the Hunter. The Hunter is Lilith's child, and one of the game's 13 different playable characters. Fight fire with fire, right?
Midnight Suns comes from Firaxis Games, the extremely talented team behind the recent XCOM games. 
Hogwarts Legacy (Q4 2022)
Hogwarts Legacy gives every Harry Potter fan what they've always wanted: to go to Hogwarts and study magic! After dealing with the often-grumpy Sorting Hat and being placed in one of the magical academy's four houses, you'll go through magical studies, make friends and fight back against a dangerous goblin rebellion. Standard magical school fare, right? This game takes place in the late 1800s and lets you decide exactly what kind of witch or wizard you want to be - going so far as to let you cast the Unforgivable Curses. That's right, you can Avada Kedavra folks in this game and rest easy knowing that you're still less problematic than the author of these books. 
Pokemon Scarlet and Pokemon Violet (Late 2022)
A new Pokemon adventure awaits! The ninth generation of Pokemon begins in these open-world games, expanding the scope of Pokemon Sword and Shield by quite a bit. Players will explore sandy deserts, towering cities, grassy hills and sunny towns - all of which are populated by Pokemon freely roaming the open world. Your three starter Pokemon are a grass cat, fire crocodile and tidy duckling. Have you already picked out which starter you're travelling with? I'm going with the cat, personally. 
Sea of Stars (2022)
If you're a fan of old-school RPGs, this one can't be missed. This turn-based RPG is set in the universe of The Messenger, following two Children of the Solstice who combine the powers of the sun and moon to perform Eclipse Magic. They'll need to work together to fight off the evil creations of an alchemist called the Fleshmancer. The game's turn-based combat, fluid traversal system, heavy focus on story, immersive world and drop-dead gorgeous art earn it a spot on this list and then some. Plus, it features music from guest composer Yasunori Mitsuda of Chrono Cross fame!
God of War Ragnarok (2022)
One of the best games of the last decade is about to get a sequel. God of War: Ragnarok brings an end to the Nordic saga that saw Kratos and his son Atreus meet gods and monsters, traverse dangerous realms and finally kickstart the end of absolutely everything. Ragnarok is coming, signalling an end to all the gods and monsters that inhabit the Nine Realms in a series of cataclysmic events, and at the center of it is a father and son struggling to lay low. Unfortunately, Kratos has a habit of getting involved when gods start dying. 
A Plague Tale: Requiem (2022)
A Plague Tale: Innocence was a fantastic coming-of-age story set against the horrific backdrop of the bloody French Inquisition. Two young siblings - Amicia and Hugo - somehow clawed their way through hordes of man-eating rats to survival in these desperate times, but their journey isn't complete yet. This sequel takes the duo far south to new regions and vibrant cities, and many more threats yet to come. Asobo Studio showed its ambition with the first Plague Tale game, and then again with Microsoft Flight Simulator. This sequel somehow looks like it'll be their most gorgeous game yet, and that's really saying something. 
Return to Monkey Island (2022)
Not only is Monkey Island back, but original creator Ron Gilbert has been handed back the reins to the legendary adventure game franchise after more than a decade. Return to Monkey Island picks the story up from 1991's Monkey Island 2, effectively making this Gilbert's long-awaited version of Monkey Island 3. Some characters from games Gilbert had no involvement in will return, however, such as Murray the Demonic Talking Skull. We're actually getting a new Monkey Island game! Nothing is impossible anymore. Besides Half-Life 3. Or Portal 3. Or Left 4 Dead 3. Or…
Bayonetta 3 (2022)
After being teased and then vanishing without so much as a trailer for years, it's almost hard to believe that we're getting a new Bayonetta game this year - but the witch is back. Bayonetta returns with a new design and Demon Masquerade ability, which lets her channel the power of demons to execute large-scale kaiju fights. Witch Time also makes a return in the game's reveal trailer, which is filled with chaos, monsters and giant spiders. We wouldn't have it any other way. 
And more!
2022's lineup of games is absolutely massive, and there are many more we couldn't fit into this list. We can't wait to blast away Deadites in Evil Dead: The Game, or tackle Bowser in Mario Strikers: Battle League. Advance Wars 1+2: Re-boot Camp sounds like a nostalgic return to two classic Gameboy games, and One Piece Odyssey will surely excite fans of Monkey D. Luffy and the Straw Hats. Many more games - big budget and indie titles alike - did not make this list, but that just means that we're in for a pretty great year of games!
We've also listed down our most anticipated mobile games of 2022, which you can check out here.