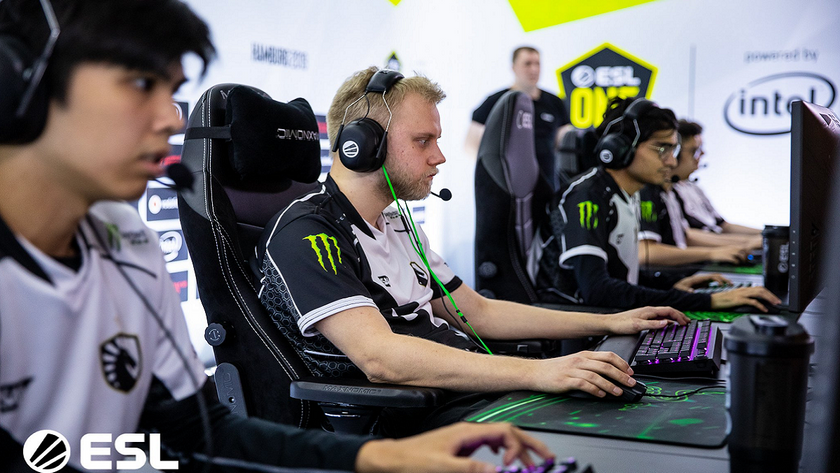 Elimination at ESL One Hamburg 2019
Four teams have already been eliminated from ESL One Hamburg 2019 as the group stage ended and the playoffs began. 
Saying goodbye is often hard, but it's even harder when great things are expected from your team. Team Liquid came into Germany as five teammates and friends that have been playing together for over one year —since before TI8. Under the Alliance last season the team showed remarkable presence and continued to improve game after game, month after month. They managed to secure a direct invite to TI9 after accumulating enough points, giving the iconic Swedish organization the chance to wave their banner at TI again, the first time in two years. An unfortunate misclick in the pick phase in the unforgiving best-of-one lower bracket elimination series ended their run with a disappointing 13-16th place. They vowed to pick up the pieces and come back stronger. They were acquired by one of the leading organizations in the world, Team Liquid and they picked up former player/caster/coach William "Blitz" Lee to give them the competitive edge and new approach. Somehow, somewhere, the narrative is starting to collapse around them. At DreamLeague Season 12 last week the team took a disappointing 4th (out of 6) place finish. Now, they end ESL One Hamburg 2019 in last place —11-12th. Their plays look sloppy, they don't seem coordinated and there are mistakes happening around the map. Even more, their drafts seem to be lacking. The team is heading to China next for the first DPC 2019-2020 season Major and they will need to do a LOT of retooling and restructuring of their approach if they want to see any changes in their results. 
Vikin.gg wasn't expected to be at the top. They came through the European qualifiers which seemed to be lacking any notable teams. They couldn't even get through the open qualifiers for the first Major/Minor of the season. They did manage to take a game off of the formidable Alliance and then a less impressive, but a win nonetheless, game from the struggling Virtus.pro. Seeing them exit the event before the mainstage wasn't a big surprise. 
Fighting Pandas might be one of the bigger meme's of the North American region, but they managed to secure a place in the MDL Chengdu Major. No one ever really knows what to expect from Jacky "EternaLEnVy" Mao's teams and this lineup sure has some raw talent and veteran players. Their performance at ESL was barely memorable, maybe only one real play standing out, no dominating performances nor reasons to write home to mom. A bit more pep, a dash of spice and some more fighting spirit will serve the team well heading into China. 
A real crushing blow was dealt to Quincy Crew. The promising NA stack just can't seem to catch a break. After losing Syed Sumail "Suma1L" Hassan shortly after qualifying for The Summit Minor, in large part it seems due to his contractual obligations still being intact with Evil Geniuses, the team was invited to attend ESL One Hamburg 2019 with their new offlaner. Suma1L was still on hand as the temporary coach at the event and fans were looking foward to seeing how the new composition would fair under his tutelage. Their first series, scheduled against NiP would never take place. Quinn 'CC&C' Callahan fell ill and went to the hospital. The team was down one player. Normally, this is where the coach would step in. Normally this is where spectators would cheer to see Suma1L playing once again. Normally doesn't matter when extenuating circumstances are at hand. Apparently, since Suma1L is still under contract and not been bought out or transferred to another team yet, he was unable to step in and compete at a LAN. That left the team unable to field a full roster and unable to postpone their match with NiP. The two wins were given to NiP as a forfeit —something that would be quite costly for them later. After much negotiating, Suma1L was able to step in for the following series giving new hope to the team for their run at ESL One. It wasn't enough. They ended the group stage with 4 points —tied with NiP and Wind and Rain. Bad luck stuck on Quincy Crew. ESL uses Neustadtl Score for tie breakers. That means the total number of wins is factored in and then head to head scores. That means the losses to NiP without ever playing them cost them everything. A heartbreaking way to exit the event. 
Being eliminated is never easy, but going home before the main stage is devestating. 
The action continues on Friday, October 25th at 13:30 CEST with three more elimination series.  
Upper Bracket
Round 2 - Best of 3
Round 3 - Best of 3
Lower Bracket
Final
ESL One Hamburg 2019 Teams
 Virtus.pro

 TNC Predator

 Vici Gaming

 NiP

 Team Liquid

 beastcoast

 Quincy Crew

 Gambit

 Vikin.gg

 Fighting Pandas

 Wind and Rain 

 Alliance
 
ESL One Hamburg 2019 Format
Group Stage

Will be played from October 22-24
Two groups, six teams each
Bo2 round robin
Top two teams advance to the Upper Bracket of the playoffs
3rd and 4th placed teams advance to the Lower Bracket
Bottom two teams from either group are eliminated
Tiebreaker rules apply in order:

Direct points between tied teams
Neustadtl Score (Explanation)
Number of wins overall
Number of wins between tied teams
Time coefficient
Coin toss

Playoffs

First round of the Upper Bracket will be played on October 24th
The rest of the playoffs will be held at the Barclaycard Arena from October 25 to October 27 in front of a live audience
Double Elimination
Except grand finals, All games are played in Bo3 Series
Grand finals are played in a Bo5 Series
ESL One Hamburg 2019 Prize Pool
ESL One Hamburg 2019 boasts a $300,000 prize pool distributed between all 12 teams in the following way:
1st place - $125,000
2nd place - $65,000
3rd place - $35,000
4th place - $20,000
5-6th place - $12,000
7-8th place - $7,500
9-10th place - $5,000 - Fighting Pandas/Quincy Crew
11-12th place - $3,000 - Team Liquid/Vikin.gg
ESL One Hamburg 2019
ESL One Hamburg 2019 is taking place between October 22-27th, as12 teams battle each other for a $300,000 prize pool.