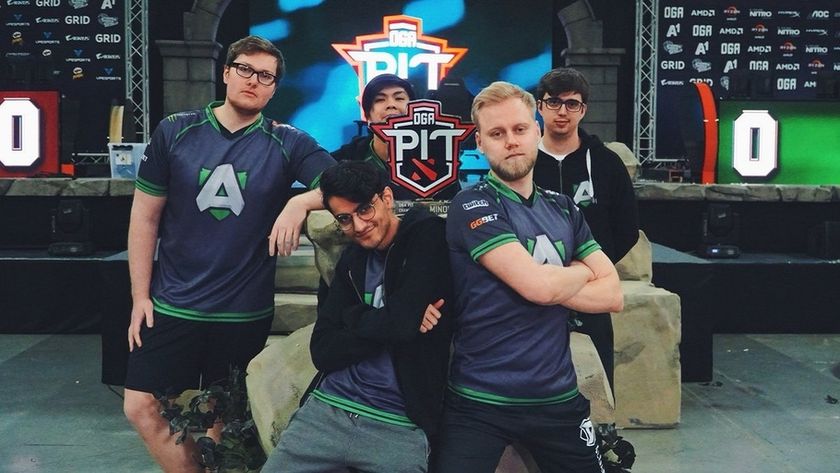 Alliance and RNG leaders of the pack Day 2 of OGA Dota PIT Minor
Title image courtesy of Alliance
The second day of the group stage has come to an end with Alliance and RNG into the top position of their groups.
The second day of OGA Dota PIT Minor was more group stages. As the Round Robin is playing out, the teams all faced new opponents. Like the first day, there still continues to be a few surprises and upsets, making for an interesting and entertaining day. 
Group A
Group A held little to no surprises for fans. Ninjas in Pyjamas bested Gambit Esports 2:1 NiP narrowly lost the second game to Gambit as the CIS team broke through the Swedish lead starting about 22 minutes in and steadily chipped it away until turning the tables completely 33 minutes in and ending the game in their favor only four minutes later. NiP recovered quickly in the next match taking the game and series win in just 21 minutes, but it was certainly an unexpected sequence of events. 
Royal Never Give Up was able to take the first game off of BOOM ID with relative ease. Despite a 2:0 sweep over the SEA, BOOM ID really gave RNG a run for their money in the second match with a roller coaster of a game filled with ups and downs and twists and turns. 
Group B
Alliance and Forward Gaming were put to the max in a full three game series that tested both of their resillience and composure. The first match belonged all to the NA squad but took almost a full hour for them to close out. The Swedish team then dismantled Forward in the second match with an overwhelming 31:4 victory in 29 minutes. The deciding match was a game of ping pong, a call and response in leads and control between the two teams up until Alliance claimed the victory. 
EHOME took a pretty convincing victory over Majestic Esports in their first matchup but then were completely overwhelmed by the SA team in the second match. Headed to the third game, both teams fought hard and long with Majestic Esports clinching the win in an exciting finish. 
The action resumes today at 09:30 CEST with more of the group stage round robin. 
OGA Dota PIT Minor Format:
Group Stage

Two groups of four teams each
Bo3 Round-Robin format
Playoffs

Double-Elimination
Lower Bracket Round 1-3 are Bo1. Grand Finals are Bo5.
Other games are Bo3.
OGA Dota PIT Minor Groups:
Group A:

 Ninjas in Pyjamas

 Royal Never Give Up

 Gambit Esports

 BOOM ID
Group B:

 Alliance

 EHOME

 Forward Gaming

 Majestic Esports
OGA Dota PIT Minor Prize Pool Distribution:

The total prize pool for the event is $300,000 split between all eight teams. In addition to the handsome financial reward, teams will be awarded DPC points as well. 
1st place: $125,000 + 120 DPC points + Spot to MDL Disneyland Major
2nd place: $65,000 + 100 DPC points
3rd place: $35,000 + 90 DPC points
4th place: $25,000 + 70 DPC points
5-6th place: $15,000 + 40 DPC points
7-8th place: $10,000 + 20 DPC points