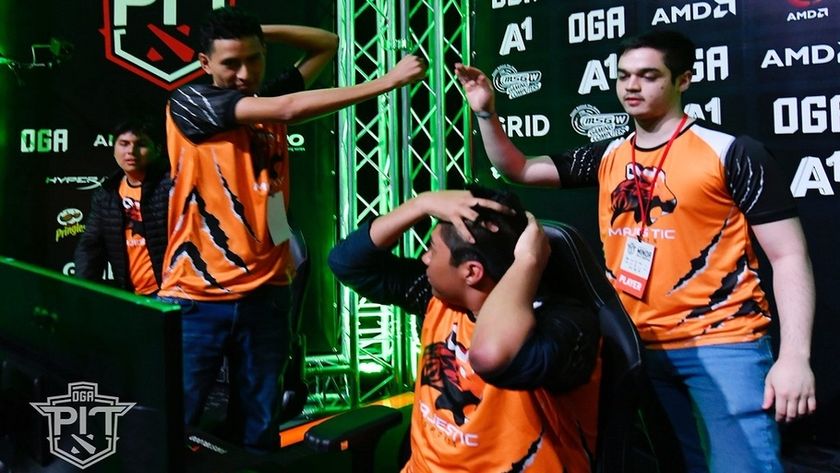 OGA Dota PIT Minor upsets to kick things off
Title image courtesy of OGA Dota PIT
OGA Dota PIT Minor got underway as all eight teams went head to head in their first series for the group stage. 
The first day of the OGA Dota PIT Minor yielded a very long day of competition and some unexpected results already. Both BOOM ID and Majestic Esports came out of the gate swinging with some impressive performances and demonstration of how serious they plan on taking this event and their opponents. 
While no team will be eliminated in the group stage nor find themselves in starting out in the lower brackets, the group stage serves an important function for seeding of opponents and getting a solid reading on the tournament climate. For underdog teams such as BOOM and Majestic, upsetting teams in their first series can serve as motivational fuel and raise confidence. 
Things started out intense with the first series between Ninjas in Pyjamas and Royal Never Give Up. The first match was over 60 minutes long and saw both teams throw and gain the leads with outstanding plays and critical mistakes. In the end, it was the Swedish based organization that took the first game advantage, but RNG was quick to dust themselves off and return with a reverse sweep to take the first series victory. 
BOOM ID and Gambit Esports also went the full mile in the first match with another almost 60-minute game. BOOM had an impressive opening, dominating over the CIS rising team and showing just how much they have grown with their previous Minor experiences. Gambit took an easy second game off the SEA opponents and reset the score, forcing the deciding third match. It was here that BOOM really upset Gambit with a shocking 28-minute victory and 5:25 score showing that the first match wasn't just a fluke. 
When Alliance took on EHOME many fans were not sure what to expect between these two. Both teams are fairly evenly matched and only are two spots apart in the DPC leaderboards with EHOME in 12th place and Alliance in 14th. They both have had their fair share of ups and downs and aren't playing with their typical roster with players out on both sides due to injuries. What many didn't expect was a 2:0 sweep in Alliance's favor with the first match being 28 minutes, followed by a whopping 71 minutes long match. 
Majestic Esports pulled a major upset in the SA qualifiers when they snagged the spot over the favorites, and now they did so again when they convincingly took down Forward Gaming 2:1. Forward's only, but dominant, win was flanked by two impressive games from Majestic Esports, showing that the SA team means business. 
The action resumes today at 10:30 CEST with more of the group stage round robin. 
OGA Dota PIT Minor Format:
Group Stage

Two groups of four teams each
Bo3 Round-Robin format
Playoffs

Double-Elimination
Lower Bracket Round 1-3 are Bo1. Grand Finals are Bo5.
Other games are Bo3.
OGA Dota PIT Minor Groups:
Group A:

 Ninjas in Pyjamas

 Royal Never Give Up

 Gambit Esports

 BOOM ID
Group B:

 Alliance

 EHOME

 Forward Gaming

 Majestic Esports
OGA Dota PIT Minor Prize Pool Distribution:

The total prize pool for the event is $300,000 split between all eight teams. In addition to the handsome financial reward, teams will be awarded DPC points as well. 
1st place: $125,000 + 120 DPC points + Spot to MDL Disneyland Major
2nd place: $65,000 + 100 DPC points
3rd place: $35,000 + 90 DPC points
4th place: $25,000 + 70 DPC points
5-6th place: $15,000 + 40 DPC points
7-8th place: $10,000 + 20 DPC points