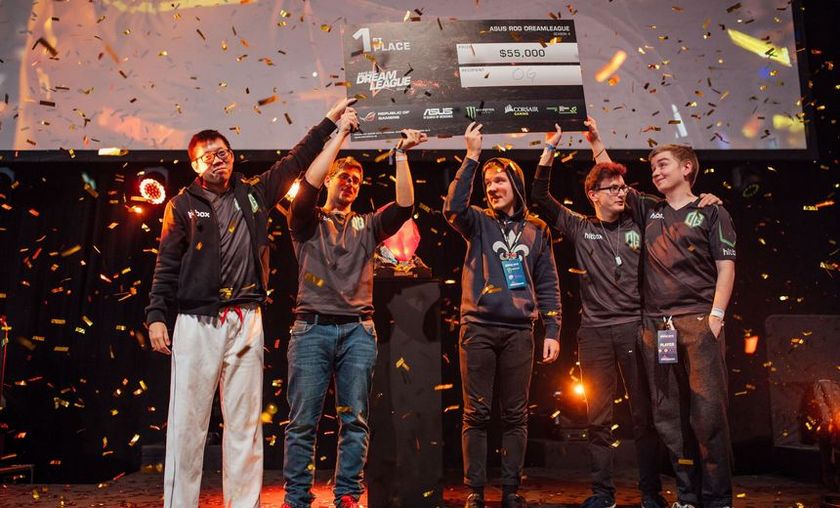 DreamLeague Season 5 announced with a new rewarding format

image source
The fifth edition of DreamLeague comes with an interesting change in the league phase format and with Studio Playoffs instead of a DreamHack LAN.
Eight teams will start the League brawl on March 21st. They will play each other in a best of two Round Robin format with a twist. Each game won (not series) will award one point and $1,000 making a game series worth $2,000. The top three teams at the end of the League phase will advance into the playoffs where the Season 4 Champions, OG will wait for their opponents.
A total of 56,000 US dollars are up for grabs for the League phase while the prize pool for the Playoffs is $100,000.
Participating teams at DreamLeague Season 5:
Invited to the Studio Playoffs
OG
Invited to the League:
Natus Vincere

Team Empire

Team Spirit

Vega Squadron

Virtus.Pro

London Conspiracy

Mamas Boys

No Diggity  (open qualifiers winners at Epicenter)
The Playoffs stage will take place on 21st and  22nd of May but this time around the four teams will compete at the Monster Energy DreamHack Studios, in Stockholm Sweden. Each team attending the playoffs will be granted by the organizers with a $3,000 travel support along with a bootcamp in Stockholm for one week after the DreamLeague competition is over, bootcamp where players can stay and practice for the Manila Major.
DreamLeague Season 5 will have a slight change for their "traditional" by now talent panel line-up. Having Troels 'SyndereN' Nielsen on the competitor's side this year, he will be missing from the commentators desk for obvious reasons. Jake 'SirActionSlacks' Kanner has been added to the team and he will be delegated with co-hosting duties. In addition this season DreamLeague will put even more focus on bringing exciting guests to the broadcasts each week.
DreamLeague Season 5 talent line-up:
Jorien 'Sheever' Van der Heijden
Jake 'SirActionSlacks' Kanner
Owen 'ODPixel' Davies
Andy 'Draskyl' Stiles
source: dreamleague.dreamhack.com