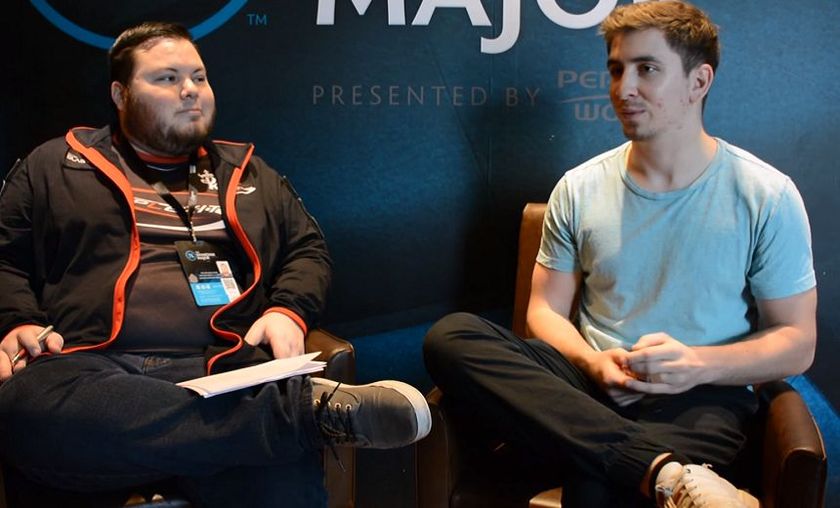 Interview with Swindlezz: "The Chinese teams just don't try, just don't care"
After their victory against LGD, compLexity's manager Kyle 'Beef' Bautista conducted an interview with his team captain Kyle 'Swindlemelonzz' Freedman about the team's condition and the problems encountered during the event. The interview is full property of compLexity Gaming organization and it was posted on their youtube channel. 
The interview started with the usual questions regarding the team's condition and how Kyle 'Swindlemelonzz' Freedman was feeling after winning against LGD. This is a transcript of the interview after the introduction.
You have talked about the glue, the smell, fumes, that kind of stuff, how was it in the booth?
It just doesn't smell great, I don't really notice [the smell]. It doesn't affect me too much, but it is hot as balls [in the booths]. I think that was a sensory overload, we were so hot, we were dripping with sweat, to the point where it was getting into my eye and I had to [use my hands] to brush [the sweat off]. Honestly it feels like a real sport now, we were hugging in the post-game and we were just drenched.
Speaking about sensory overload, they [Perfect World] added white noise [to the booths] as well, did that solve the sound proving issues for you?
It's pretty much what TI was, in the sense that you can only hear the loud roar, you don't hear specific things. It's like mumbled but if it wasn't loud enough or if it's too low, you could very easily hear the Chinese casters. If your headset's off, you can hear them pretty easily and I don't think that's how it should be, but at least, you know, you keep your headset on - well - no one would understand except for most of Fnatic, its ok but it's an interesting set up.
All of China is gone, you had made some predictions about them being lazy, you feel a bit vindicated now that this has actually happen?
I think this is something that I have been stating for quite some time, I'm pretty sure I went on Around the Pit with Toffees and I think that I said that no more than two Chinese teams will make top eight, he and Charlie strongly disagreed. I just generally feel that work ethic takes you longer [a longer way] than talent or experience and the Chinese teams just don't try, just don't care. Especially here, on your home turf, I just feel like they aren't taking enough pride in what they do, there's a lot of people who work really hard for over a decade that put in a lot time so that eSports [becomes popular]...you can now say you're a professional video game, and people would be like "wow, really, that's so cool!", ten years ago, you get a snicker and "when are you going to get a real job". I feel like we own it not just to yourself and to your fans and family but the people who created these opportunity for you and me...you got to at least put on a good show.
Did you feel that when they [the teams] didn't show up for the opening ceremony, was that failure to put on a good show?
Oh, definitely, that's so disrespectful. The reason it wasn't even mandatory - I'm fairly certain - was they didn't want to go. Really? Now that you've made your couple of million dollars and you're set and secure you're going to pretty much flip off everyone that supported you when you were nothing? It's like a huge slap in the face, especially in your home arena, it's unreal to me...but I don't want to continue, I'd say more but...
Do you think this [no Chinese teams remaining] is a wakeup call for the teams? Do you think they are going to take this as a catalyst to improve on things they failed to do so previously?
I would hope so, I think a big part of it is allowing new talent to shine, there are certainly hard working Chinese players; there are hardworking players in every region. It's a bit of an oligopoly that has formed in the Chinese scene where ACE and a couple of clubs control everything. So you know at every TI, even though the players are different, there's going to be your EHOMEs, LGDs, DKs, CDECs, [CDEC is] obviously an up and coming team but they are unique in that they were not part of the old guard. You have these organizations that have all the money and all the power and they say, as an example, Maybe - he was with the youth team - "Hey Maybe, come play with us" "OK" [Maybe's reply]. There's no comradery, he just  ditched and CDEC have to replace him and they have Shiki now. It's not organic, you can't have growth with that system in place, where you have old players retire and they re-join the scene and they're just like "hey you guys, come play with me now" and that worked in the past where people weren't good enough and they were of significantly higher skill, but now everyone's very even and a lot of it is how hard are you training, what's your comradery and synergy with your teammates like and how well do you prepare for the event.
Today you're not feeling super-hot [Swindlezz has a flu], how are the rest of the team doing managing the "Chinese plague" as we called it?
We've all dealt with LAN flu before, it's probably number 20+ for all of us, I'm just going to take a bunch of Adaprofine [Editor's note: It seems to be some sort of flu medicine, I could not find its exact name and spelled it based on what I heard], I think everyone else is feeling ok, I think I'm [feeling] the worst, so [I am] cool with that. Hopefully we all bring the hype and [it] should be ok, it's just, it's really unpleasant, everything is just so unpleasant, argh...I just, I just want to go home.
Limmp has been voted MVP twice on Tiny, are you expecting to get Tiny again today?
Possibly, I'm not very sure, it'll be interesting because we've mostly been picking - I'm not going to be going into detail about strategies - if people start banning Tiny, it'll open up a lot of things we could start picking. We have a bunch of strategies we haven't revealed and a lot of meta stuff that we are practiced with and think are very strong. LGD did exactly what we expected, you just can't pick certain things against first pick earth spirit but we'll see what happen, I think no matter what we'll be comfortable.
There's a bit of history between the players [on coL] and Alliance, do you feel the stakes are higher for them to do something?
I always look at the odds, I obviously can't gamble cause gamer, but I love to look at the odds and just think about it. I think they've [Alliance] got like 80%+ to win, to you guys [the win] is money but they certainly have way more fans - I think Loda is the most popular, if not the top three most popular in Dota - and they just won Starladder and they've won a TI, they're the big guys, we're just nobodies talking all this smack. At this point I feel like we've nothing to lose, but obviously, we're going to try and win.
Do you like going in as an underdog?
Love it. I'm trying to savour it, in truth, in a few month's i won't ever get to do it again so got to enjoy it while it lasts.
Very big words, well we'll let you go back to the preparations Kyle, thank you very much for joining us.
surce: compLexity's youtube channel