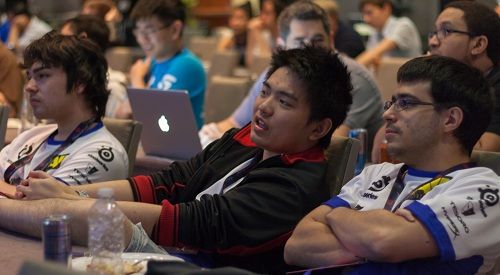 Na`Vi rejects their American Squad
The original squad of Na`Vi.US
(From left to right: SneyKing, Brax, 1437, Fogged and Korok)
In a fresh development, Natus Vincere has disbanded their American squad owing to roster instability and a poor performance in the recent past. The organization however, hopes to revive the team in the nearest future.
Natus Vincere today made the announcement that they will be disbanding their American squad, known as Na`Vi.US or Na`Vi.NA. The organization cited the "constant change of players" owing to the "interpersonal relations between the players" as the main reason for this decision. Na`Vi called their short lived relationship a unique and successful experience especially for a organization from the CIS region. However, they added, consistently poor results created a negative influence on the intra-team relations and these inner conflicts led to the disbandment. The organization plans not to give up entirely on the project though, and plans to revive the roster soon. This is the comment made by Igor "caff" Sidorenko, COO Natus Vincere:
"The interpersonal relations between the players, which disabled the squad to exist, were the reason of our decision to disband the squad. We couldn't let the squad to go on with constant changes of the players. However, the development of Na`Vi.Us isn't over. In the nearest future we will present a new Dota 2 squad"
Flashback, Natus Vincere had signed the unsponsored team North American Rejects (NAR) as Na`Vi.US just after the qualifiers for The International 4(hence the NARVI nickname). NAR, as the name might suggest, was formed with five of the well known players in the North-American region who were left without a squad going into TI4 qualifiers. The team did remarkably well taking the American qualifier slot beating Team Liquid in the finals. Their success prompted Natus Vincere to pick the squad up but the team couldn't maintain their performance. They had a poor showing at TI4 and nothing significant to show in the tournaments thereafter.
The first cracks in the wall appeared when 1437 left the team after TI4, and was soon found with Team Secret as a coach. Later Brax departed the team too and shifted to Sneaky Nyx Assassins. The remaining three tried to hold their own using stand-ins like Peter 'wayto' Nguyen or Chris 'Ush' Usher but it was not enough to change the fortunes of the team. Soon, SneyKing left the team too, and this led to the team recently pulling out of all the tournaments they were a part of, to re-evaluate their situation and reconsider future plans. A team which had set to break the image of "North American Dota as something transient, temporary and sub-par" (Quote by Brax on Na`Vi signing NAR) has thus disbanded with the future of all players remaining uncertain.
Official roster of Na'Vi.US before disbanding:


Braxton 'Brax' Paulson

Jing 'Sneyking' Wu

Ioannis 'Fogged' Loucas

Steve 'Korok' Ashworth

Theeban '1437' Siva
(Note: None of roster changes mentioned above were offically acknowledged by Natus Vincere, hence the squad is the same as the original NAR)
Source: navi-gaming
Headline Image: Brax, Sneyking and Fogged (left to right) at TI4 during group stages.
News image by Natus Vincere