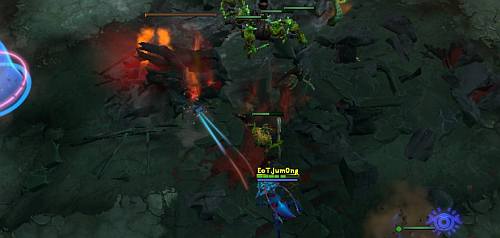 Rares and branches burned as EoT.Hammer upsets Zephyr in Nexon Sponsorship League S3

L-R: RYOR, ej, Cast, JessieVash, Chrissy. Team MSIevoGT at PGF Summer 2012
Going into the match as the heavy favourite to win Nexon Sponsorship League S3, Zephyr let a lot of their fans down earlier today when they lost to EoT.Hammer, the team with three Pinoy and two Korean players in a five game series.
Upper Bracket
Round 2 - Best of 5
Round 3 - Best of 5
Lower Bracket
Round 3 - Best of 5
Round 4 - Best of 5
Final
The match started out as one would have expected, Zephyr took down EoT.Hammer in mere 25 minutes with their push strat against a Spectre. The series started heating up in game two where a long back-and-forth was finally ended after they were able to lock down Corey 'Corey' Wright's Anti-Mage who was six-slotted. Game three and game four was considerably one-sided with EoT.Hammer first winning game three and Zephyr winning game four.
 
The "gg" call
With the series tied at 2-2, both the teams went into game five full guns blazing. However, it was EoT.Hammer who had the bigger gun, or rather an early Blink Dagger on the Earthshaker that won them many mid-game engagements. After choking Zephyr in their own base, EoT.Hammer finally took down the middle barracks and fought extremely hard to take down the extremely tanky Chaos Knight and the bottom barracks. Two minutes later, EoT.Hammer made a move for the top barracks. Losing the fight in their base, Kevin 'Purge' Godec was the first to call the "gg."

Well played to EoT.Hammer! They won 3-2 in a close game 5. We move on to Loser's Bracket and play next Week!

— Kevin 'Purge' Godec (@PurgeGamers) January 25, 2014
Oh wow... Korean doto or pinoy doto? Regardless what a huge upset

— Jimmy Ho (@DotADeMoN) January 25, 2014
eot chrissy is really impressive, what a ownage player

— ComeWithMe (@leCEWEME) January 25, 2014
The win means EoT.Hammer will be the first team to make it into the grand final of the tournament. They are currently guaranteed at least a second place finish and will be heavy contending for the championship and $57,000 in cash. The foreign favourite on the other hand will have to face the winner of 5inQ versus MVP HOT6. The first round of the loser bracket is set to begin on the 4th of February while Zephyr is scheduled to play the loser bracket final on the 8th.
According to our Gosubet, Zephyr is the heavy favourite going into the match up and their failure to qualify for the grand final means 11,535 branches will be transferred to the users betting on the underdogs. Over 29% of users who placed their faith in Zephyr on Dota2Lounge also had their rares burned moments ago.