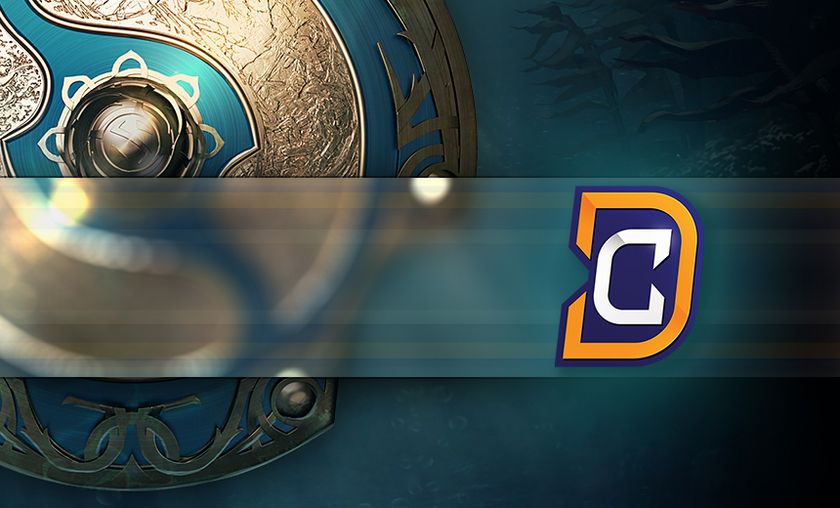 TI 7 profile: Digital Chaos indeed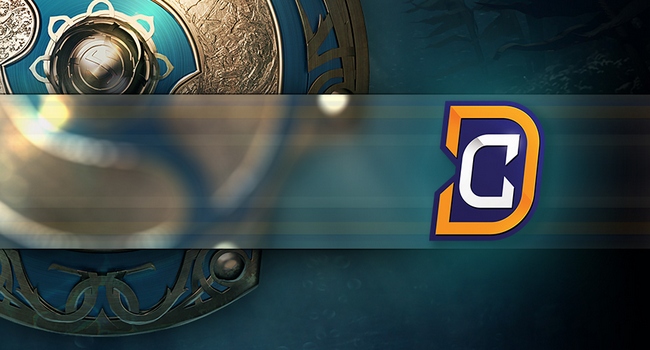 Three completely different rosters worked for the past two years to get Digital Chaos where they are now, and undoubtedly the most successful one was the TI6 one that fought against Wings Gaming in the Grand Finals.
Fast forward to this year, a few weeks ahead of the Kiev Major, DC suddenly lost Shannon 'SUNSfan' Scotten, co-owner and founder of the organization, followed by the entire team, including their manager and coach. No reason whatsoever was given by any side, but on the same day of the TI6 runner up roster departure, Digital Chaos were quick to announce the signing of Team Onyx.
Team Onyx was formed on the first day of 2017 by two NA veterans, both with quite a history behind them after nearly 10 years of professional play. Sam 'BuLba' Sosale, freshly released from Team Liquid after failing to qualify for the Boston Major, and Jimmy 'DeMoN' Ho, returned home from Fnatic where he experienced the same Boston Major failure as BuLba did with Liquid, put their brains together to start a new project. They co-opted Mason 'mason' Venne, who was off the map completely post his TI4 top 3 performance with Evil Geniuses, and as the North American scene still doesn't have too many options, the three NA players looked across the ocean, in the SEA scene to complete the Onyx roster. Kim 'DuBu' Duyoung came from the Korean MVP Phoenix to play for the first time in his career for a foreign team and so did the 16 years old Filipino prodigy Abed 'Abed' Yusop who left Execration.
The five players stack looking for glory in 2017 was not really given a chance by most of the Dota 2 community and perhaps not even their NA competitors felt threatened too hard by them. They shattered everyone's expectations in the Kiev Major NA qualifiers where the odd stack eliminated one by one Team Freedom, Team NP (now Cloud9) and CompLexity to claim the only one qualifying spot available for the NA region at the last Major ahead of The International 2017. Their performance came with one extra prize as the very next day after the qualifiers were over, Digital Chaos signed Team Onyx and the five players were now settled with a gaming house and a salary to ease their road to TI 7.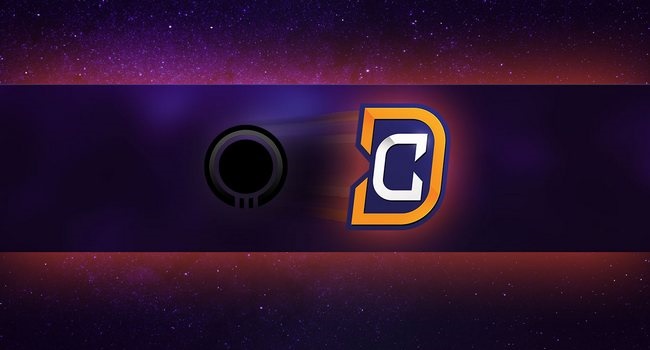 Three US players, one Filipino and one Korean was the closest to an NA roster Digital Chaos have had in the past year but this didn't last too long. Following their exit from the Kiev Major in the first round of the single elimination main event bracket, DeMoN was removed from the team and a former MVP Phoenix team-mate of Dubu landed on the US soil to join DC. Upon his arrival at Digital Chaos, Sang-Don 'FoREv' Lee was completing a one year tour across three continents and four different teams in his attempt to find a place to call home after TI 6. For him, DC was the last option to reach once again The International scene and with his former captain and drafter Dubu now playing for DC, Forev's choice to join him was the most logical move at the time
Digital Chaos roster from position 1 to 5
Mason 'mason' Venne

Abed 'Abed' Yusop

Sang-Don 'FoREv' Lee

Sam 'Bulba' Sosale

Kim 'DuBu' Duyoung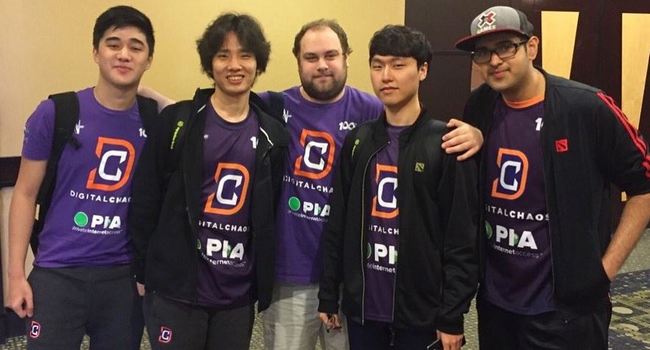 To make room for Forev in the team, BuLba switched from the offlane to the support role and luckily for him and DC, a week later after this change, the 7.06 patch came with meta changes and a shift in supporting hero preferences. This way BuLba got to keep on playing his signature Clockwerk as the hero became more and more popular in the support hands rather than the offlaners, Sand King has also started to be used by supports, so did Nyx Assassin and, BuLba has even gone that far to successfully push Slardar to a support position as well. But despite their explosive start in the first trimester of 2017, DC were heavily lacking in one department, cohesion. Their chaotic play style, lack of communication, and even questionable drafts became very clear even to the most novice Dota 2 spectators. Watching DC through a team fight was like watching a pub game where everyone does what they personally think is the best, no real target calls could be observed by someone spectating DC, and the overall plan seemed to be - resist long enough until one of them would do a  brilliant move that will tilt the enemy for good. In a patch that emphasized a lot the 5 man Dota from early stages, their lack of coordination in team fights got them in trouble after Kiev Major.
Trying to rely only on their individual skills and flashy plays lead DC nowhere. They lost the NA qualifiers for Dota Summit 7 and without any other LAN event secured, only a lucky break could have saved the day for them. And fate was once again favoring them indeed. Despite not qualifying for Dota Summit 7 and Zotac Cup, Digital Chaos still got invited to both LAN events, both times as a last minute replacement for some other teams that couldn't secure their visas. A 5th/6th place at both LANs was clearly not enough for Valve to land them a direct invite to TI 7 and from there on it was all in the hands of the players to try and work as a unit.
Interestingly enough, the TI 7 qualifiers didn't reveal a different DC in play style and overall execution. They were still sloppy, even the qualifiers grand finals against Team Freedom were at times a symphony of misplays from which only raw talent sent them to the biggest event of the year.
Each individual is stupidly talented and skilled and none of them are strangers to The International. Forev and Dubu finished top six last year in Seattle with MVP Phoenix, and their reunion at DC brings a little from what the team lacks the most, unity. The only time Mason got to play on the KeyArena big stage he placed third. It was 2014, a year when Fear was taking a break to recover from a wrist injury. In many ways Mason reminds us all of Alexander 'XBOCT' Dashkevich. He is a very aggressive carry who likes heroes that can quickly scale and allow him to adventure in early ganks and deep dives, and same as the TI1 champion, Mason is a true maestro on Weaver, the little elusive bug that can be a true pain for any offlaner.
DC's midlaner Abed has been regarded as the new Syed Sumail 'SumaiL' Hassan since his stint at Execration. And just like SumaiL, Abed is comfortable on highly mobile heroes, like Puck and Queen of Pain which are his most played ones in the 7.06 patch. However, he has one more Ace in his sleeves, namely Meepo, a hero that somewhat made him famous a year ago. To mirror the SumaiL story even more, Abed moved to the United States of America to pursue his dream at only 16 years old.  He's been to TI 6 as well but back then he lost the battle in the Wildcards, before actually playing in front of the live audience. Now, at DC, he's babysitted by BuLba, one of the most experienced player in the scene,  who saw it all through his 10 years long career.
From TI2 to TI7, one way or the other, BuLba has been always present in Seattle. Be it as a mid laner for EG in 2012, or their coach in 2015 when they actually took home the Aegis, or Liquid's offlaner at TI3 and support at TI4, or Team Secret's last year offlaner, BuLba holds the knowledge that can empower his team to achieve greatness at TI 7.

Click here for results, VODs and all the other information