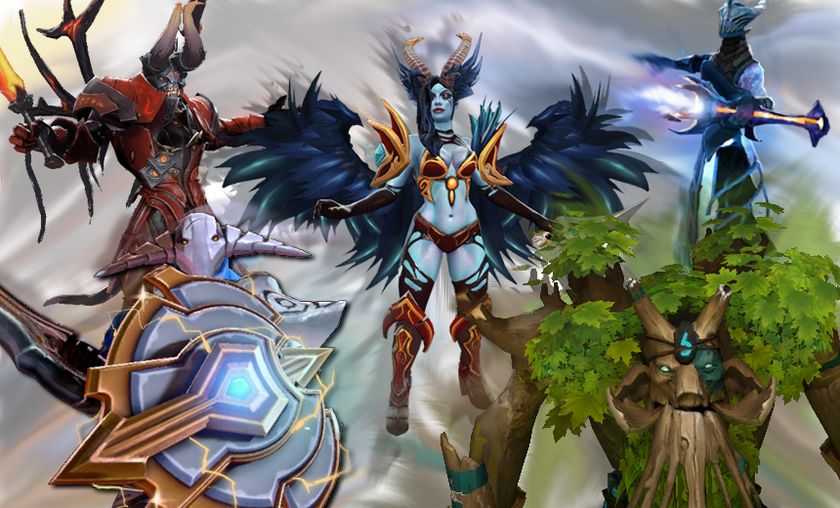 The winners of the 7.05 patch: Who could we see at Kiev?
The Kiev Major is less than four days away and since the last major tournament (DAC 2017), there has been in stir in the meta, as a lot of the community was hoping there would be. While IceFrog has ensured that certain heroes do not see the light of day in Kiev, others have been lucky enough to make it back to the realms of the viable. Let's go through the winners of patch 7.05 and take a look at who we might see a lot of at the Kiev Major..
1. Brewmaster
Earth Primal Unit's Demolish now gives +90/180/270 damage vs buildings (effectively 300% of base damage, instead of 300% of total damage)
Earth Primal Unit's BAT reduced from 1.35 to 1.25
Level 15 Talent increased from +12% Magic Resistance to +15%
Level 20 Talent increased from -35s Respawn Time to -40s
Level 25 Talent increased from +75 Damage to +120
Level 25 Talent changed from +20 Primal Unit Armor
to +2000 Health to Primal Split Units
It's not that Brewmaster was totally absent in recent tournaments, but Valve is trying to bring back the TI 4 era for drunken panda when he was the fourth most picked hero at the event. Brewmaster has received buffs to four of his talents and the most prominent is the 2000 additional hitpoints. While the +20 armor protected the Brewlings from physical damage, there was still the possibility of the Storm and Fire Pandas succumbing to magic burst (the Earth Panda is magic immune and has the most HP of the three). Although 'Demolish' has suffered a minor nerf, that is hardly the reason Brewmaster is picked (unless you are Team Random). I expect him to be picked quite a bit in Kiev, especially with offlaners like Abbadon and Magnus being hit by the nerf hammer.
2. Doom
Doom damage increased from 20/35/50 to 25/40/55
Level 10 Talent increased from +250 Health to +275
Level 15 Talent increased from +20 Movement Speed to +25
Level 20 Talent increased from +35 Doom DPS to +40
Level 20 Talent changed from +25 Health Regen to Devour Can Target Ancients
Level 25 Talent changed from Devour Can Target Ancients to +40 Health Regen
Doom made a grand comeback in 6.85 after being dormant for a while, but since then he has been nerfed in nearly every subsequent patch. Most of the nerfs have been to his ultimate (which is basically what defines him), but now, for the first time in a while, we see both Doom the hero and Doom the ultimate being shown some love. Even though it isn't the biggest of buffs, the additional 75 Pure Damage (5 extra damage for 15 seconds) could be the difference between life and death in the early stages of the game. This can further be bolstered with the level 20 talent, which also has received a buff. And if you don't feel like going the DPS route, the consume ancients ability has now been shifted to level 20 instead of 25. Granite Aura (15% bonus HP) or Dragonhide Aura (+ 3 armor) can make a considerable difference, especially in high ground defence. With popular roamers Earth Spirit and Monkey King nerfed, Doom seems to be a viable candidate for that position four spot.
3. Nature's Prophet
Base damage increased by 6
Just looking at 7.05, it may not seem that NP is one of the biggest winners of the patch. But considering the fact that he has been receiving buffs since 7.01, this just might be the patch where he sprouts back into the game (pun intended). Recent tourneys have seen iceice, iceiceice and Matumbaman try out NP at position four, three and two respectively. Let's see what the professionals have in mind for him at Kiev.
4. Queen of Pain
Level 10 Talent increased from +9 Strength to +10
Shadow Strike cast range from 450/475/500/525 to 450/500/550/600
Shadow Strike damage per tick from 30/40/50/60 to 30/45/60/75
Not the biggest of buffs to QoP, but level 2 Shadow Strike will be a pain to deal with in mid lane (unless there's a Viper in front of QoP, in which case she'll be the one in pain). She has been buffed since 7.02, like NP, and with mid laners like Alchemist and Ember Spirit being on the backfoot, it could be time the for the Mistress of Pain to reclaim the title of Queen of mid.
5. Razor
Base intelligence increased from 19 to 21
Level 10 Talent increased from +20 Movement Speed to +25
Level 15 Talent increased from +150 Cast Range to +175
Level 20 Talent increased from +325 Health to +400
Since the transition to Dota 2 7.00, Razor has lost his sharpness and the current has nearly stopped flowing. but it might be time we see him causing some shocks in the mid lane. I'm not too sure about a safelane Razor, but he has the potential to be a viable mid. Too bad FATA-- isn't a part of the Kiev Major, or we'd have been assured of some electrifying performances.
6. Sven
Great Cleave distance increased from 550 to 570
Level 10 Talent increased from +200 Mana to +225
Level 20 Talent increased from +15% Evasion to +20%
Level 25 Talent increased from -6s Storm Hammer Cooldown to -8s
One major reason Sven hasn't been a part of the meta is the change in neutral spawning that was introduced in 7.00. The Rogue Knights depended a lot on clearing quadruple ancient stacks to get a hefty mid game boost, but with neutrals spawning every alternate minute, it isn't as reliable anymore. I wouldn't say he will be one of the most picked heroes, but with some love being showered on his talents in the last couple of patches, he could be more of a presence than earlier. Additionally, he is a very good carrier of Sange and Yasha, an item that is being seen more and more in the professional scene in recent times.
7. Treant Protector
Enabled in Captain's Mode
Leech Seed slow reduced from 22/24/26/28% to 16/20/24/28%
Overgrowth cooldown rescaled from 70 to 100/85/70
Base movement speed reduced by 5
Although Treant might have been nerfed in 7.05, it marks his grand return to the Captains Mode. We might not have seen him in major tournament yet, but it's common knowledge his bash out of invisibility (coupled with an orb of venom) can wreak some early game havoc in lanes. It will be interesting to see what plans the teams have in store for him.
Honourable mentions
There are a few other heroes who have received decent buffs but the jury is still out on whether they'll make the cut at Kiev.
Bristleback
Death Prophet
Dragon Knight
Enchantress
Lycan
Shadow Shaman
Viper
Which heroes will or won't be used in Kiev, we'll know very soon. We can only hope that it doesn't come to a stage where the picks are as predictable as at the end of DAC 2017!