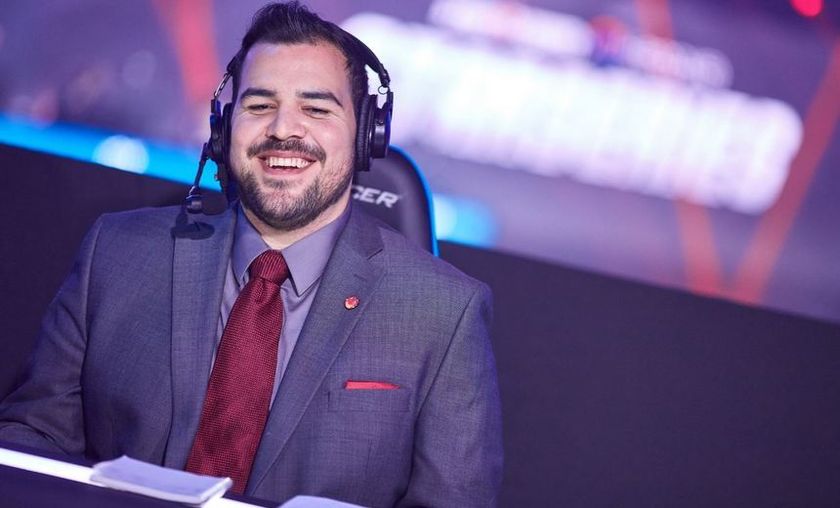 Lyrical interview: "DAC was surreal. It was a dream come true"

picture courtesy of StarLadder
There have been many times when I've ventured onto YouTube and watched a replay of some of my favorite Dota 2 games, the most notable one being game 3 of OG vs EG in the lower bracket finals of the Frankfurt Major. The more I watch, the more I realize that the major reason why the games are memorable is because of the casters; how they cover the entire game and build up the excitement. I had the pleasure of talking with Gabriel 'Lyrical' Cruz, who recently took big leaps as a caster when he was invited for StarLadder i-League Star Series Season 3 and the Dota 2 Asia Championships 2017. We spoke about how he started playing Dota 2, his journey as a caster and where he stands now. 
_______________________________________________________________________________________________________
Welcome back from the long trip to China, Lyrical! How was your experience at DAC?
It was amazing! I had a great time, it was the biggest tournament I have done so far. I was nervous while casting on the mainstage, but I learned a lot.
No doubt events as big as DAC 2017 can be ones that teach you a lot! Let's back up a bit. When did you start playing Dota?
 I was a chef at a restaurant and I wasn't happy at my job
It was around two or three years ago that I started playing Dota. I was a chef at a restaurant and I wasn't happy at my job. I wanted a way to escape from it so I got a good computer, downloaded Steam and started playing Dota. It's a great game and it felt like it gave me an outlet to be creative and think more instead of just chopping vegetables!
That is impressive! Journey from a chef to a caster on the mainstage of StarLadder and DAC in a period of three years is no small feat. Who introduced you to the game?
I used to play StarCraft 2 and before that StarCraft 1. I had seen a couple of popular StarCraft streamers play Dota 2 around five years ago when the beta had just come out and it's something that kind of stuck in my head.
And how did you get into casting?
Around three to four months into playing Dota 2, I found an in-house league called 'Die Hard Dota'. While I was playing in it, I heard someone casting my game. I hadn't seen any professional Dota 2 till then so I didn't know about casting. I felt it was something I would like to do so I started casting the in-house leagues my friends were playing in, and from there it just grew bigger and bigger until I got noticed by a couple of people.
The first time the global Dota 2 community noticed you, was during the StarLadder i-League Star Series Season 3 tournament. How did you get that break?
it got to a point where I was casting enough games that GoDz asked me if I wanted to go for StarLadder
I had been working a bit with BTS (Beyond The Summit) at that point and had been doing a lot of online casting. I had casted a couple of the qualifier hubs on the Southeast Asian schedule. Eventually it got to a point where I was casting enough games that GoDz (David Parker) asked me if I wanted to go for StarLadder as there was an opening. I was super excited and  took it! That's how these things tend to go; you keep working, cast a lot of games, learn more about the game and eventually, somebody gives you a shot when they think you are ready. Thankfully, I was ready at that point and it turned out to be great!
Where there is a will, there is a way! How did you get to the point where you were working for BTS?
Technically I don't work for BTS. I'm an independent contractor. It was about six months into casting the in-house leagues. I was casting for about 60 hours a week besides my full-time job. I messaged BTS on Twitter and asked if could cover the open qualifiers for BTS Americas, which is a small tournament that takes place online. I got the go ahead from them and I casted the open qualifiers on my own stream for about 60 people; which was a lot at that time and I was really excited! BTS then invited me to cast some of the games on their stream. I was casting Complexity's game when I left the overlay on for 5 minutes after the game had started! They were a bit mad but luckily for me, they brought me back.
What was your reaction when you realized you had been invited for DAC?
It was quite anti-climactic! I got a message on Skype on whether I wanted to go to DAC. My head was slightly blown. I called up my wife and asked her if I could go and she said 'yeah of course'. It was surreal. It was a dream come true.
I've casted a few games back in India and I was terrible! When you start practicing as a caster, what methodology do you follow? How do you cover an entire fight when one breaks out?
At first I used to try and cover everything, which doesn't work. It works for some people and they sound amazing when they're able to do it. I try to focus on what could be the most important spells in a fight, who are going to be the most important heroes to go on and I build the entire fight narrative around that. It's hard to analyze everything because you need to understand Dota at a very high level which I don't fully do. I ask my co-casters about the most important spells and what heroes should be looking to do and I try to see if the objectives are met within a fight. I also fill in about a certain hero dropping low in a fight by focusing on the HP bars and if big ultimates like Laguna Blade have been cast yet or not.
I'm going to try that the next time I cast but I'm sure it sounds a lot easier than it really is! At any big event, how are the casting partners decided?
It's more on the organizers and what they decide. At StarLadder, I casted with three different people throughout the event while at DAC, most people stuck with just one partner. I got to cast with ppd and Capitalist.
When a casting pair is finalized, how do they decide on who takes the lead?
It depends on the casting pair. When it was me and ppd, our roles were clearly defined. He was the analyst, I asked him questions and took over during the team fights. With Cap, there was a bit more switching. In one of the OG vs Invictus Gaming upper bracket final games, there was a moment where my voice trailed down and Cap's voice picked up and he took over the play by play details. I did the cast for the end of the fight and he did the analysis of the entire fight. That's really hard to do unless you're comfortable with the person, except when you have clearly defined roles.
There are a lot of talented casters out there. Who do you think is the best and in your three years of casting, who do you think you've learned from the most?
if you try and imitate someone too much, you end up being another version of that person
That's a tough question! Everyone has their own style. TobiWan, ODPixel, LD and Cap are the four best play-by-play casters, but how do you compare them when they all have unique styles? It all boils down to whose  voice and style you prefer. It's very subjective and it's hard for me to pick one. I've learned a lot from all of them but I try not to take too much from anyone in particular because if you try and imitate someone too much, you end up being another version of that person who isn't as good.
Coming to the game, what are your thoughts on the current meta?
Towards the end of DAC, it was pretty clear how the meta was played. Every team ended up taking a roamer because there are two roamers who are so much better than the rest. If you see many games in a row, like at the end of DAC, it does feel a bit stale, but those heroes weren't being picked a lot right before DAC. I would say the meta is still open for interpretation. There will be a bit of a shake-up in the new patch. Many believe it will be before Kiev. I think Magnus needs a touch up, Invoker needs a bit of a nerf. Alchemist as well, that hero frustrates me!
That hero frustrates me as well, unless I'm the one playing it. So Lyrical, what are your goals with respect to casting for the short and long term?
Short term, I want to get to a major Valve event. Long time, my goal is to get better and to become a more talented caster.  There is always room for improvement and I picked up some new things with my recent experiences, things I want to work on. It's everything from vocabulary, diction, speed, understanding of the game that can be improved. I'm really motivated to become a better caster and I can visualize the path to get there!
What advice would you have for budding casters who are trying to make it big out there?
Find your own voice is the biggest advice I would have. Don't try to imitate anyone and just go for it. It's a tough industry. I quit my job to become a caster only after six months of not getting paid. You need to put in all the hard work first to gauge it is a viable option for you.
It is indeed a tough industry. Any shoutouts?
Shoutouts to the community. They've really supported me, I've got some positive feedback. Every now and then I get negative feedback as well but I appreciate that as there's a reason for why someone criticizes you and I get to learn from it. All the guys at BTS have been incredibly supportive as well. To be truthful, there are too many people behind the scene who have been supportive and it's difficult to pinpoint a few.
It was a pleasure talking with you Lyrical. Thank you so much for time and all the best in your upcoming endeavors!
Thank you, Sid!