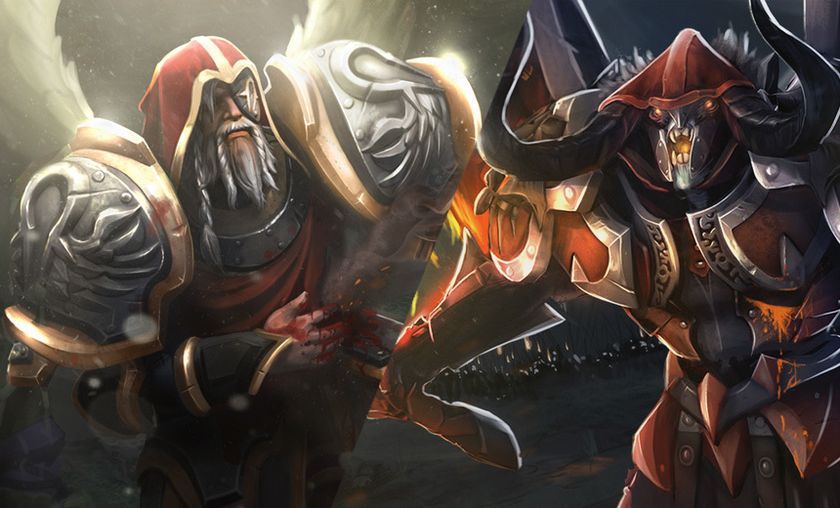 Top weekly Workshop submissions: Toasty and the story behind his passion for Dota2 items

Sets made by Toasty.
I finally got the chance to talk to one of the most appreciated artists from Dota 2 community. Toasty is a father, a friend, and an incredible artist. He is very passionate about his work and he dedicates all of his time doing what he loves. I took the time to talk to him about everything that involves the Workshop. You can read the interview below to find out more about him and his sets.
Hello, Toasty! Can you tell us a few words about yourself and your career?
I've worked for about 15 years as a professional digital artist. I studied to be a 2d/3d animator, however after about 5-6 years working, I switched to being a modeler at various game and film/tv studios. These days I work from home as a freelance modeler, primarily focusing on Dota 2 Workshop.  I'm trying to improve my 2d painting abilities, as one day I'd like to make another shift into illustration and concept work. It's taken me 15 years but I'm slowly getting back to my 2d drawing roots.

Arms of the Captive Princess, accepted in-game.
Which was your first item and how did you feel after you submitted it?
Oh boy... I'm embarrassed to show it hahaha. I've thought many times of deleting it from my profile and today I finally did it. My first set was a Slark set. Soooo many technical and design mistakes were made, but I guess you have to start learning from somewhere.



Frostheart, accepted in-game.
Which set was the most popular? And which one do you like the most?
Mmm, my most popular set on steam might be Sun Blessed Attire. However, my most popular with my followers might be Dreamfall. Sometimes reactions from fans don't always translate into good vote counts on steam.
I have a real soft spot for both sets. However, it's unfortunate neither has made their way into the game doh!  One day. Got to keep on dreaming I guess.

Dreamfall.
What's the good and the bad side of being a full-time Workshop artist?
I get to make all the creative choices myself and execute the modeling in a way that suits my personal pipeline style. I love being able to make a concept, take it to modeling, texturing, and finally coming up with a fitting Loading screen. Normally in a larger studio, I'm a cog in a much larger machine. It's easy to slip into the role of a skilled craftsman and lose touch with the artist within you. It's one of the more fulfilling jobs that I've had in my working career. 
The worse part? The waiting... all the waiting and waiting. Sometimes you have to wait 12+ months to hear from Valve on a set, and another 6-12 months to finally see it in the game.  The Workshop is not for the impatient haha.

Titan Strike
How many hours have you invested in your work? Was it worth it?
I tend to spend 2-4 weeks on each set. Lately, due to other real world distractions, I've been taking a bit longer, up to 6 weeks. Was it worth it? Yeah, I think so. It was some 6-9 months after my first set before I got the first one accepted. That's a long time to wait but I'm really glad I persisted and kept making sets. Working from home has worked out quite well. The quiet allows me to focus on my work, and I'm spending a lot more time with my family as a result of not being on a train for 2 hours a day. I probably spend way too long on making loading screens, but really enjoy pushing my 2d abilities and I can't help but try to sneak a little story or a hint of lore in each one. It would break my heart if one-day loading screens become completely redundant and are no longer accepted for the game.

Sun Blessed
How open are you to the feedback you receive?
I love all the feedback. I really miss the days of the workshop when we received a lot more comments! I take the time to read each and every comment, translating it if it's in Chinese or Russian. The Russian comments are often the most critical, but also the most quirky :) It's great to see fans with the same level of passion for Dota art as much as I do. 
I'll try to think back to these comments when I'm designing a new set, or use the comments to make adjustments to an existing set.

Nightsilver's Resolve, accepted in-game.
About the new sets. All the details and everything! What's the inspiration? What was on your mind while you were working on them?

The Broken Knight
 I know a lot of fans see inspiration in Darksiders, Dark Souls, or other contemporary influences. However, I'm more often inspired by older art from many of the fantasy artists like Keith Parkinson and Larry Elmore. I think perhaps my dream of becoming an artist could have started when I picked up my first Pick a Path book and saw some of the fantastic line drawings inside.
I wanted to get a little darker on the Doom and Omni sets than I normally do. I tried to give Omni a grizzled old warrior look, and Doom a hidden rage and evil. It's tricky to do small details in the Dota style. More often than not it turns to noise or doesn't hold up under the very tight texture restrictions we have. 



Raven's Flame

So both sets ended up a bit cleaner looking than I'd originally intended. That's not a bad thing I guess. In the end, the most important thing about a set is how it reads the in the game, from the actual in-game camera. You can add all the awesome details and designs you want to a set but that's all for nothing if the set looks like a noisy unreadable blob in-game.
Thanks a lot for your time, and I hope you remain as enthusiastic and energized as you are now.
You can vote for the Omni set here and for the Doom set here. Don`t forget to follow Toasty on his Workshop page or Twitter for more amazing sets.
---

Another two sets were submitted this week,  the last ones before the Workshoppers start creating sets for The International Collector's Cache. This year it will be an aquatic theme and everyone is welcome to contribute.
The bringer of plagues
I simply love this Necrophos set! The horns look pretty cool and the big staff gives all the charm needed. 
You can see more details about it here. Don`t forget to vote for it!
---
 
Return of the Monkey King
Recently added in the Captains Mode, MK will be probably played more often. Because of his incredible skills and mechanisms, this hero deserves to get more attention. At least a set must be added soon on the Steam Market, so check them out and see which one of them is worthy.
If you like this new Monkey King set and want to see it in-game, you can vote for it here.
Remember to vote for the sets you like and leave productive feedback. The artists are more than pleased when they see their work appreciated. Take some minutes from your time and give them to the people that make our game more pleasant.