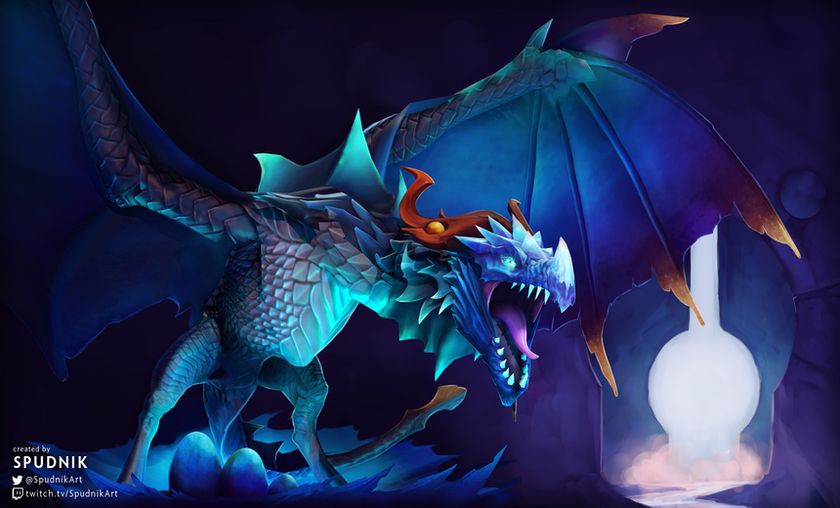 Top weekly Workshop submissions : A Winter`s tale

A new challenge, "Lunar New Year 2017 Call to Arms" was announced earlier this week. Until January 7 2017 all item creators have to submit sets made under the Lunar New Year theme. After the deadline, Valve will pick the best sets in order to gather them in one special chest to celebrate the Year of the Rooster, a Valve event powered by WeLoveFine. All Dota 2 fans should remember to regularly visit the Workshop and vote through the Queue to ensure that their voices are heard in the selection process. 
Because I`m quite a big fan of Winter Wyvern, I immediately put my eyes on the creation of Alex 'Spudnik' Frey, one of the "old men of Workshop".
Tell us something about yourself. What is your story? Haw did all the Workshop thing begin for you?
I've been playing DotA for over 10 years now, started playing it in the Warcraft III days, back when it was only a mode. It really sparked my interest that such an amazing game had come out of modding, which led me to discover the fantastic modding tools and community that Warcraft 3 had. I got heavily into it, made a bunch of stuff, learned a lot, but never released anything. That was also when I read my first modeling tutorial - I read the whole thing, didn't understand a single word but it was the coolest thing ever. Years later in university, I took a 3D Modeling class and I was fascinated, which led me to pursue a Bachelor's degree in 3D Animation and Visual Effects. Towards the end of my studies, Dota 2 had come out and the Workshop followed soon after, which was my first time dipping my toes into 'professional' waters. The artist community that sprung up around the Workshop in the early days really helped me improve my craft a lot and allowed me to transition from a hobby modder to doing this professionally. These days, I split my time between the Workshop and working on my diploma. 
Which was your first item and how did you feel after submitting it? 
My first item was the Hammer of Hope for Omniknight.




After I submitted it, I didn't think anything would come of it, to be honest. Of course, I had my hopes, but when I got the mail that it had been accepted into the game, I was elated. I remember getting a hold of my mother and telling her all about it and her not understanding a thing. To be honest, if that first item hadn't been accepted, I don't know if I would have further pursued the Workshop, but I'm very glad that I did. 
Which is your most popular set and which one do you love the most?
I think it would have to be the Light's Vanguard set for Keeper of the Light. This was a set that I did in collaboration with the amazing 2D artist Foxclover for the professional player OG.Fly (back when he was FNATIC.Fly). We got a very positive reaction to it from the community and Valve, the concept was great, and Fly is probably my favorite professional player - it was just a perfect project. The only thing that could have been better is the amount of time it took for the set to finally get into the game.

 
What do you love about your job and what do you hate?
I love being able to choose which projects I want to work on freely. I love that I get to contribute to a game that I've been playing for 10+ years, and seeing people enjoy my work and run around with it in the game is just amazing. I dislike that there is very little in terms of communication between Valve and the Workshop artists, which oftentimes leaves us wandering in the dark, unsure if anything we're doing has any merit to Valve and what they're looking for. There's not a lot of security in the Workshop, which means that sometimes a weird experiment pays off. But this also leads to a lot of frustration in our small community when we can't comprehend Valve's logic behind their decision making. 
What do you think about the feedbacks you receive? Do you count them?
It depends. One thing you learn really quickly when working publicly is to filter feedbacks a lot. Most of the time, people don't know what they want, or it's only after they see the finished product that they know they don't like it. I do listen to the feedback I get from my fellow artists a lot. As I said earlier, doing so has only ever led to growth in my craftsmanship. I also really enjoy the feedback I get from people when I stream on my Twitch channel, because it's not the typical reactionary feedback you get after a project is finished. Most of the time it's from people who want to learn and involve themselves in the process and that often leads to great ideas. And getting positive feedback on a set that I've poured a lot of heart and time into is fantastic of course. 
Now about your awesome Frozen Fury set. It`s WAW! I truly love it! Where did you take inspiration from? What was on your mind while you were working on it? 


The inspiration for the Winter Wyvern set came from wanting to combine some of the aesthetics of traditional Asian dragon designs and meld them together with the ones of traditional Western dragons.




I also wanted to give Winter Wyvern a more regal look, since that was the vibe I got when reading the comic that Valve released about her, which is where the golden accents in the design come from. For this project I really wanted to push my hand painted texturing skills, so I spent a lot of time painstakingly painting her, which I hope shows through in the final product.
Thanks for your time Alex, best of luck with everything!
---
Drawing inspiration from cartoons, IkeIke and Michael Dembitskyi (a pediatric dentist everybody!) managed another successful collaboration. The strong gradient vivid colors make the gigantic insect look pleasant and harmless.


---
Ice Wolfes continues to amaze us with his out of the ordinary sets. I really don`t know how he manages but every time he comes up with a brand new crazy idea for the "Dota 2 bad girls". From a Peacock Drow to a wild Lina, the young artist didn`t lose his confidence despite malicious feedbacks. As I said a while ago, I put my trust in him!




With every set his designs keep getting better and better, and the attention to detail also improves. Of course, some people will probably find it difficult to accept his concepts, but I'm happy that he continues his work. It`s a lesson to learn for all of us!
 
---

Dark Leader




Guys, look! Another Underlord set! I promised to make a top 10 Underlord sets if I will find another one sooo... I`m doing it! Stay close for the vote.
 


Dark Leader stands out by his pleasant color combinations and for the armor`s design. Unlike other sets, the artist chose not to give the hero his characteristic hideous look. Instead of that, he managed to create a pleasant form. For me, this set is one of the most lovely sets so far.
 
---
I just love this pirate thingy theme. Crowntail showed once again his talent when it comes to colors and execution. From the little octopus hanging from Undying's shoulder to the bandages that suggest the fact that he is after all a mummy, the set is full of surprises.




The longer you look the more details you'll find. I would totally buy it!
 
---


I have to admit that this is the second set I fell in love with. Just look at Naga, majestic like hell. The pleasant, carefully chosen color mix makes "Pterois" so good! Even though it's not one of the most detailed sets ever, it catches our attention just by simplicity. Who said simplicity was not elegant?


Besides her spectacular wings, the set also comes with a huge crown designed to draw attention. Can we join our forces and vote for it?
---
I watched the progress of this set from the very beginning and I was pleasantly surprised at every update that Anuxi posted on Twitter. MagneTechnix was born from a collaboration with IkeIke, a great concept artist, and Jesse 'JerAx' Vainikka.




The OG player really wanted a special set for his favorite hero, Earth Spirit, so Anuxi started her work immediately. The result, as you can see, is incredible. We couldn`t expect any less from a faultless artist like her.
 
---
Well, this truly is a Phantom Assassin set! A real killer knows how to hide her face under a perfectly made mask. The black and white tones accentuate the true mission that PA has. To pass unseen. It`s the first time when a colorless set caught my look. It is probably because of the feathers mantle or the realistic weapon.




What do you think? Are the black and white tones enough to make you love it?
 
---
It`s the first Pudge set that got to my heart. Have you seen its details? The materials? Or the head? OMG it's amazing! You have to go on Steam to see it closely, I promise that you won't regret. The shark head hook is quite a brilliant idea and it also looks pretty badass in the game.




The shark has barbed teeth. First, it keeps a firm grip on its prey, then fiercely tears it into pieces until there is no single bone left. 
This new Pudge set is designed for Cuojue.
 
---
Bane doesn`t offer much that you can work with so making a set for it can be a real challenge. Because of its many states, it`s quite hard to design something, so the artist focused on the head.




Two big horns and a mask were supposed to change the hero`s look.