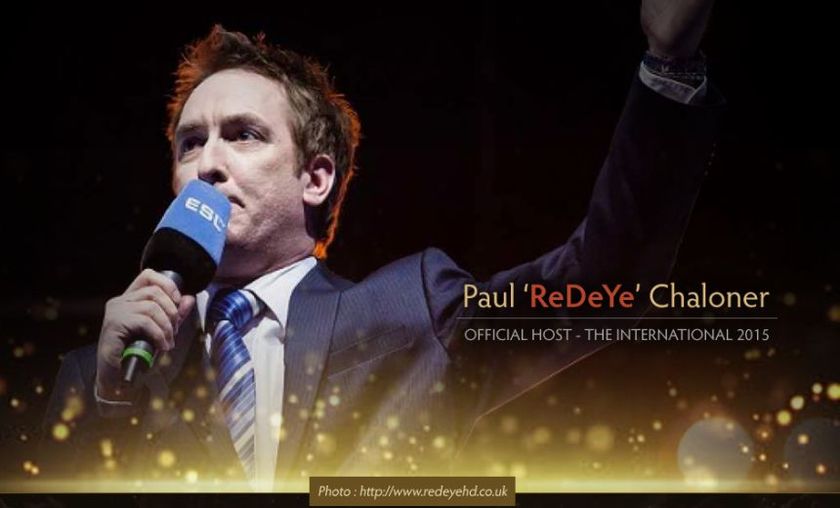 Interview with ReDeYe: "If you aren't hyped for TI5, then you must be dead!"
His first appearance as a host for a Dota 2 event was at ESL One Frankfurt last year where he won over the crowd and received a massive positive feedback from the community. Although he decided to step down from regular hosting and commentating eSports events earlier this year, he announced his return as a host in the grandest eSports event of them all, The International 5. 
We couldn't miss the chance to bring you his thoughts and feelings regarding his presence on Seattle's big scene and since he is veteran in the eSports industry we also talked a bit about the future of competitive games.
The interview was conducted via Skype by Andreea "divushka" Esanu
Hello, congratulation for your TI 5 hosting invite!How does it feel knowing you will be hosting the largest DotA 2 event of the year?
It's an incredible feeling, being asked to host not just the biggest DOTA2 event of the year, but perhaps the biggest eSports event of all time. I know I may be a bit older than most, but I am just as excited as if I were 10 the night before Christmas day! It's an amazing honor to be asked to host the show and I just can't wait to fly out there, I already have butterflies in my stomach just thinking about it!
 
Earlier this year you decided to step down from hosting and commentating, what made you change your mind and are you back to stay?
I stepped down from regular hosting and commentating, I didn't retire and I was very clear about that. The role with Gfinity was a full on head of broadcasting role and one I wanted to ensure I gave everything to and that meant, realistically I couldn't do freelance work as a host or commentator alongside. I have a very high work ethic and if I do something I want to do it properly.
 I've had plenty of offers since joining Gfinity to host other events, but I've turned them down because I just couldn't devote enough time to preparation and I wasn't confident I could deliver a high quality experience because of that.
Things changed a little when Valve asked me to host the International in that it's a one off event for me, I have made a lot of progress with Gfinity and I am confident we have the staff to ensure we continue to deliver a great show, even in my absence for a week. To be clear, I was asked to do all of the International, but I couldn't do that and do it well and ensure Gfinity wasn't compromised so I have agreed to the 3rd to 8th August and I feel I can do the job well on that basis and still ensure Gfinity produces the shows to a high standard.
It is also a tournament I have wanted to be involved in since it began and one of the few I have never hosted, so when Valve asked me it was extremely difficult to turn down.
 
The International is not your first DotA experience, last year we had the pleasure to have you hosting ESL One Frankfurt, have you kept yourself in touch (updated) with DotA 2 scene since then?
Honestly, I'm an eSports junkie. Regardless of game, I just love the competition, the teams, the players and it almost doesn't matter what game to me. I enjoy so many of them including watching DOTA, though I am completely hopeless playing the game!
I massively enjoyed the two events I did last year and thanks to the faith James Lampkin had in me I got the chance to host them and work with some amazing people. I watch a ton of DotA and probably more than people imagine.
 
So, your preparation curve will be smoother for The International 5, but what are the main things you still need to catch up with? Are there any?
My preparation isn't as intense as perhaps it was for my first DotA event, just in that at that time I had almost zero knowledge of players and teams, let alone strategy, picks and even some of the vocabulary (I KNOW ITS NOT TURRETS NOW FFS!).
So from that point of view it is easier, but it's still massively intense and working with Noxville already a little I can see I am going to be able to do a full work up of all the teams, the stats, the story lines and the interesting stuff that I can then get the panels to talk about.
 
Although you are not a regular face for the DotA community, you received great feedback on Social Media, what are the strengths, the attributes that you consider you might have that are making you such an appreciated host?
I can only really speculate on that and read the feedback from other hosting duties I have had so I guess it would be that I can hold a show together, make it nice and smooth, get the best out of others such as experts and make the show a nice mix of professionalism and fun. Most of all though, to help guide new and old fans through the show seamlessly and of course help get everyone hyped, though if you aren't hyped for TI5 then you must be dead!
I guess the only other thing that seems to be a common theme is that I (hopefully) add a level of legitimacy to any of the shows I do so that literally anyone could tune in or turn up and be like "hmm, this seems legit, feels like any other sport" and that's something I've worked really hard on over the years to ensure the shows are authentic.
The best compliment though is where the matches and shows are great and no one remembers the host. That's pretty much my job, deliver the show without any focus on me personally and ensure that all of the focus is on the real stars.
You are one of the first shout casters and commentators in the eSports industry and most of the new comers are probably looking at you as an inspirational model but who was your role model? Who inspired you and where did you look for guidance in your early days?
Very easy answer to that, Marcus "djWHEAT" Graham. I was really lucky to work with Marcus early on in my career around 2004 or so and at that time he was probably the best in the world. I was lucky enough to travel the world with him on shows for 3 years on stages, tv shows, internet tournaments, the whole thing. I learned a massive amount from him. I think working alongside some of my other colleagues over the years has helped too, Deman, Joe Miller, TosspoT especially as I think we all came up at the same time and kinda learned from each other and its brilliant to see them all doing well today.
The other person who was a big influence was Mike Burkes who was an Emmy Award winning producer I got to work with for two years in TV while working in LA and he was just so brilliant at TV, he knew how to produce a show, direct it, get the best out of you, help you improve, it was just an amazing privilege to work for him.
 
In your 13 years presence in eSports commentary you've seen hundreds of tournaments which one is the closest to you heart?
I really hate that question, because it is just so difficult to answer. I've commentated or hosted over 175 of them in the last 13 years, there are so many! I still love WCG Singapore in 2005, and working on live TV is a huge buzz but if I was pushed I'd say either IEM World Finals in Katowice in 2014 or the WCS Europe Finals in 2012 would stand out for me on a personal level.
 
eSports have grown tremendously in the last decade and so did the Social Media. Ten years ago, any tournament organizers would have loved to get some attention from televisions because that was the gateway to mainstream, do you think this is still the case now?
I think mainstream acceptance is very important for eSports, still to this day, and I love seeing mainstream TV come in and broadcast our events, but I don't think it is the ONLY thing that matters in the modern version of eSports. Back in 2007 when some big players came in from mainstream I felt like it was the only way we could achieve mass acceptance and viewership for that matter, but just look at the growth of online viewership through platforms like Twith.tv, MLG.tv and YouTube and it's obvious we are now able to achieve large audiences without the need to be on mainstream TV.
Back in 2007, mainstream tried to mould and adapt eSports to TV, but now they are covering it as it is, designed by us and the communities without tinkering too much to make it fit TV. We also consume media far differently than we used to and I think eSports broadcasting is right at the front end of that today. We are the experts in that field so it makes sense mainstream would come to us and use us now rather than trying to do it themselves.
Widespread coverage on channels like ESPN, BBC or Sky and coupled with traditional media sites covering tournaments like the International now mean we are getting the mainstream coming in, but we no longer need it to grow or survive.
 
In 2011 Valve brought the first 1 million dollars tournament and now, only four years later we are looking at $15 million prize pool. What impact do you think this might have for eSports and what are the chances for competitive games to get acknowledged among the "real sports"?
The prize fund is incredible. Its life changing money for the winners and actually right down the order in some cases, but I think it would be wrong to focus on the prize money alone. I think there are many people in many organizations doing great work that collectively leads to acknowledgement among other sports.
I'm not even convinced any more that we need to be recognised as a sport, after all, we meet all the definitions of sport except the physical side of it. For all intents and purposes, it is a competitive pursuit and that's the most fundamental part of eSports.
 
Alright, I won't take too much from your time, thank you for the interview and if you have any shout outs or anything specific that you want to add please do so.
Thanks for the interview! And thank you to Valve for hiring me, to Gfinity and all the great people there for the hard work and dedication they put in every weekend on our shows and a big shoutout to the community for their kind words on the announcement, I'll do my best to do a great job and help you enjoy The International!
photo credits: ESL 
---
More content on GosuGamers