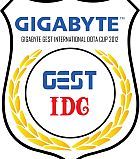 Time for GEST IDC July

The DotA scene is tingling once again as GEST returns with a new tournament. Classics such as iDeal and iZONE are seen amongst the participating teams.
The backbone of WarCraft 3 DotA returns with the it's monthly edition. It is the Gigabyte eSport Tournament, focusing on South East Asian teams and is especially appreciated in the Philippean scene. The games goes live at 06 CEST (12 SGT) and are a must for all followers of DotA to watch. Once again, the competition is without any Pacific team although GEST-classics such as iDeal and IZONE are participating.
Winner is awarded $700, the runner-up with $500 while the third-placer takes $300. The format is double elimination and a total of eight teams are playing.
Upper Bracket
Round 2 - Best of 1
Round 3 - Best of 1
Lower Bracket
Final
The livestream of selected games will be provided by CyberGames Network TV and TCG.Mikagami.
Check link for results, news, format and VODs