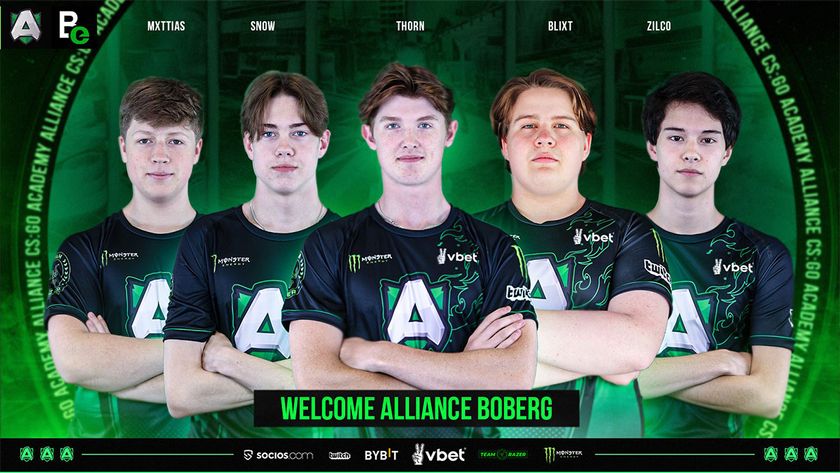 Alliance unveils their academy team for CS:GO
The team is their first foray into the game, and done in collaboration with Boberg Esport
One of the legendary names in Dota 2, Alliance has taken their first step into the world of CS:GO with the establishment of their own academy team. The new team is a collaboration between them and Boberg Esport and will be known as Alliance: Boberg.
Boberg Esport and Bobergsgymnasiet, a specialized high school,  are now in their sixth-year involvement with esports and have since the beginning worked to push the development of esports schools forward. Both organizations are based in Ånge, Sweden, and Alliance will be lending its experience and resources to develop the player's skills and talent.
"Being an Esports professional today is about so much more than what happens on the server. Yes, it is hard training and a lot of work that is the fundamentals, but we must function as humans as well. Together with us, young people with an esportsdream learn everything they need to know to become a better esportplayer along with other like-minded players with the same dream. " – Jonas Öberg Esports manager Boberg Esport.
Alliance will be adopting a scientific approach (which was not divulged in their announcement) along with adapted methods learned from their experience in esports to train the new digital athletes. The main focus will be on game training, mental training and physical training, but students will also learn a lot about the parts of esports that are not implemented on a server. This is to be able to have a more long-term and successful esports career.
The team consists of:
Oliver "zilco" Höglund (team captain)
Timmy "Sn0w" Bruhn
Ruben "thorns" Thornberg
Mattias "mxttias" Lindbom
Filip "blixt" Hortlin
The new academy team will be competing in the Regionalserien Norr, Prime League div. 2 and the autumn high school tournaments in Sweden.
Commenting on the new team, Kelly Ong Xiao Wei, Chief Strategy Officer Alliance said:
 "Alliance has a strong tradition of developing up and coming players into champions of the now and future. Together with Boberg we would be able to support, explore and re-define youth development in modern esports."
Along with Alliance: Boberg, the team is also planning to support several other youth development programs, as part of the team continuing tradition of supporting player development and grassroots esports