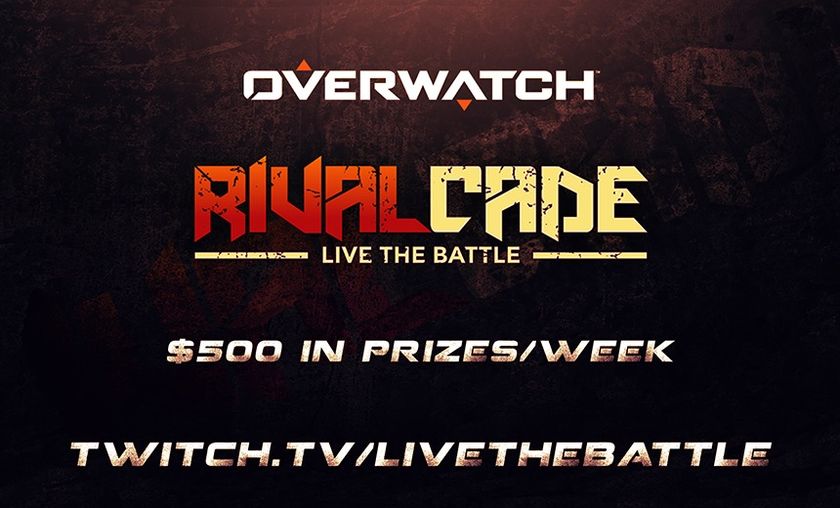 Rivalcade's Live the Battle Weekly Tournament is Back!
Rivalcade is back with a series of Overwatch tournaments for both EU and NA.
Rivalcade has announced the restart of their Rivalcade: Live the Battle Weekly tournament. As part of a continued effort to add tournaments to the scene, the series will include both an EU and NA iteration, sponsored by XSolla, DxRacer, and Razer.
The tournaments will both be on Tuesdays with the EU side starting at 8pm CET/2pm EST/11am PST and the North American side following soon after at 9pm EST/6pm PST. Games will be streamed on the LiveTheBattle Twitch Stream.
Currently the prize pool of tournaments will be $250+ for the EU side and $500+ for the NA side.  
According to Jake Laumann, Director of Esports at LiveTheBattle,
"
We are going to start crowdfunding for all of our tournaments, and we have some orgs who have already said they are going to throw in the money to help with the prestige of the tourneys."
Feeling generous? The link to help contribute to the total prize pool can be found here for NA and here for EU!  Expect the prize pools to keep growing, as the series continues to gain momentum and viewership. 
The tournament format will be single elimination and will feature a maximum of 64 teams. Registration ends February 21st, 2017, so there is still time to sign up! Entry is free, and you can find more information on the EU and NA sides by clicking the links!
With the Overwatch League fast approaching, be sure to use this opportunity check out some of the rising teams and to maybe even get yourselves on the radar. We hope to see you on Twitch!
For more competitive Overwatch news, follow us @GosuOverwatch.