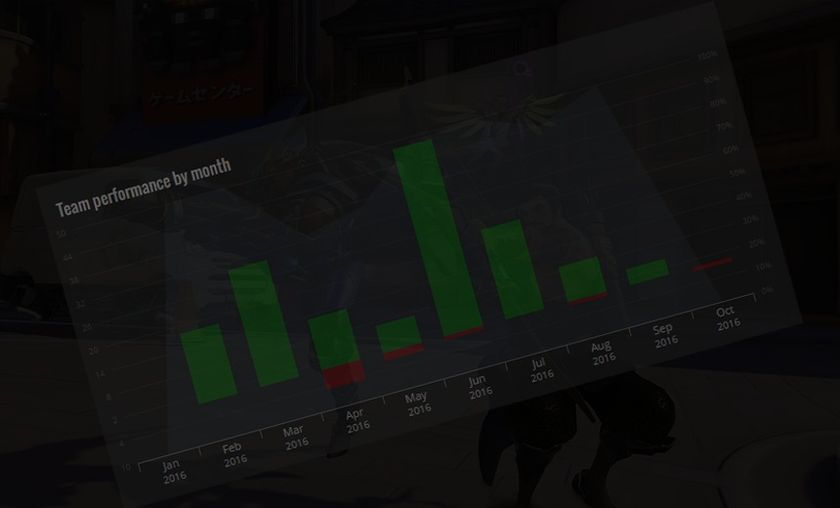 Monthly GosuRanking Review: European Edition (November)
Although we are all wrapped up in the season of giving, lets take a look at the GosuRankings from last month. Europe was as busy as any of the other major regions, with quite a bit of movement in the standings. 
Ranking Review: October - September - August
December is well underway but let's take a look at last month and see how the volatile European rankings ended up. November was a busy month for teams across the pond and the change in standings reflected that. European teams competed in the DreamHack Winter event, OGN Apex Season 1 and even got their own Alienware Monthly Melee. Here are your top 8 for November 2016.
1st Misfits (+1)
 
A French-Swedish mixed team up until a recent roster swap, these European giants continued an impressive run of form stretching back to the summer. They had a relatively quiet month, choosing to focus their efforts on the DreamHack Winter main event. The move paid off big time for them as they went on to dominate their group before defeating compLexity, 3-1 on their way to the final. Once there, they managed to defeat fnatic in a tight 5 game series to win the entire event. Expect the new roster to uphold to these achievements, as has become Misfits tradition.
The Finnish Phenoms continue to show us why they are not to be taken lightly; from humble beginnings to being one of Europe's elite, this team has only gone up. They had a busier December than the #1 ranked team, choosing to compete in the European Alienware Monthly Melee before the DreamHack Winter event. They made quick work of Europe's best and brightest, smashing through the group stage and playoffs without dropping a single game. They swept Misfits, Bonjour and FaZe en route to a tournament victory. NiP put on a similar performance at DreamHack, escaping their group without dropping a game before losing in a close series to fnatic in the semifinals. Do not be surprised to see this team in the top spot come December.
3rd Rogue (-2)


Known to be strong on LAN, the other French-Swedish mixed team focused their efforts mainly on OGN Apex season 1. They put on a strong performance, getting out of their group without dropping a game before they fell in a grudge match against EnVyUs in the Quarterfinals. Had this team played in a few more tournaments, I imagine they would have been higher on this list. Expect more from them in December, as another team affected by major roster changes.
4th Reunited (-)


Once known as one of the best and most consistent teams in Europe, the former juggernauts have struggled as of late. November was something of a good month for this team, however. They managed to escape their APEX group in first before falling in a five game series to Afreeca Freecs Blue, who went on to play in the final. While they have struggled recently, history tells us this team is too good to stay down for long. Expect a return to their old consistency soon, when their stable roster starts outplaying the rest.
5th Team Dignitas (+1)
 
This team did not play in November, but rose a spot because of Ninjas With Attitudes disbanding. The team has been active in December (with some roster changes), so we'll have to see what's in store for them next month.
6th Bonjour (+2)


Made up of the core of the former closed beta legends, Melty eSport Club, this French based team put on a number of solid performances last month. They were impressive at The Gauntlet Cup, dominating their group before falling to ANOX in five games. Their most impressive result came at the European Alienware Monthly Melee. After escaping a difficult group, they went on to place third. They lost to NiP in the upper bracket and FaZe in a lower bracket rematch after sending them down in the semifinals. We'll need to see more from this squad before we can make a judgement but perhaps the darkest days are over for the old guard.
7th Team LDLC (New)
 
LDLC had a busier month than any team on this list. After managing two consecutive top 8s at The Gauntlet Cup and the Alienware Monthly Melee, they managed to fight their way through the punishing BYOC qualifier at the DreamHack Winter main event. Once in the group stage, however, things did not go their way. They did not manage to take a single game off of either of the teams that advanced from their group, only defeating mousesports. That said, three straight top 8 finishes are impressive and more than enough to earn this team a spot on this list. Unfortunately, this team was split by roster moves, so we'll never know what could have been.
8th Slav Squad (-2)
Formerly ANOX, the appropriately named Slavic based squad put on a few good shows last month. They managed a second place finish at the Gauntlet Cup, defeating Bonjour in the playoffs before losing in a five game series to The Chavs. They followed it up, however, with a frankly weak showing at the Alienware Monthly Melee, failing to win a game in their group and advancing straight into the losers' bracket. With their backs up against the wall, they managed to defeat LDLC before falling to Misfits in the next round. This team will have to show some improvements next month if they want to remain on this list.
Follow us on Twitter @GosuOverwatch for more competitive Overwatch news and coverage from around the world.