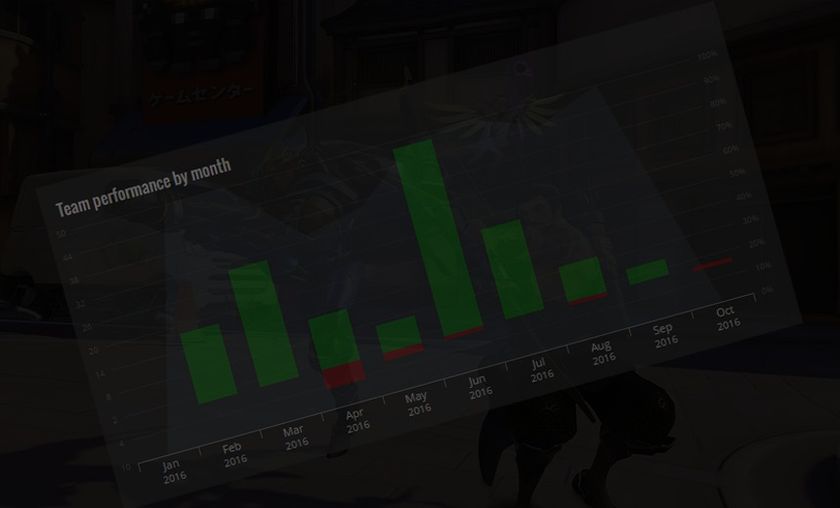 Monthly GosuRanking Review: European Edition (October)
Slightly delayed but still relevant: we summarized the performance of the top 8 of Europe during October.
Ranking Review: September - August
Due to the World Cup, October wasn't as eventful for the traditional teams. Still, the smaller teams took every chance they got to gain more experience, and REUNITED and Rogue are still out in Korea to play the APEX League! Furthermore, qualifiers were played for several major events such as the MSI MGA and Dreamhack Winter.
1.Rogue (+1)
APAC Premier - 1st Place Finish
Overwatch Open - 3rd/4th Place Finish
When you've won the most LANs since the game was released, no one questions your place at the top of the pack. While other teams can boast strong online records, Rogue has been the only team to prove time and time again they are able to dominate offline. Beyond the amount of hardware in their trophy cabinet, Rogue has also been one of the only teams to take a best-of series over Lunatic Hai, which puts on a pedestal over other Western teams. From a player-by-player perspective, Tvique remains the hottest DPS player in the game, forcing opponents to account for his extremely encompassing hero pool and allowing Akm the room to surgically pick off high priority targets. Reinforce and Winz form the most consistent traditional tank duo in the game, while Knoxx and uNKoe have been an extremely stable support line. Despite being second on our world rankings, Rogue is the team to beat for the foreseeable future.
2. Misfits (-1)
King of Nordic Cup - 2nd Place
Dreamhack Winter 2016 EU Qualifier - 2nd Place
Overwatch Open - 1st Place
Underdogs Season 1 - 1st Place
As the only other team to take a Major in the release era, Misfits slides in at our number two slot. Their exclusion from APAC and APEX has limited our ability to evaluate them in October, but they've shown to be a constant force at the top of the European rankings. Their victories over Ninjas with Attitude and Luminosity Gaming in the Dreamhack Winter EU qualifiers have indicated very little fall off since their victory in Atlanta, giving hope for Misfits moving forward. The return of Skipjack to the active roster brings back a strong team leader and an efficient Reinhardt threat. Much of this team's potential lies in Soon and Nevix remaining high level DPS stars. SoOn's Reaper play was the catalyst for their huge run in the Overwatch Open, and Nevix's ability to neutralize ranged threats with his McCree allows the rest of the team to play to their strengths. Dreamhack will be the next opportunity to cover ground on Rogue at the top of the rankings, which promises quite a spectacle.
MSI MGA EU Regional - 1st Place
Dreamhack Winter 2016 EU Qualifier - 1st Place
King of Nordic Cup - 1st Place
NiP is the most underrated team in Overwatch right now. Fun fact: In each of the two majors (Overwatch Open and ESL's Atlantic Showdown), NiP was eliminated by the eventual winners. Even though this statline is relatively meaningless, it does underscore NiP's inability to show their full potential. As the pioneers of the triple tank triple support composition, the Finnish squad has been able to augment their defensive and stable playstyle with high matchup knowledge. This matchup advantage has made them a formidable opponent, taking consistent wins over Misfits during October. Many fans hoped to catch a glimpse of how their tank dominated style would do against South Korea at the Overwatch World Cup, but the meeting never materialized. Dreamhack will be our first opportunity to see NiP perform against a Korean team and it will be an important competitive reference point in the future.
4. REUNITED (-)
REUNITED comes in at 4th place again. They started October with a major change, having to say goodbye to kyb while quickly having to find a replacement for Korea. Since then, former Nordic Alpha player, Onigod, has been putting in the work and creating decent results in the APEX League. REUNITED did not participate in the MSI MGA or DH Winter qualifiers, and are instead currently still focusing on improving in Korea. Expect them to make a splash in the rest of the APEX season.
DinoPC Overwatch Challenger - 1st Place
Go4Overwatch EU #20 - 3rd/4th Place
King of Nordic Cup - 4th Place
Dreamhack Winter 2016 EU Qualifier - 3rd/4th Place
The NWA was the most promising roster in Europe. Key word: was. Over the course of a few weeks, the roster has had to make quite a few roster changes. Still, the team is playing more matches than any other team in this list. They are doing relatively well, but word on the street is this roster might be separating after fnatic's pickup of DPS player, Hafficool. For the time being, NWA still remains a spectre of a top 5 team.
6.  Team Dignitas (-1)
MSI MGA EU Regional - 3rd/4th Place
For Creation-ella, the esports clock has hit midnight. The ex-Creation roster has been in a slump since being picked up by Dignitas. While the reason for the slump isn't clear, they have been making proactive moves by changing the original roster, adding NWA talent, Veineless and Evokje. Adding new players often stimulates a positive team atmosphere, which can in certain instances propel a team out of a slump. Dignitas is not currently participating in any large tournaments or leagues, failing to qualify for DH Winter and MSI MGA, but the practice and bonding time will be crucial for their next appearance in the competitive scene. November will be very important for the team as well as the organization, especially with the Overwatch League looming.
7. ANOX (+1)
ANOX have been the gatekeepers of the European scene for a while. Their rise to tier one of the European scene came as a result of their stable showings in every tournament they participated in. However, their placing in our rankings comes as a result of inactivity. As another victim of APEX and APAC exclusion, the rest of the world has not seen them outside of a run at the DreamHack Winter EU Qualifiers,. We did see some of their players on the second place Russian squad at the Overwatch World Cup. The only caveat is the benching of cYpheR and cooller for Arty and Nesh, which trades some upcoming talent from the CIS for a veteran Quake presence. Only time will tell how well this team will mesh, but if the past is any indicator, they will remain steady, but not quite top tier, as always.
8. Bonjour/Melty eSports (New)
This Bonjour roster is made from the core of the former Melty esports roster. Melty esports is an iconic name, especially after their dominance in the Beta period. Since the release, they have fallen out of the top tier, but this new roster does have some promise with their November showing. We still don't expect to see them in any large tournaments in the near future, and this lack of opportunity limits their upswing.
For more competitive Overwatch news, follow us @GosuOverwatch.