StarCraft II: High quality ingame video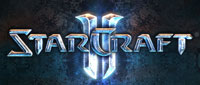 Blizzard finally released the high quality ingame video for StarCraft II. It's a heavy one - 449mb - and displays great resolution and quality of the new game.
The Blizzard Downloader, first seen in World of WarCraft, is using the P2P technique that makes downloading fast if many people are sharing the file.
There are two alternatives for downloading the movie, either:
1280x768 (449 mb English)
Download for PC
Download for Mac
720x404 (268 mb English)
Download for PC
Download for Mac