DreamHack with €45,000 EUR Dota 2 tournaments in 2012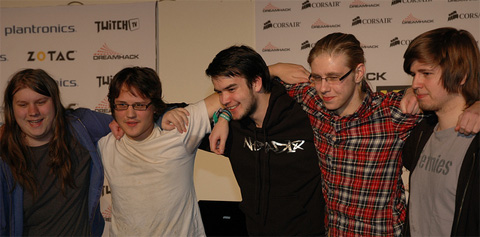 Wild Honey Badgers (now mTw) claimed the DreamHack Winter 2011. Who will come out as victor in 2012? PHOTO: GOSUGAMERS.NET
DreamHack once again teams up with Corsair to present a Dota 2 Cup. This time it spans from summer to winter to feature a prize pool of 400,000 SEK (~€45,000 EUR).
The first invited teams will be presented this Friday, April 13 as well as the registration for the first online qualifier. The main tournament, on DreamHack Summer 2012, will feature 16 teams where eight will be invited directly to the groupstage. The remaining eight will be handed to online qualifications (4) and the BYOC qualification at DreamHack Summer (4).
Well-known broadcaster Tobi "TobiWanKenobi" Dawson will once again, much like DreamHack Winter 2011, be flown in to commentate the matches on location. As per custom, all games will be streamed live on Twitch.tv.
Further details on the prize purse distribution on the summer and winter event as well has not been announced, other than 200,000 SEK is set for each tournament.
To make sure that the BYOC tournament will have as many attendees as possible, every team participating in the event will receive a beta key to the game.The keys will, unlike last event, be distributed well in time before the event, through the DreamHack booking system.
Source:
DreamHack.se