Ilari 'Ziigmund' Sahamies Profile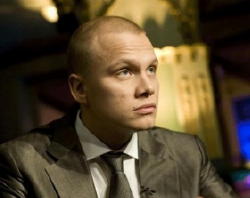 Ilari "Ziigmund" Sahamies is one of the most popular and feared high stakes poker players in the world. He has played at the highest PLO levels online for years. Sahamies is known for his aggression and putting on a show both on and off the table. He has the reputation of being a big gambler, prone to wild swings accompanied by blow ups in chat afterwards. Sahamies has many fans of his style and he is a popular addition to many high stakes cash games TV shows like High Stakes Poker and Poker After Dark. Although he rarely plays tournaments, Sahamies has won over $418k over the years. Sahamies was born in 1983 in Helsinki, Finland where he still resides.
Things you might not know:
Sahamies first played poker at the age of 15, where he played in a home game of fellow Finnish poker pro Patrik Antonius' home.

Sahamies was adept at billiards, earning two Finnish junior championships.

Sahamies worked at a gas station, oil driller, construction worker and as a telephone operator growing up.

Sahamies first started going to Helsinki Grand Casino where he was a losing player his first year playing poker. By the end of his second year, he managed to book $100k in winnings.

Sahamies started playing online poker around 2003, but didn't make his "Ziigmund" debut on Full Tilt Poker until 2006 where he quickly moved up to the highest limits that he has bee playing since.

Sahamies claims all his trash talking at the table over the years was meant in fun and amongst good friends.

Sahamies has always been a big fan of hip hop music and has even been involved in rap videos of local artists.

Sahamies played in Bobby's Room at the Bellagio, where he won a $1.7 million pot and lost a $2.4 million pot.

Sahamies is involved with poker sites Coinflip and PowerPoker.

Sahamies has a myriad of interests, having competed on the Finnish Fear Factor and becoming the 2009 Finnish watersliding champion.

Sahamies claims to have lost over $3 million from playing durnk online, with his worst drunken playing day a loss of $700k.

Sahamies has cut back tremendously on his infamous playing online when he is drunk, but doesn't mind playing live drinking as he feels he plays good when he is a little drunk.

Sahamies is close with most other Finnish players like Patrik Antonius, Sami "LarzLuzak" Kelopuro, Ville "Isokala" Wahlbeck, Jani Vilmunen and Thomas Wahlroos.

After losing millions playing PLO online in 2010, Sahamies has taken considerable time away from the game to be with friends and travel to clear his head from the losses.
Ilari Sahamies recently switched his play over from Full Tilt Poker to PokerStars, where he now plays as Ilari_FIN, playing lower levels after his multi-million dollar losses in 2010. He seems to be taking a more prudent approach after years of following his mantra...
"Playing it safe will never get you to the top. More important is that you have the balls to bet at the right time. If you want to succeed you need to have a gamblers attitude"
Sahamies videos of playing a hand with Antonius, a hand with Tom Dwan, an interview and his rap music video:
Other famous poker player profiles: