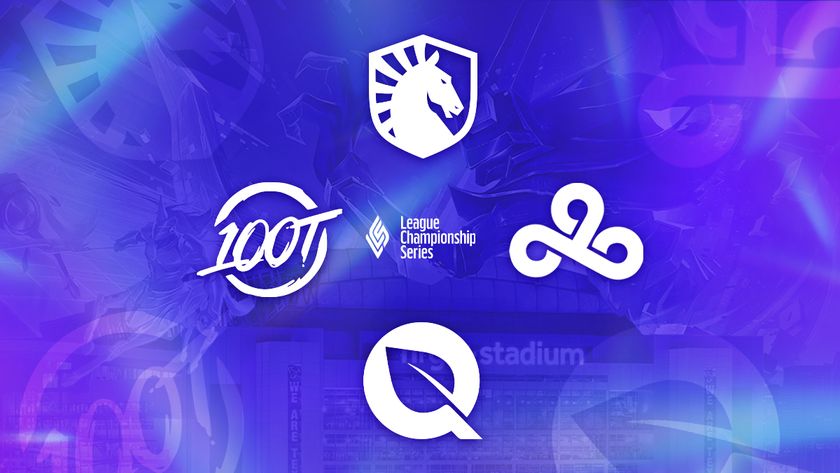 LCS Spring Split halfway mark: Team Liquid and Cloud9 lead a tight race to the Mid-Season Showdown
The LCS Spring Split has entered its midway point with just four more weeks of games left to go after this.
All 10 teams in the LCS right now are recuperating after their first 'super week', which featured an additional five more games added to the weekly schedule. We're at the midway point right now and by the looks of things, both Team Liquid and Cloud9 are currently tied for first place with a score of 7-2. Both teams have looked comfortable and consistent for the most part but the real race is in the mid-table with six other teams battling for qualification to the Mid-Season Showdown.
As it stands, FlyQuest is in third place although they do share the same score with 100 Thieves and Golden Guardians. The only reason they're above is that they took out both teams in their earlier matches. And 100 Thieves is above GG solely because of their victory over them. For the bottom half of the table, it's a battle for the final Mid-Season Showdown spot between Dignitas, Evil Geniuses, and Immortals.
Counter Logic Gaming sit in ninth and while still within a shout of qualifying, will have their work cut out for them. To round off the LCS Spring Split group stage so far, we have TSM in last place, winning only one game in the first four weeks.
Who will make it through?
With each team having to play nine more games each, it will be interesting to see what happens in the next few weeks leading up to the second super week from March 25 - 27. While both Team Liquid and Cloud9 have all the momentum heading into the business end of the LCS Spring Split, it will probably be determined on March 13 when both teams play one another to determine who gets the upper hand. Of course, provided they win their first three matches before that.
Team Liquid will be facing off against 100 Thieves, Immortals, and Evil Geniuses first before their pivotal match against Cloud9. It was only against 100 Thieves that Team Liquid got their first of two losses, which came on the opening day of the spring split. With the team now firmly in the driver's seat, it's hard to see 100 Thieves getting another victory over Team Liquid.
As for Cloud9, they'll be facing Golden Guardians, Evil Geniuses, and Immortals, the same three teams they defeated in the first two weeks. It's also worth noting that Cloud9 lost to Team Liquid in week two, which will be interesting heading into their clash at the end of the month. But given Liquid's level of experience in key personnel like Søren "Bjergsen" Bjerg and Gabriël "Bwipo" Rau, they will know what it takes to get the team over the line.
They have done well during the off-season, bringing in a good mix of experience and talent to the team to keep it well-rounded and balanced. The same can also be said about Cloud9, which also brought in a bunch of new and young talent to the scene and have been able to keep themselves at the top. While they were rocked by some drama regarding the sudden release of their former head coach, LS.
Mid-table Madness
Among the teams placed third, fourth, and fifth in the LCS Spring Split right now, it's FlyQuest that has flown in under the radar this season. The team has only ever made it to an international event once back in Worlds 2020 but since then, they have not been able to repeat that success. They finished eighth and ninth respectively in last year's splits, always hovering in the bottom half of the table. However, this season has been a complete turnaround for the team.
Part of the team's rebuild was down to the inclusion of Loïc "Toucouille" Dubois in the mid-lane, which has already seen him earn two MVP titles alongside week three's 'player of the week' award. Coming from the LFL, Toucouille has managed to overcome all expectations from the French lower league, showcasing his worth in the LCS from the get-go.
When the games resume on March 5, FlyQuest will be given a chance to build some ground against both 100 Thieves and Golden Guardians as their first match will be against TSM. As for the other two, they will be going up against Team Liquid and Cloud9 respectively, the league's table-toppers. If FlyQuest wins their opening match of week five while 100 Thieves and Golden Guardians lose, this will put them in a good spot for the Mid-Season Showdown.
Week 6 will be one that 100 Thieves will be looking out for as they will be facing both Golden Guardians and FlyQuest. This could be make-or-break for them to gain more ground against the rest of the leading pack.
Fighting for one last spot
Judging by how the table is currently looking, it doesn't bode well for Dignitas, Evil Geniuses, and Immortals as all three teams are vying for one final spot in the Mid-Season Showdown. They currently sit at 4-5 after a testing first four weeks, which will put all three teams on their heels as we start to close out the LCS Spring Split. Dignitas has done well in terms of recruitment, bringing in players from regions like the PCS and the LEC as well as from their backyard. And for the most part, they have been holding their own.
As for Evil Geniuses, plenty of expectations were set given their off-season transfers, bringing in the likes of Kacper "Inspired" Słoma from Rogue and Philippe "Vulcan" Laflamme from Cloud9. However, they have since underperformed, unable to rise to the challenge in key fixtures against Cloud9, 100 Thieves, and Team Liquid while even losing against the likes of Counter Logic Gaming and Immortals as well. But while the team doesn't look too good at the moment, Kyle "Danny" Sakamaki has been a revelation for the squad, currently leading the league as the best AD carry in terms of farming with 10.5 CSM.
What's going on with TSM?
For a team of TSM's stature, it must be disappointing to see the team in the current position that they are in now. The esports organisation is one of the biggest in the world with world champions in multiple game titles but unfortunately, its LoL team is just not it right now.
The team only has one win to their name, which was against Team Liquid. While that victory in itself was impressive, it doesn't discount the fact that TSM has lost against teams they would blow past in the years before. This time though, the team has slumped to last place and one must wonder if it's down to the team's composition. Placing the trust on an unproven midlaner in Xiong "Keaiduo" Zhu, the team has not been able to snowball like how they would be used to.
But amidst the team's uncertainty regarding their ability to qualify for the Mid-Season Showdown, Edward "Tactical" Ra has been one a bright spot, claiming one MVP title to his name and putting on some decent performances. It's now do-or-die for TSM with the final four weeks approaching as any more losses will undoubtedly spell their demise in the spring split.
Looking to the Mid-Season Showdown
With fans now allowed to be in attendance for the lower bracket finals as well as the grand finals in the NRG Stadium in Houston, Texas, it will be exciting to see who will make it to their first LAN in what seems to be forever. Cloud9 were the last team to make it to MSI and they will be hoping to repeat that process. Since its inception in 2015, only TSM and Team Liquid have gone to MSI on two occasions so Cloud9 will be good company.
As TSM is unlikely to make it, it's all down to Team Liquid to make their third appearance the charm. Their last two appearances in 2018 and 2019 were ones to forget, finishing in fifth and second place respectively. No LCS team has been able to claim the MSI title with Asia having a firm grasp on it with both South Korea and China dominating.
The games will resume come March 5 onwards for every week until the final super week that falls from March 25 - 27. Don't forget to tune in to catch all the action in the LCS.